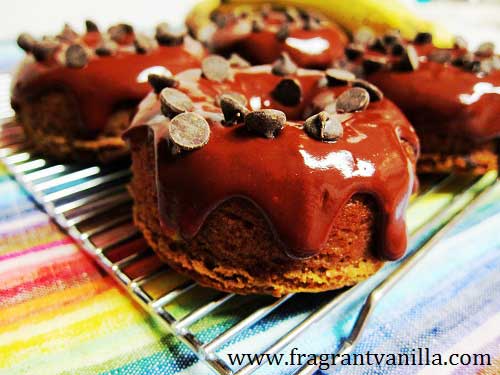 Vegan Peanut Butter Banana Chocolate Chip Doughnuts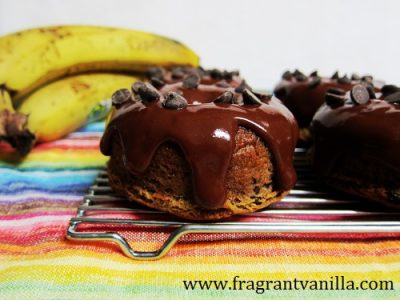 Some of the best things in life are free.  Long runs on chilly mornings, smiles, watching beautiful sunsets, cuddling, kind words.  Also old bananas that the store gives you for free, because they can't sell them.  One man's trash is another man's (well, in this case woman's) treasure.  Over ripe bananas are baking gold!  Or vegan gold in general.  I mean, you can freeze them for banana nice cream, or use them in banana cake or bread which is always a favorite at least at my house.  They provide natural sweetness, as well as keeping things moist and delicious!  So, I always jump at the opportunity to use them whenever I am given over ripe bananas.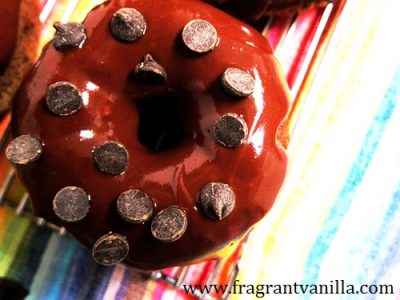 Last Monday, I decided that it was a doughnut kind of a day.  I figured some sort of banana doughnuts would be fabulous!  Now, peanut butter, bananas, and chocolate chips are a match made in heaven, so I went with that flavor combination.  I haven't had a fried doughnut probably since high school, when I used to love to go to Crispy Cream and get them fresh.  But since doughnuts weren't a health food and I gave up refined sugar and flour, dairy and eggs, the doughnuts went out the window too with my switch to healthier eating after high school.  I started making my own vegan doughnuts though a few years back and I like them even better because they don't leave me feeling yucky.  I invested in a doughnut pan, so I could bake them, and it has gotten a lot of use!  Surprisingly though I had never made banana doughnuts until this batch.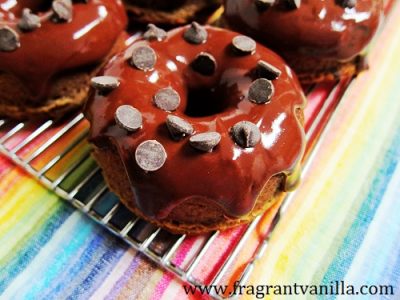 It is basically my date sweetened cake batter, because it always turns out light and delicious especially when another fruit or veggie element like bananas is added.  I snuck in a little peanut butter to make it even more delicious and of course some vegan mini dark chocolate chips, and that was some good batter!  Yes, I tasted it before it was baked.  One of my favorite things about making baked goods is licking the bowl.  I don't like wasting things after all, and it is my little treat to enjoy while I wait for things to bake.  They turned out super delicious and I glazed them with a dark chocolate peanut butter glaze. Talk about heavenly.  Trust me, you need these in your life...so next time you have over ripe bananas, you know what to do with them!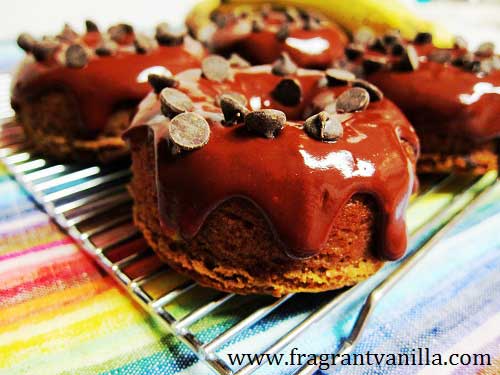 Vegan Peanut Butter Banana Chocolate Chip Doughnuts
Makes 6 large doughnuts
Ingredients:
Doughnut Pan (mine is large size)
Cake:
3/4 cups quinoa flour (or all purpose gluten free flour)
3/4 tsp baking soda
1/2 tsp baking powder
1/4 tsp sea salt
1/2 cup packed soft medjool dates, pitted, soaked in water for 30 minutes and ½ cup of the soaking water reserved
2 Tbsp organic peanut butter
1 ½ tsp pure vanilla extract
1/2 cup mashed banana
1 Tbsp apple cider vinegar
Glaze:
2 Tbsp organic peanut butter
2 Tbsp cacao powder
1 ½ Tbsp maple syrup
1 Tbsp coconut oil
1/4 cup filtered water or as needed
Pinch sea salt
Directions:
1.      Preheat the oven to 375F degrees and position rack in center of oven. Oil a 6 hole doughnut pan.
2.      Whisk flour, baking powder, baking soda, and sea salt in a large bowl to blend well.  Set aside.
3.      Place dates, reserved water, peanut butter, bananas, and vanilla extract into a blender, and blend until smooth, then whisk this blended mixture into the flour mixture until well blended. Whisk in the cider vinegar until bubbles form. Transfer batter to prepared pan and bake until tester inserted into center comes out clean, about 15-20 minutes (depending on your oven). Cool completely in the pan, about 1 hour. Remove from pan.
4.      To make the glaze, whisk together all ingredients until smooth (adding more water if too thick, you want it to be pourable but not too thin).  Spoon over the doughnuts, allowing it to drip down the sides.  Let set until dry (which happens faster if you put them in the refrigerator for 15 minutes).  Enjoy!
(Visited 34 times, 1 visits today)