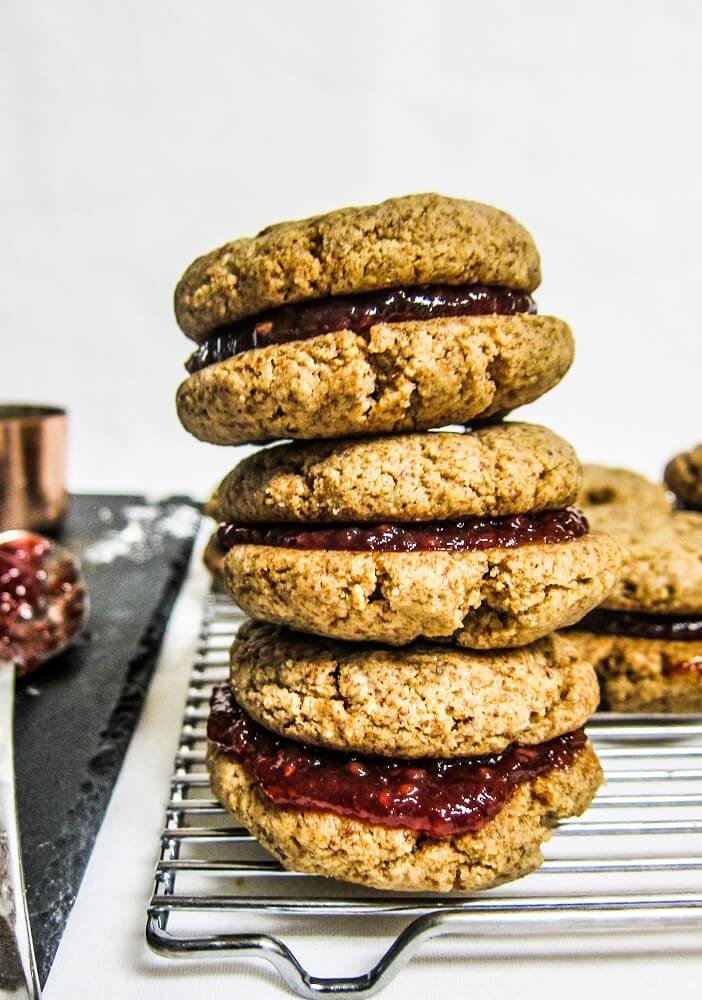 Vegan Peanut Butter and Jelly Sandwich Cookies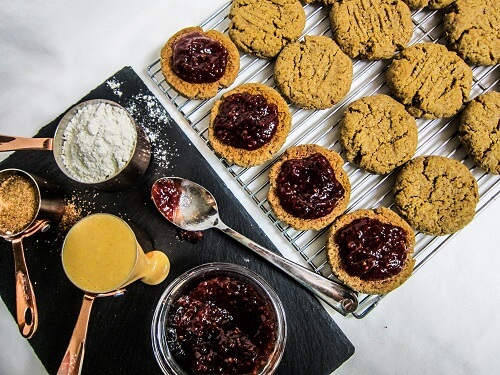 When I was little, pretty much the only sandwiches I wanted to eat were grilled cheese, and peanut butter and jelly. I was not a fan of sandwiches with lunch meat. So my lunches were always peanut butter and jelly. I didn't complain. It was always raspberry jam if my Mom made it and Strawberry if my Dad did, not any concord grape or anything adventurous. I considered the concord grape kind of special if I ever got that at my friend's houses. I still love peanut butter and jelly or jam to this day. Even if I don't make myself sandwiches anymore. I love it in the form of dessert. Because if you think about it, it kind of is dessert. Rich, creamy peanut butter, and sweet jam.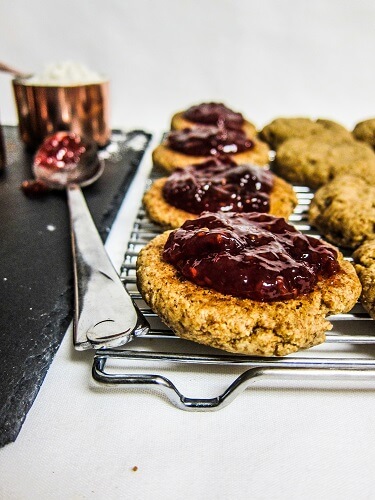 So last weekend, I was craving peanut butter and jelly and I decided to make some PB and J sandwich cookies. It has been really cold here in Minnesota, below zero temps at night, and in the next few days we are supposed to have wind chills in the -30F and -15F actual temps so it is the perfect time to stay inside and bake. Don't get me wrong, it is beautiful out in the Winter, but I don't want to freeze my face off if I don't have to.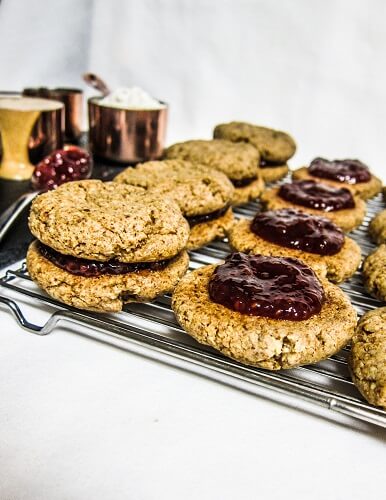 The cookies were actually pretty quick and easy to make too, which is always a win! I used my favorite vegan sandwich cookie recipe with my home made peanut butter, but made them smaller since I like my sandwich cookies to be cute and little. The dough was delicious and they smelled amazing while baking. I could not wait to try the finished product!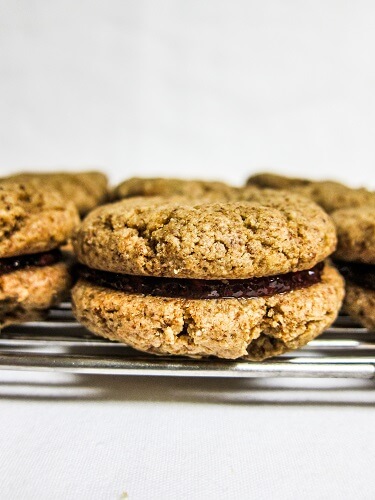 Once they were all cooled I sandwiched them together with a fruit sweetened raspberry jam. I like the chunky jam with all the seeds! The cookies were so good with the rich, slightly salty peanut butter dough, and the gooey flavorful sweet jam! If you are feeling a little nostalgic and love peanut butter and jelly whip up a batch of these babies for yourself. Of course you can use whichever jam is your favorite!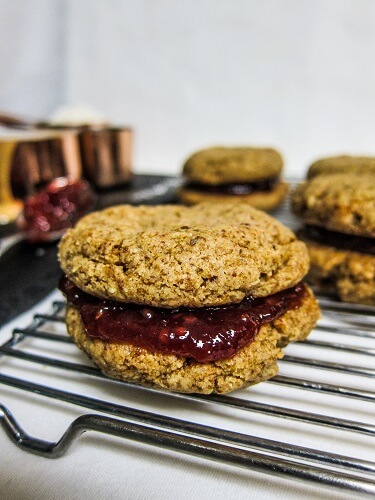 Vegan Peanut Butter and Jelly Sandwich Cookies
Makes 10 sandwiches
Ingredients:
Cookies:
1 Tbsp ground flax seed
1/4 cup plus 1 Tbsp filtered water
1 cup coconut sugar
1 cup organic peanut butter (the plain with just peanuts and salt)
1/4 cup coconut oil, warmed to liquid
1 tsp pure vanilla extract
3/4 tsp baking soda
1/2 tsp baking powder
1/2 tsp sea salt
Filling:
Fruit sweetened raspberry jam
Instructions:
In a small bowl, whisk together the flax seed and water. Place the bowl in the fridge for 15 minutes, this is your flax egg.
In a large bowl, with a wooden spoon, mix together the sugar, peanut butter, coconut oil, vanilla and flax egg, until smooth. Then mix in the flour, soda, baking powder, and sea salt in until the mixture is smooth.
Preheat the oven to 375F degrees. Line a sheet pan with parchment.
Shape the cookie dough into 1 1/2 inch balls, place on your baking sheet a few inches apart and flatten with a fork, like you would with peanut butter cookies.
Place in the oven and bake at 375F for 12 minutes or so, until lightly browned and set. Allow to cool completely on a rack.
Flip half of the cookies over, and spread about 1 tsp of jam over them. Top with the remaining cookies.
Enjoy!
(Visited 330 times, 1 visits today)