Vegan Peanut Butter and Jelly Ice Cream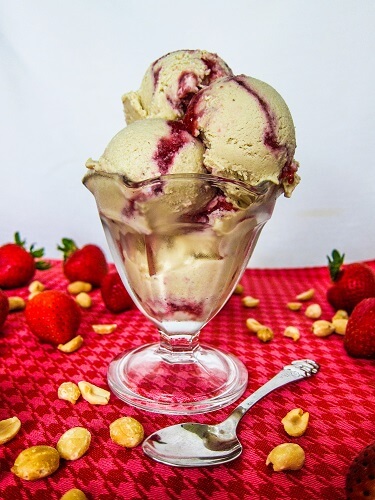 It was really warm here in Minnesota last weekend. We really haven't had any hot weather yet this year until now (we have been lucky), but now that we are almost to the 4th of July it is about time. I was day dreaming about some delicious cold ice cream on one of my runs last weekend and I made up my mind that I had to make some for myself. I mean, sure I could go out and buy some and that might be easier, but I wanted peanut butter and jelly ice cream and I don't know if you can buy a vegan version of that at the store. Plus I think it is fun to make my own.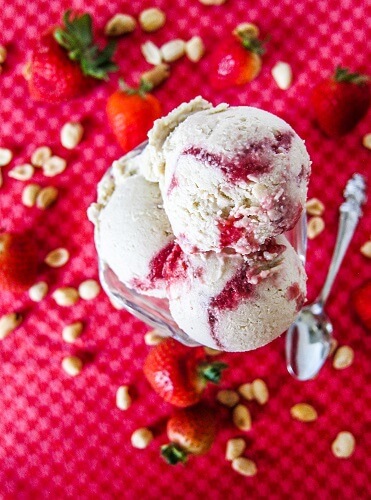 I have actually made it before, but that was years ago and it was about time I made it again. I decided to use fresh berries to start with to make the jam swirl, and cook them into a "jam" myself instead of just using store bought jam since the berries are so amazing right now. Of course you could just use your favorite jam if you wanted to make it a little easier on yourself. The berry "jam" turned out so good though!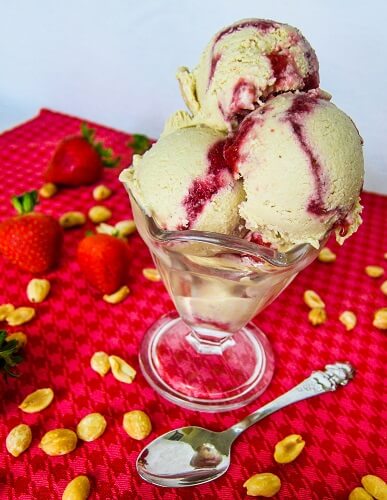 For the ice cream, making the base was really simple. Just blend up all of the ingredients and pour into the ice cream maker. I used coconut milk for the base, because I like a nice rich and creamy ice cream, and just combined it with peanut butter, maple syrup and a touch of vanilla.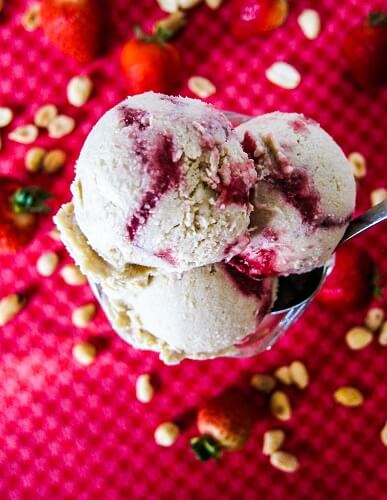 After the ice cream was all churned and ready to go I layered it with the jam in a container. It had to sit for a few hours, to be the perfect scoopable consistency but it was well worth the wait. It was super delicious! The peanut butter ice cream so rich, creamy and dreamy and the sweet gooey raspberry jam the perfect partner for it! If you are a big PB and J fan like me, definitely give this a try!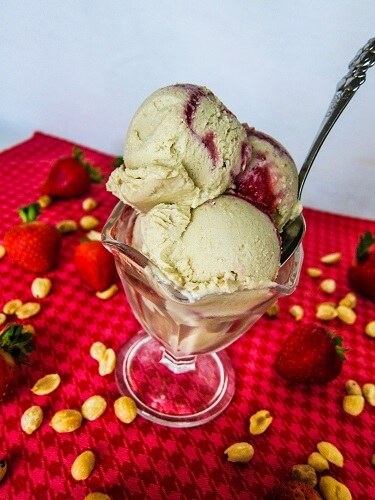 Vegan Peanut Butter and Jelly Ice Cream
Makes about 4 cups
Berry Jam:
3 cups fresh organic raspberries and strawberries (strawberries cut into quarters)
2-3 Tbsp maple syrup (to taste, depending on how sweet the berries are)
pinch sea salt
1 Tbsp arrowroot powder dissolved in 1 Tbsp filtered water
Ice Cream:
3 cups organic full fat coconut milk, chilled
3/4 cup maple syrup
3/4 cup smooth organic peanut butter
1 Tbsp pure vanilla extract
1/4 tsp sea salt
Instructions:
To make the jam, combine all ingredients but the arrowroot mixture in a saucepan and bring to a boil.  Lower to a simmer, and cook for about 20 minutes until the berries are falling apart and it is jammy.  Add the arrowroot mixture and cook just until thickened.  Remove from heat, and let cool completely, then refrigerate until cold (you will have extra for another use or for topping the ice cream, I store mine in a jar).
To make ice cream, combine all ingredients in a blender, and process until well blended.  Pour the mixture into an ice cream maker and process according to package directions (mine takes about an hour, and is still a little soupy like the consistency of a malt, but firms up in the freezer later). If you do not have an ice cream maker, you can pour it into a bowl, and whisk it every half hour or so until it reaches thick malt consistency. Then proceed with the recipe.
Once processed, pour 1/3 into a freezable container with a lid, then drop a few large Tbsp grape jam on top.  Pour half remaining ice cream over, then more jam, then the remaining ice cream and more jam.  Swirl with a knife to distribute jam throughout and place in the freezer for at least a few hours, or overnight to firm up for best results.
(Visited 490 times, 1 visits today)