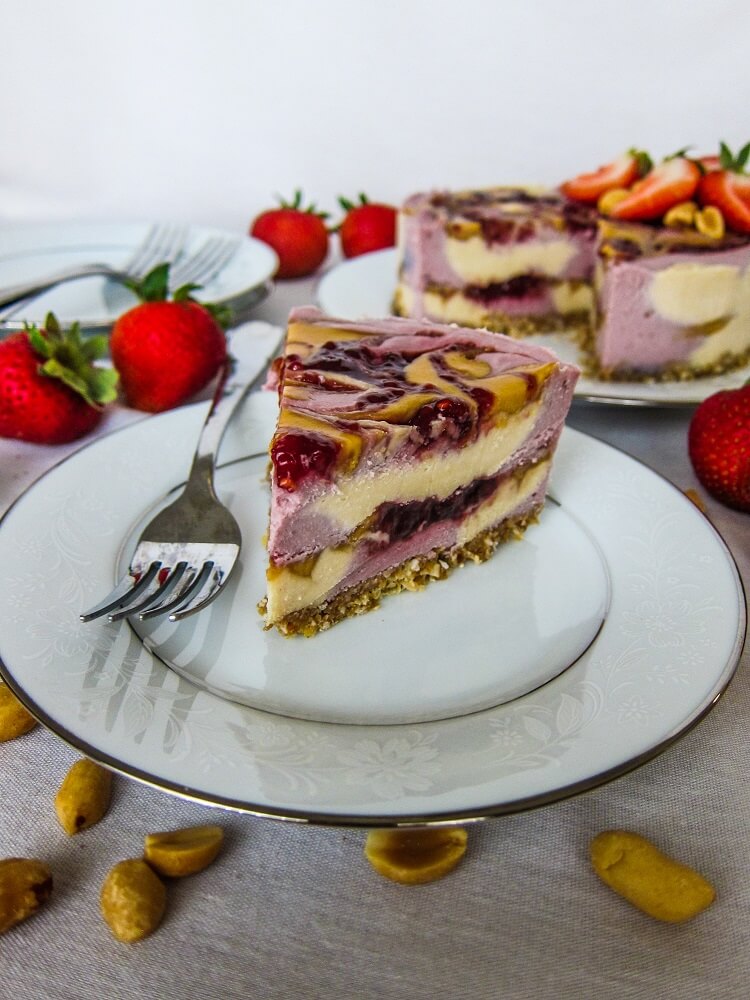 Vegan Peanut Butter and Jelly Cheesecake
I have been wanting to make a peanut butter and jelly cheesecake lately. It all started a few weeks back when I made some peanut butter and jelly ice cream, and peanut butter and jelly white chocolates and I was going to make the cake right away but I decided to wait until my Birthday! A peanut butter and jelly cheesecake sounded like the perfect Birthday cake! I am obsessed with the combo after all and 4 years ago I made a peanut butter and jelly cream pie instead of cake and that was good.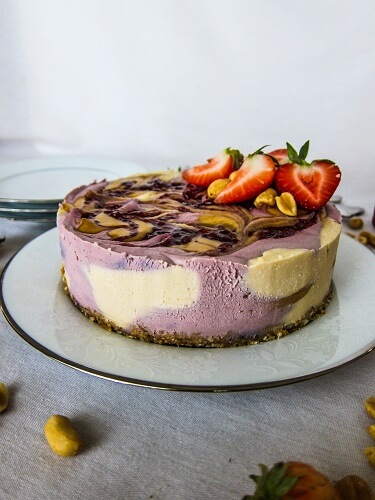 So I went for the cheesecake last weekend. It is actually my birthday today, but I made the cake early so I could enjoy it for a few days and not have to make it on my Birthday. Many people ask me why I make my birthday cake instead of buying it. Well, if I make it myself, I get exactly what I want. Plus I have fun making it! It is kind of like making art, making cakes. At least for me. I enjoy the process of creating recipes.
Although I could have just made this cake vanilla and swirled it with peanut butter and jelly I decided to swirl it with peanut butter cheesecake and berry cheesecake. It just made it more pretty and extra delicious. I used a secret ingredient in the cake as well. Some chickpeas in place of the cashews I used to always use in my vegan cheesecake. Honestly they taste about the same, and my tummy likes them better. Also, it is so much cheaper and I always have chickpeas on hand. Don't worry you can't taste them at all!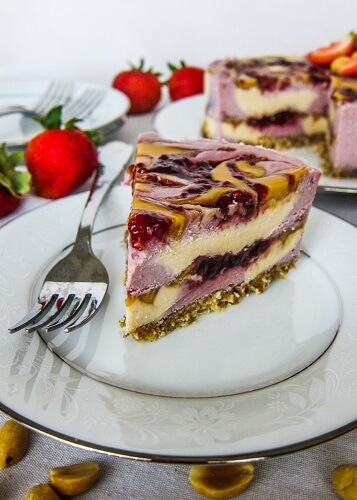 In addition to the cheesecake fillings, I did swirl the cake with gooey peanut butter and berry jam. I could not wait to try it! But it had to set up overnight first. It was well worth the wait though. It turned out sooo good! It was the perfect birthday cake, and a lot easier to make than a layer cake. Don't get me wrong, I love a good layer cake, but cheesecake has a special place in my heart.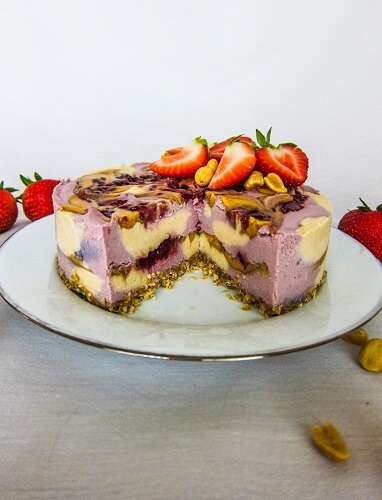 Vegan Peanut Butter and Jelly Cheesecake
Makes one 6 inch cake
Crust:
1/4 cup finely shredded coconut
1/2 cup organic gluten free rolled oats, or quinoa flakes
1/4 cup pitted medjool dates (if not soft, soak them in filtered water
first and drain well)
1 Tbsp organic peanut butter
1/8 tsp sea salt
Filling:
1 cup full fat coconut cream (I used the thick part of a can of Thai Kitchen organic full fat coconut milk*)
3/4 cup cooked chickpeas
1/4 cup maple syrup
1 tsp pure vanilla extract
1/8 tsp sea salt (or to taste
1/2 cup plus 2 Tbp coconut butter (NOT OIL), warmed to liquid
1/2 cup fresh organic raspberries or strawberries
1/4 cup smooth organic peanut butter
Swirl:
1/3 cup organic raspberry or strawberry jam
1/3 cup peanut butter
Instructions:
Oil a 6 inch spring form pan, and line the bottom with parchment paper.
To make the crust, place all ingredients in a food processor, and process until crumbs and starting to hold together (if they are not holding together when squeezed, add a few tsp filtered water and blend). Press into the bottom of the prepared pan.
Meanwhile, to make the filling, combine all ingredients but the raspberries and peanut butter in a high speed blender or food processor and blend until smooth.
Divide between 2 bowls.
Add one back to the blender with the raspberries and blend until smooth then pour back into the bowl. Whisk the peanut butter into the other bowl until well blended.
drop half of each bowl of filling over the prepared crust by the tsp. randomly, then tap on the table, and drop some of the jam and peanut butter over than randomly (but spaced out) by the tsp as well. Swirl with a knife a few times. Repeat with the remaining filling and more peanut butter and jelly.
Place cheesecake in the freezer until it is set for about 4 hours (or overnight in the refrigerator if you are not in a hurry).
Remove from the freezer, un-mold and enjoy!  Store any leftover cake in the refrigerator.
*I use Thai Kitchen full fat coconut milk.  If you are using a different brand, just make sure it is the thick type, 2/3 of the can at least should be very thick.
(Visited 2,330 times, 1 visits today)