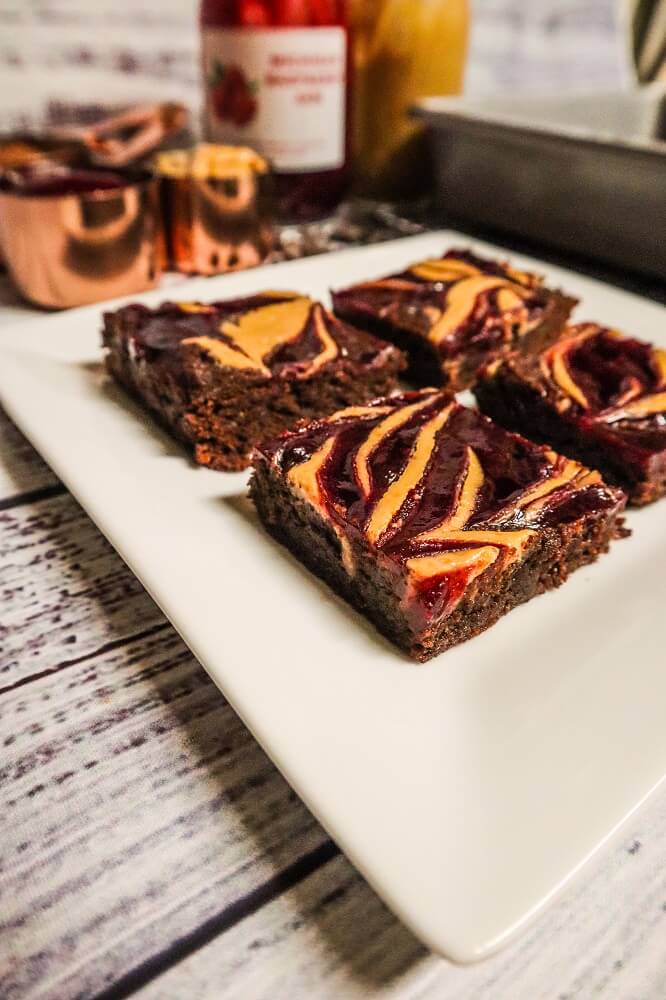 Vegan Peanut Butter and Jelly Brownies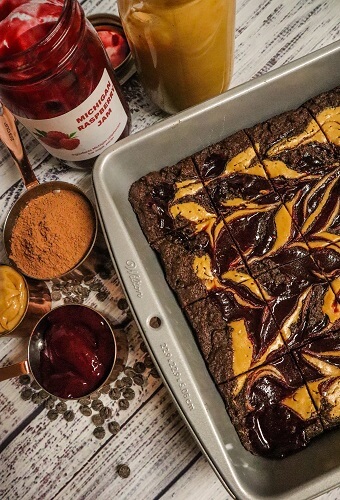 I don't know about you, but the combination of peanut butter and jelly is one of the best things ever!  I have been craving a peanut butter and jelly dessert, so I was super excited when my boyfriend Eric's Dad sent me some of his home made jam. It is the best jam ever, seriously.  He grows the raspberries in his back yard and makes jam to sell at the farmer's market and it is the best I have ever tasted.  Raspberry has always been my favorite and his jam is perfectly balanced.  Just the right amount of sweet unlike the store bought stuff that tastes like it is all sugar. So since I had this fabulous jam, it was time I made that peanut butter and jelly dessert.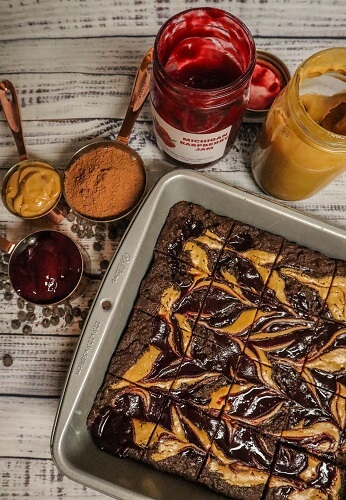 I decided on some peanut butter and jelly brownies.  Because I had never made them before but they sounded amazing.  This was my new years day project, because I love staying home and baking in my pjs sometimes.  For the base I used my usual brownie recipe, but with some peanut butter added.  Because as far as I am concerned one can never have too much.  Then again maybe I am not the best person to judge that because I eat about a jar a week. I used whole wheat pastry flour in these, but if you wanted to make them gluten free, you could use Bob's Red Mill gluten free all purpose baking flour instead swapped 1:1 (I have had success with this brand).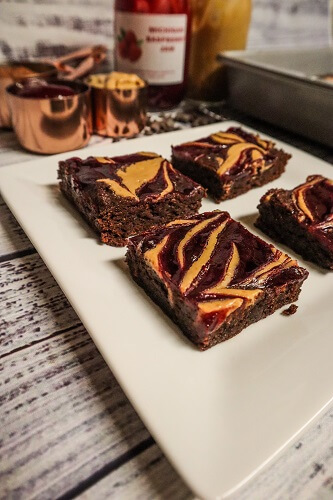 The brownie batter tasted amazing.  I could not wait to bake it and try them out, but of course it needed the peanut butter and jam swirled into it.  They smelled amazing while baking.  Like a peanut butter and jelly sandwich and really good chocolate cake. Unfortunately I had to wait until the next day to try them because I was baking them in the evening and they had to cool so they cut nice.  But the wait was well worth it.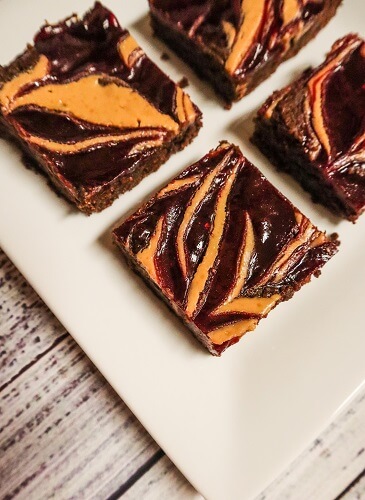 They were crave worthy!  Fudgy decadent rich brownies swirled with gooey peanut butter and raspberry jam!  I think the thing that made them extra good was the fact that the jam and the peanut butter were both home made.  I make my own peanut butter every week because it tastes better than store bought and is much cheaper.  If you are a big peanut butter and jelly fan like I am, definitely give these a try!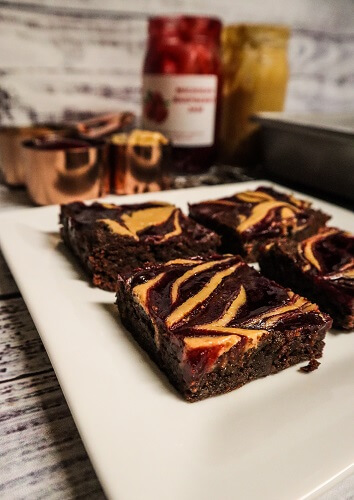 Vegan Peanut Butter and Jelly Brownies
Makes 16
Brownies:
1/2 cup avocado oil 

3 Tbsp creamy organic peanut butter

1 1/3 cups maple sugar or coconut sugar

2 Tbsp ground flax seed mixed with 1/4 cup plus 2 Tbsp filtered water

2 teaspoon vanilla extract

1 cup organic whole wheat pastry flour*

1/2 cup cacao powder or unsweetened cocoa powder

1/4 teaspoon sea salt
Swirl:
1/4 cup raspberry jam
1/4 cup peanut butter
Instructions:
To make the brownies, pre-heat the oven to 350F degrees.
Whisk together the sugar, oil and peanut butter until well combined and the sugar is starting to break down.  Add the flax mixture and vanilla and mix until smooth.
Add the flour, cacao powder and sea salt and beat until smooth.
Scrape the batter into a greased 8x8 inch pan, then drop the peanut butter and jelly over it by the tsp or so randomly, and swirl it with a knife.
Place in the oven, and Bake for about 30 minutes or until set (but do not over bake).  Let cool completely before cutting into bars.
*If you would like to make these gluten free, you can swap the whole wheat pastry flour 1:1 with Bob's Red Mill gluten free all purpose baking flour (I have tested this brand and know it works well).
(Visited 1,137 times, 1 visits today)