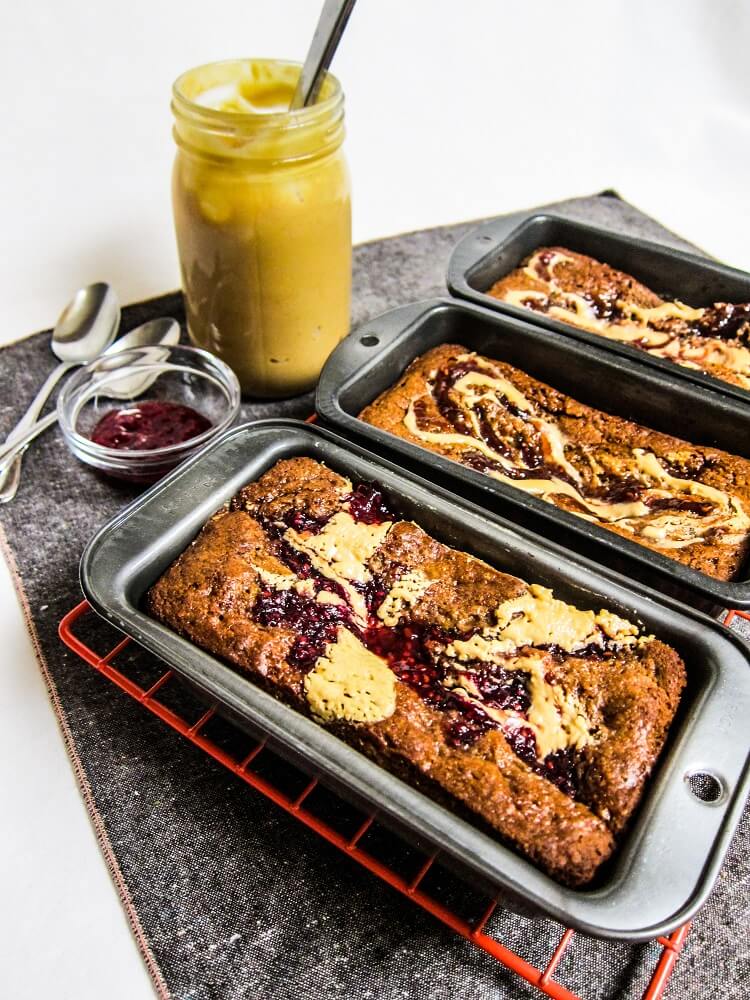 Vegan Peanut Butter and Jelly Banana Bread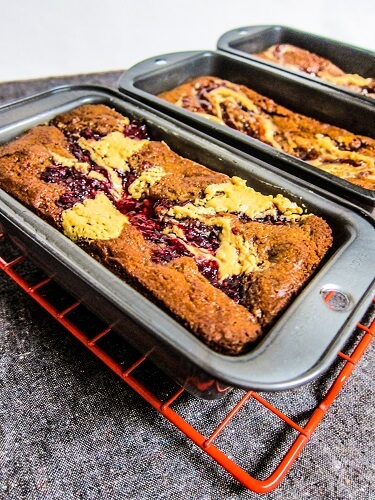 Having over ripe bananas on your counter is a blessing as far as I am concerned. You can freeze them and use them for smoothies, or of course do some baking. There are so many things you can make! But I decided to go for an old classic banana bread when I had some ripe bananas this week. I have always loved banana bread. I am pretty sure it was the first thing I learned how to bake. I know I made it in foods class in middle school as the first baked good we made, and I know before that my Mom had helped me make my Grandma's recipe. I know some people like chopped nuts in theirs (add ins for banana bread can be a hot button debate like raisins or chocolate chips in oatmeal cookies are) but we usually just added chocolate chips, and it was amazing while still warm while they were gooey. Well, this time I thought about making a more classic banana bread with chocolate chips, but decided to swirl the loaf with something instead.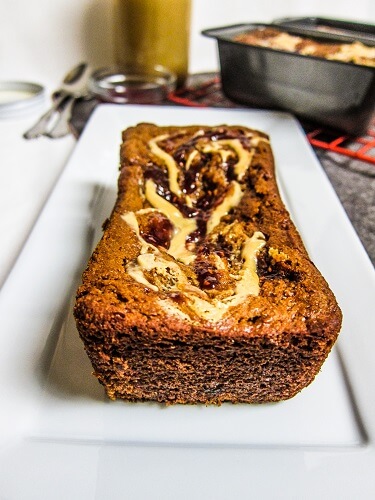 Peanut butter and jelly. Why not?! It is good slathered on banana bread as sort of a dessert like peanut butter and jelly sandwich, so I figured it would be good baked inside as well. I had some raspberry jam and freshly home made peanut butter on hand, so it was perfect! Not only that, this recipe is really easy to make, and I made it after work in a short amount of time. You just whisk it all together in a bowl, then pour it into the pans, drop the swirl onto it, swirl it and bake! I made mine in mini pans, because I like little individual breads. Nothing like having one all to yourself!
They smelled amazing while baking! That is one of my favorite aspects of baking, the heavenly aroma that fills your home. One can not possibly be in a bad mood while they are taking it in. I try to be positive, but sometimes we all get a little grouchy and I admit I was a little crabby before I started the process. Some stuff at work kind of pushed my patience buttons, and I lost my garage door opener somehow between being at work and getting home (luckily I found it later), but I needed some baking and relaxing time. I felt so much happier and better after! Not only that, I had banana bread to enjoy! It was super delicious! Soft and sweet with plenty of banana flavor, gooey jam and peanut butter swirled throughout! I might even like this even more than the chocolate chip banana bread and I thought that could never be topped! If you have over ripe bananas in your home, you know what to make!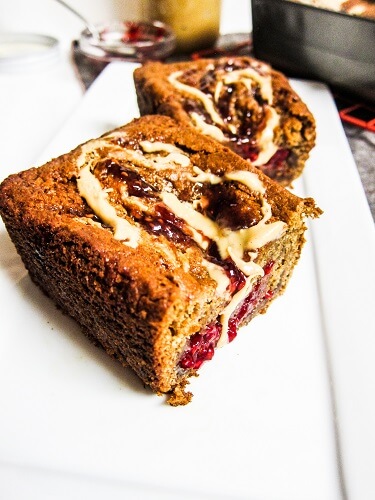 Vegan Peanut Butter and Jelly Banana Bread
Makes 4 small loaves
Ingredients:
4 mini loaf pans (8.7 in x 4.3 in x 2 in.)
1 ½ cups organic whole wheat pastry flour
1 cup Raw Guru coconut sugar
1 ½ tsp baking soda
1 tsp baking powder
½ tsp sea salt
1 cup pureed ripe banana
½ cup organic smooth peanut butter
1 tsp pure vanilla extract
½ cup oat milk or other non-dairy milk
2 Tbsp cider vinegar
½ cup raspberry jam
½ cup smooth organic peanut butter
Instructions:
Preheat the oven to 350F degrees, and oil four mini loaf pans.
In a larger bowl, whisk together the pastry flour, coconut sugar, baking soda, baking powder, and sea salt.
In a smaller bowl, whisk together the banana, peanut butter, vanilla, and oat milk until smooth.
Pour the liquid mixture into the solid, and whisk until smooth.
Whisk in the cider vinegar until bubbles form, then pour half into the prepared pans.
Spoon 3 tsp of the jam onto the batter in each pan, then 3 tsp of peanut butter.
Pour the remaining batter over all of the other batter in the pans, then top each with another 3 tsp of jam and peanut butter. Swirl with a knife.
Place in the oven and bake for about 35 minutes or until a toothpick inserted into the center comes out almost clean with a few moist crumbs attached.
Let cool on a wire rack before enjoying.
Keeps covered for up to 1 week in the refrigerator.
(Visited 492 times, 1 visits today)