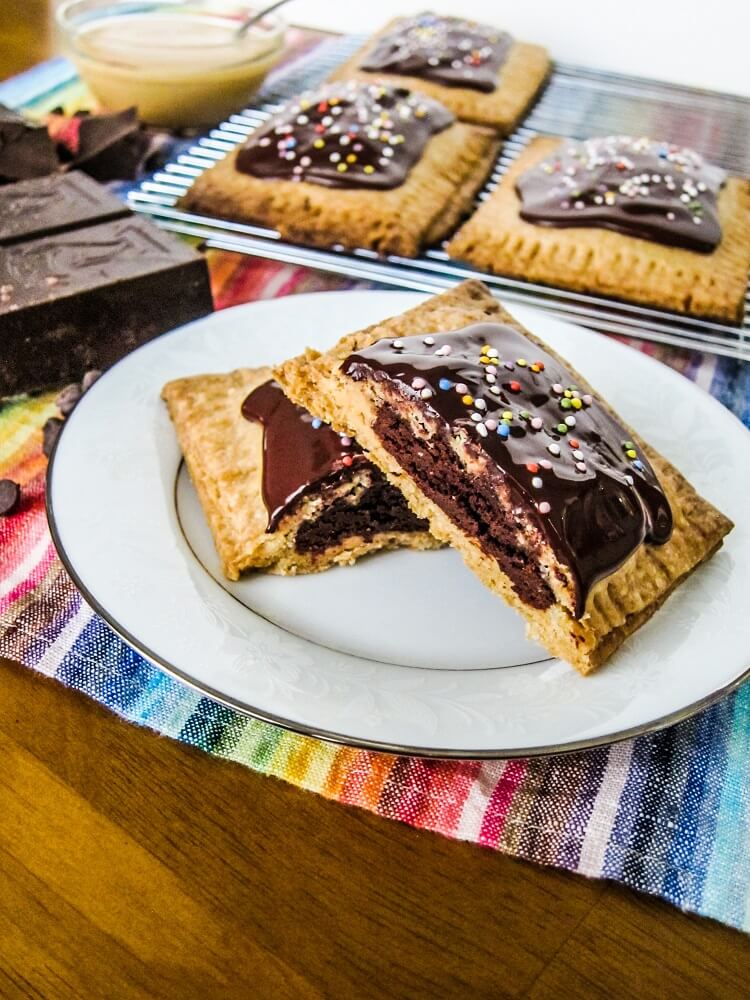 Vegan Peanut Butter and Dark Chocolate Pop Tarts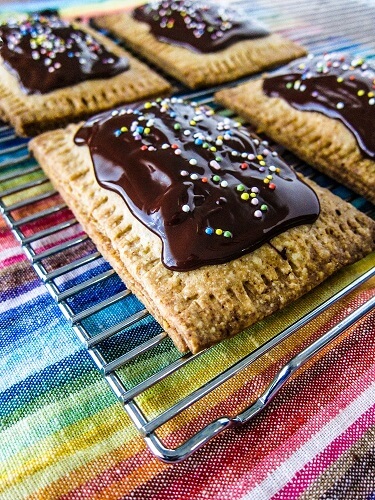 So last weekend I decided to make some chocolate peanut butter pop tarts. I know I just made raspberry pop tarts last week, but a friend asked me if I could make some involving chocolate too, so I couldn't resist making them again. The other ones were so good after all and I did love chocolate Pop-Tarts almost as much as the strawberry and raspberry ones. Plus I have been in more of a pie making mood than a cake one lately, so it was perfect! Since they are basically hand pies.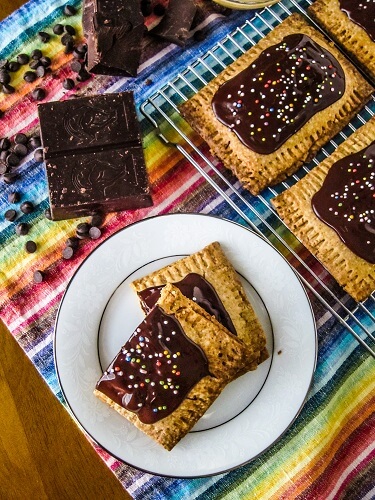 The pop tarts I ate growing up had a pretty bland weird tasting crust even if I thought it was good at the time. It really didn't taste like pie crust at all. So when I make my home made pop tarts I want the crust to be delicious and actually taste like good pie crust. I made a whole wheat pastry flour based crust with coconut oil for the fat and it was perfect! You could of course use all purpose gluten free baking flour if you wanted to make these gluten free.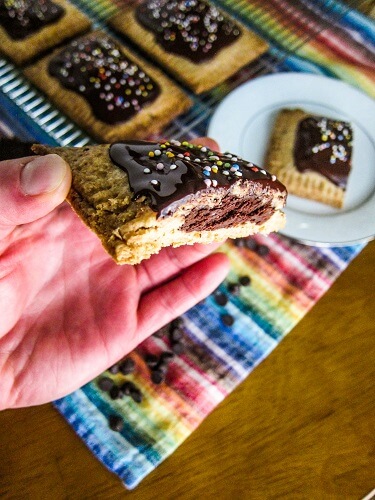 For the filling I wanted it to have gooey peanut butter and chocolate, so I mixed my home made peanut butter with a rich dark chocolate ganache for the filling. I was super excited about these because I love all things chocolate and peanut butter and I could practically taste the finished product as I smelled them baking. But funny story, with the first batch, they started melting in the oven. I was super bummed, then I realized that I had measured the coconut oil wrong. I had to remake the whole thing!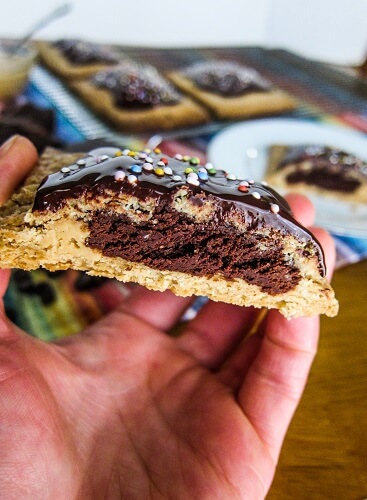 The second batch turned out perfect however with the correctly measured coconut oil. Why am I telling you this? Because I want you to know that I sometimes make mistakes too and stuff does not always come out perfect the first time. I decided to glaze the pop tarts with even more dark chocolate, because why not?! They were super delicious. Rich dark chocolate and peanut butter all soft and gooey on the inside and a flakey crust! So much better than the original Pop Tarts I grew up eating.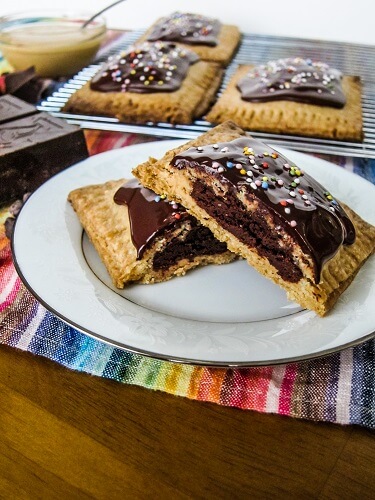 Vegan Peanut Butter and Dark Chocolate Pop Tarts
Makes 8
Crust:
2 1/2 cups organic whole wheat pastry flour
1/2 tsp sea salt
3/4 cup coconut oil in its solid state
about 6-7 Tbsp cold water (or as needed)
Filling:
3/4 cup vegan dark chocolate chips
1/2 cup full fat coconut milk
1/2 cup peanut butter
Glaze:
1/2 cup dark chocolate chips
Instructions:
To make the crust, in a large bowl, mix together flour, sugar, and sea salt. Cut in coconut oil with a pastry blender or 2 knives until it is in pea sized pieces. Mix in just enough water to create a smooth dough that holds together but isn't too sticky. Add more water if needed, and knead slightly until a smooth dough is created.
Roll out into a large rectangle and cut into 16 identical rectangles.  Chill if too soft before assembling.  You want the dough a little pliable, but not so warm that it will break. Preheat oven to 375F degrees. Set the dough aside in the refrigerator while you make the filling.
Melt the chocolate in the top of a double boiler with the coconut milk and peanut butter until smooth. Remove from the heat and let cool slightly.
To assemble the pop tarts, spread about 2 Tbsp of the peanut butter chocolate ganache half of the dough rectangles (leaving a boarder so you can attach the dough at the sides). Cover with the remaining pieces of dough (I used a small spatula to carefully move them), pressing the edges and crimping with a fork or the edge of something with a flat edge, like a spatula. Bake for about 30 minutes until the crusts are starting to brown lightly. Remove from oven and let cool on a wire rack until warm.
Melt the dark chocolate for the glaze in the top of a double boiler. Spoon some of the dark chocolate over each pop tart, and smooth it out to cover the top. Let harden before serving.
(Visited 605 times, 1 visits today)