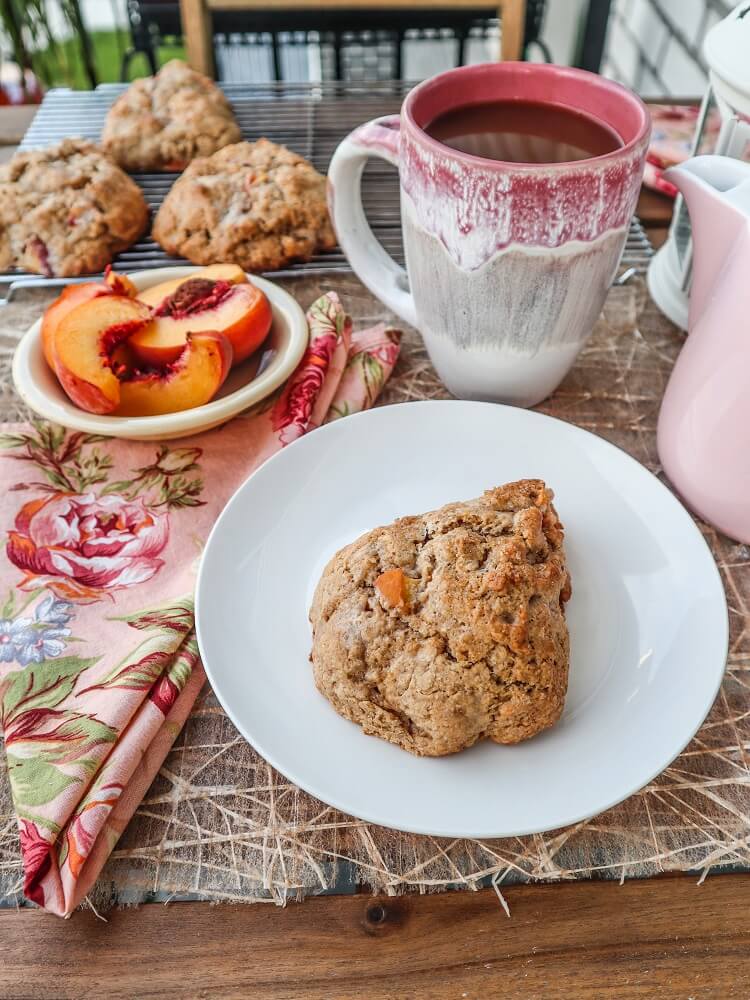 Vegan Peaches and Cream Scones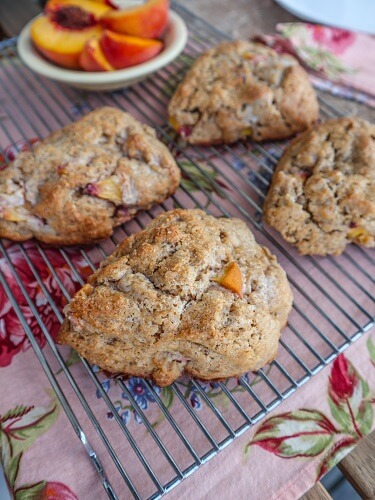 On weekends, I like to enjoy a treat with my coffee.  Whether that be a slice of cake, a brownie, or something more brunchy like a cinnamon roll or a scone.  I do love scones with coffee!  But they have to be good scones, I am really picky.  The deli I formerly worked in made scones that our customer loved, and the lady that originally made them and taught me how to make them had a technique for making them the perfect texture!  You didn't want to mix the dough too much just enough to make it hold together and leave it a little lumpy.  This created pockets of the fat you used (she used butter in hers, I use coconut oil), and flakey scones that were tender on the inside and just the right amount of crunch on the outside (but not dry like some scones).  I used her technique to create my own vegan scone recipe which I think is pretty darn good.  I used to sell a lot of mine at the deli!  But I still like to make them at home. So this past weekend, I made some Vegan Peaches and Cream Scones!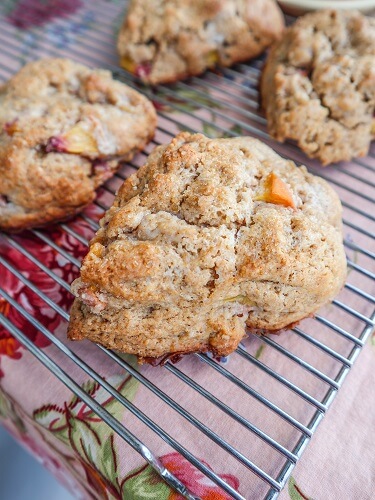 I had a bunch of ripe peaches on hand and I like to make goodies with them besides just eat them.  I was missing the work scones, since I do not make them at my new job so I whipped some up just in time for my weekend!  I used whole wheat pastry flour for the base of these which differs from the work ones, since they used all purpose flour.  But if you wanted them to be more bakery style by all means use the all purpose, or if you want them to be gluten free, I can recommend Bob's Red Mill gluten free all purpose baking flour as a good substitute (1:1).  I have used it before with good results.  The scones are pretty simple ingredient wise, just the flour, baking powder a touch of salt, and sugar for dry ingredients. You can use either white sugar, maple sugar, brown sugar or even coconut sugar (the latter though is probably my least favorite because it doesn't blend in as well).  Maple and brown are my favorite!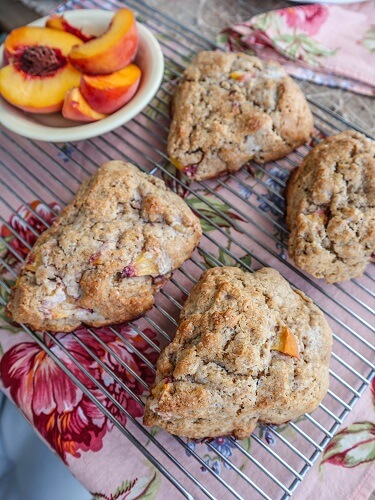 Then you mix in the coconut milk and vanilla and fold in the peaches. Like I mentioned earlier, the secret to these is all in the mixing. You do not want to over mix these like a cake batter or something, you want to mix the dry ingredients, leave pockets of coconut oil (like pea sized pockets or slightly larger), then just mix until combined and lumpy when you add the wet ingredients and peaches.  Don't worry if it looks weird, it will all melt together beautifully in the oven while baking!  They smell so heavenly as they bake too!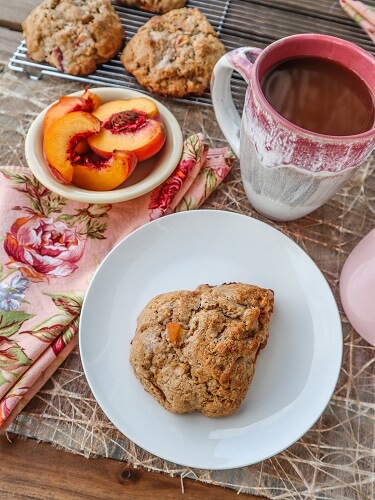 You might need to reshape with two bench scrapers, to keep the nice shape since they spread a little but they come out so nice at the end! These scones are scrumptious!  Flakey and tender on the inside with jammy peaches, scented with vanilla and a crispy sugar coating on the outside thanks to the turbinado I sprinkle on them before baking!  They are perfect with mid morning coffee or tea!  It is 100% worth it to make your own scones versus just buying most of the store bought ones. I can honestly say the ones at the deli I used to work at, the ones I sold are hands down the best I have had compared to the dry dense ones you buy at other places!  If you want to enjoy some delicious scones, give these Vegan Peaches and Cream Scones a try!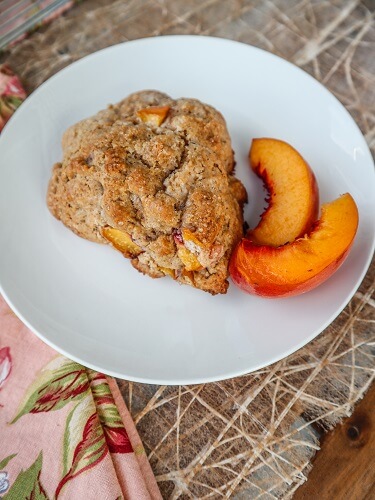 Vegan Peaches and Cream Scones
Makes 8
Ingredients:
3 cups organic whole wheat pastry flour* or organic all purpose flour
3/4 cup maple sugar or brown sugar
2 1/2 tsp baking powder
1/4 tsp salt
3/4 cup solid virgin coconut oil, cut into chunks (if your house is above 65F degrees, chill it first)
1 1/2 cups (or as needed) cold full fat organic canned coconut milk (whisked until smooth if chunky)
1 Tbsp pure vanilla extract
2 cups sliced ripe peaches
coconut milk for topping (if needed)
turbinado sugar for sprinkling
Instructions:
Preheat oven to 375F degrees with the rack set at the middle position.
Line a baking sheet with parchment.
In a large bowl, combine the flour, sugar, baking powder, and salt. Cut in the coconut oil with a pastry blender or 2 knives until the mixture starts to clump into pea sized pieces. In a small bowl, stir the vanilla into the coconut milk. Add the coconut milk to the dough, and stir a few times, but do not over-mix. The dough should hold together when squeezed, but still be clumpy.
Fold in peaches until evenly distributed.
Place dough on a floured work surface, and shape into a 4 inch wide log. Use a bench scraper to cut into 8 triangles.
Place scones on the prepared baking sheet, reshaping slightly if necessary.
Brush the tops lightly with the coconut milk (only if they seem dry, you want the sugar to stick), and sprinkle with coconut sugar.
Place in the oven and bake for about 15 minutes , then after about 15 minutes you may need to reshape with 2 bench scrapers if the scones are spreading. Turn them then place back in the oven and bake 15 minutes more until they are lightly browned and cooked throughout.
Cool on a wire rack.
Enjoy!
*If you prefer to make these gluten free, you can swap the whole wheat pastry flour for an all purpose baking flour like Bob's Red Mill Gluten Free All Purpose Baking flour (I have tried this brand with success).
(Visited 457 times, 1 visits today)