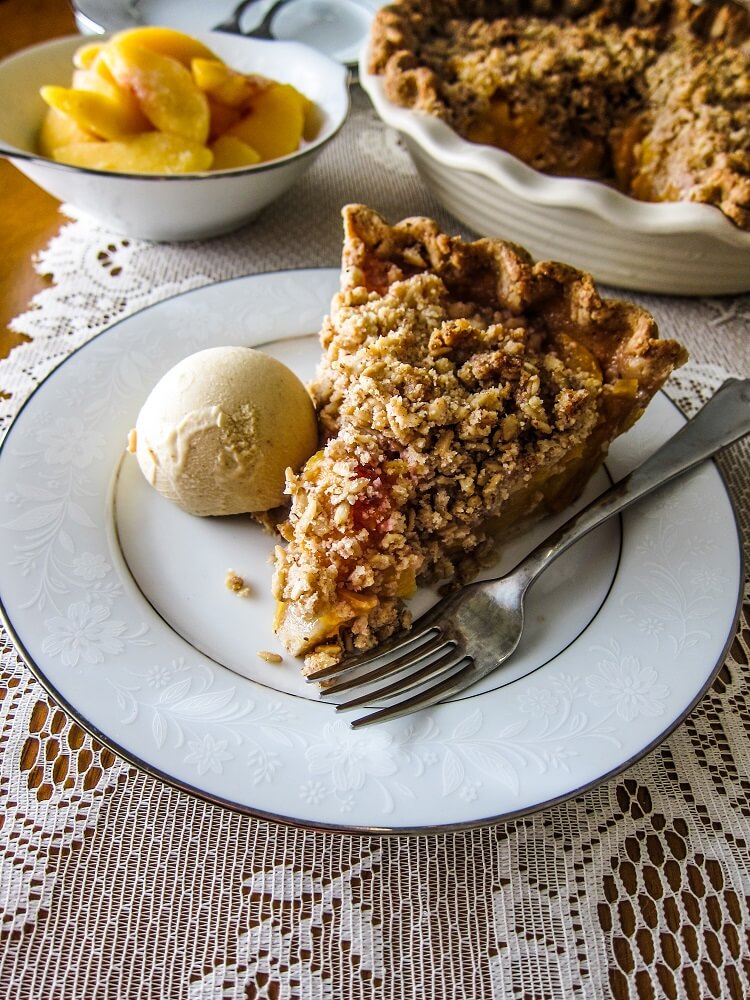 Vegan Peach Streusel Pie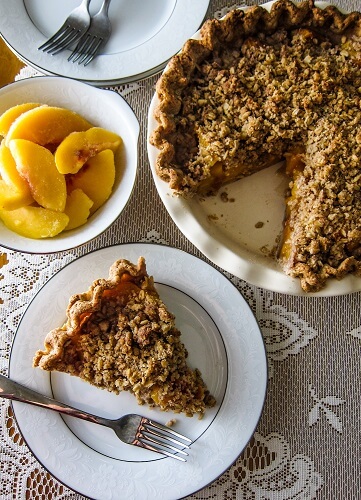 We don't grow peaches here in Minnesota, so every Summer, they are like a treat.  At least to me, because there is nothing like a perfectly ripe, sweet peach.  Funny because when I was little, I wasn't as big of a fan of them since I had only had the canned ones in peach pies that were just ok.  But nothing like the fresh ones.  I think the first time I had really good fresh peaches was when my Mom and I got them at a local store that was known for carrying really good ones.  That is actually where I bought 8 lbs of them earlier this week to make things out of because I haven't had any yet this Summer.  They were so good too!  Perfectly ripe, not hard or too soft.  I am always bummed when I see peaches that look good but they are not ripe.  But these were perfect for the main thing I wanted to make with them, pie!  I have been dreaming about making a peach pie for weeks now, and I finally got around to making one.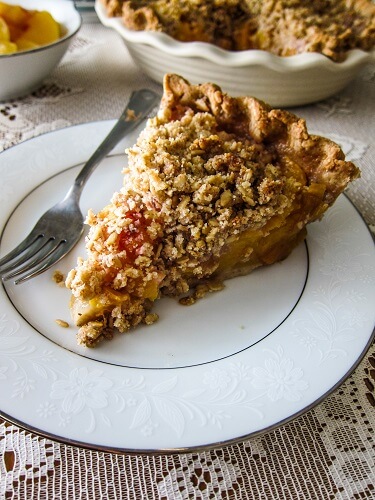 The last pie I made was a double crust pie, but this time I decided to go for a streusel topping, because not only is it my favorite, but it is easier to make than rolling out two crusts and not as fussy.  Which I was all for. No fussy recipes this week.  Do you ever have those weeks where you are tired and want good food that you made yourself but for not a lot of work?  Well that is me right now.  For the crust, I used a mixture of gluten free flour and Raw Guru almond flour because it makes the most delicious crusts!  The almonds give it a bit more richness than it would normally have and it sort of melts in your mouth.  The filling was pretty simple, just peaches, coconut sugar, cornstarch (to thicken), and vanilla. That was all it needed, because the peaches were so delicious and flavorful.  To make the topping extra crunchy, I added oats.  That was what my Mom always used when she made streusel, and so that is what I always use.  It makes them so much better than just flour, sugar and oil.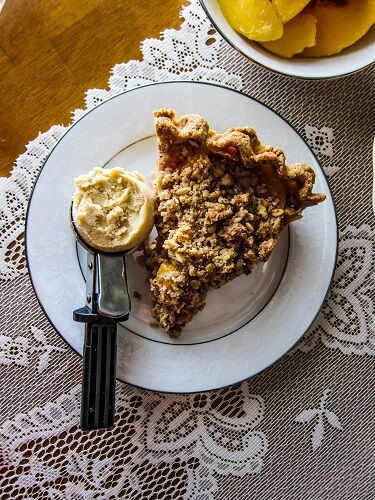 The pie smelled so good while baking!  A sweet aroma of peaches and crust filling my kitchen.  I could not wait to try it, but of course I had to wait until the next day because I made it at night.  But it was well worth the wait!  I served it warm, topped off with my Peach Bourbon Ice Cream I recently made.  It was heavenly!  If you have a lot of peaches on hand, give this a try!  And, if you would prefer to make a gluten free pie, just use Bob's Red Mill gluten free all purpose flour instead of the whole wheat flour, and quinoa flakes instead of the oats, just swap it in 1:1, it will turn out just as good.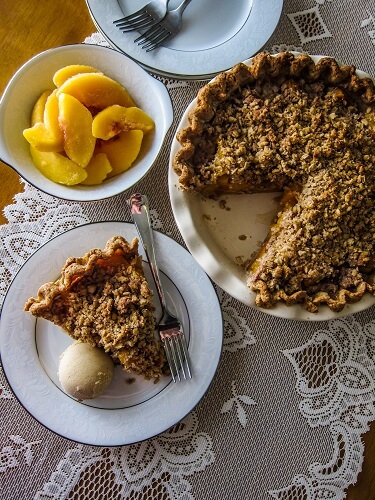 Vegan Peach Streusel Pie
Makes one 9 inch pie
Crust:
Filling:
6 cups organic ripe peaches
3/4 cup coconut sugar
1/4 cup cornstarch
1 tsp pure vanilla extract
Topping:
Instructions:
To make the crust, in a large bowl, mix together flour, almond sugar, and sea salt. Cut in coconut oil with a pastry blender or 2 knives until it is in pea sized pieces. Mix in  just enough water to create a smooth dough that holds together but isn't too sticky. Add more water if needed, and knead slightly until a smooth dough is created. Roll out into a 10 inch circle on a sheet of slightly floured parchment paper, then use the paper to help you transfer one to an 9 inch pie dish.  Set it aside in a cool place.
Pre-heat the oven to 400F degrees.
To make the filling, combine the peaches coconut sugar, vanilla, and cornstarch in a bowl, and toss together.  Pour this mixture into the crust, then cover with foil, and bake until the filling is bubbling, about an hour.
Meanwhile, to make the topping, mix all ingredients together with hands in a bowl until small clumps form.  Once the pie has baked for an hour, add the topping, and bake for 10-15 minutes more until it is golden brown.
Remove from the oven to a wire rack.
Allow to cool completely before serving.
(Visited 633 times, 1 visits today)