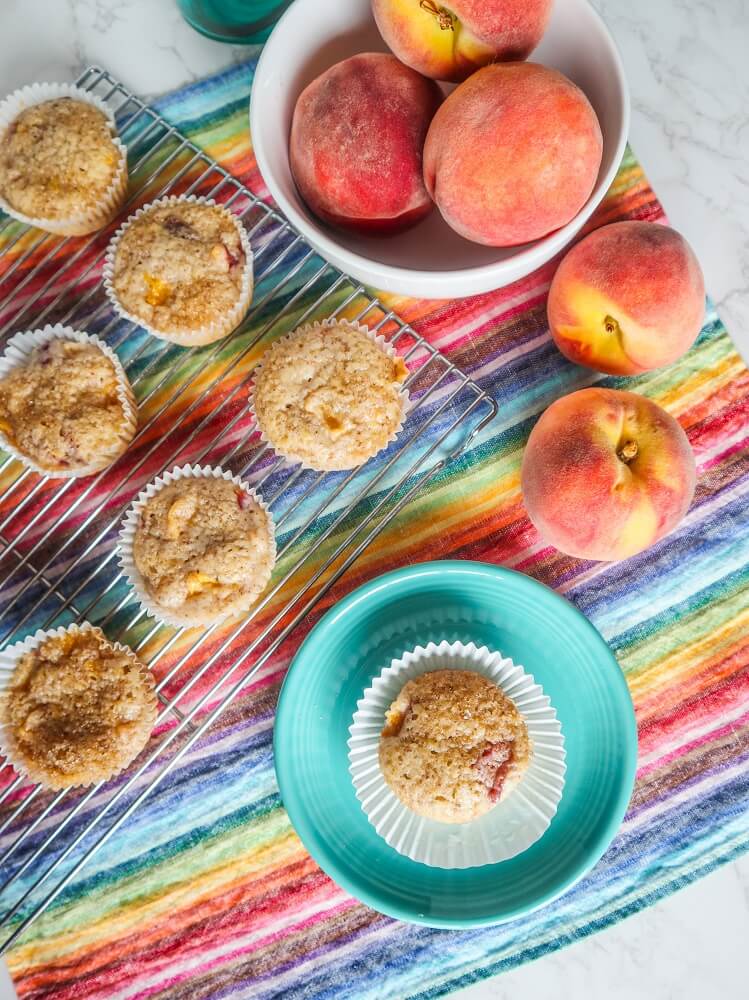 Vegan Peach Muffins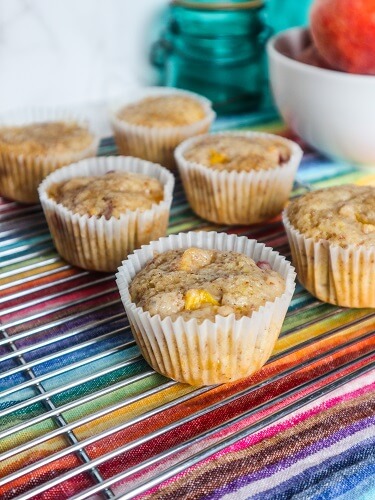 One of my favorite things to eat on weekends when I was little were muffins that my Dad made.  Yes, they happened to come from a box, but there is just something so delicious about fresh baked muffins on a lazy weekend morning!  I loved muffins in general as a kid.  I would eat the bottom first, then the top because it was my favorite part (and still do, because it still is).  I have not made muffins in a really long time but last weekend on a whim I decided to.  I had some ripe peaches on hand and I have never made Vegan Peach Muffins before so I thought why not?!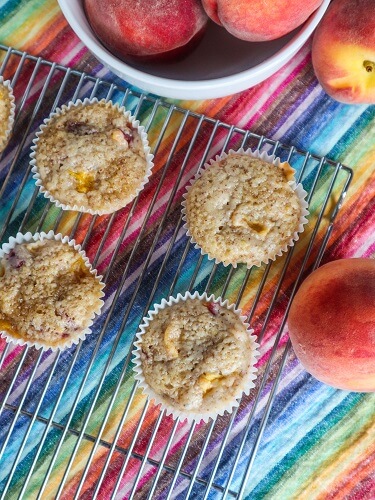 I love that muffins are so easy to make quickly. Even without a box mix.  The only effort it really takes is to measure everything but it is so worth it! It took me all of 10 minutes to whip these up and I was enjoying warm muffins within 45 minutes! for these I kept them simple, with just sweet vanilla batter.  I used whole wheat pastry flour but you can use all purpose, or for gluten free you can use a gluten free all purpose flour (I recommend Bob's Red Mill all purpose baking flour because I have used it before with good results in my cakes and baked goods).
For the oil I used coconut this time because it was what I had on hand but I also like to use avocado oil in a recipe like this because it has a buttery flavor.  For the milk I used coconut because it gives these a richer texture.  I mixed plenty of peaches into the batter, and it was so delicious!  One of my favorite parts of baking muffins when I was little was licking the leftover batter from the bowl and that hasn't changed!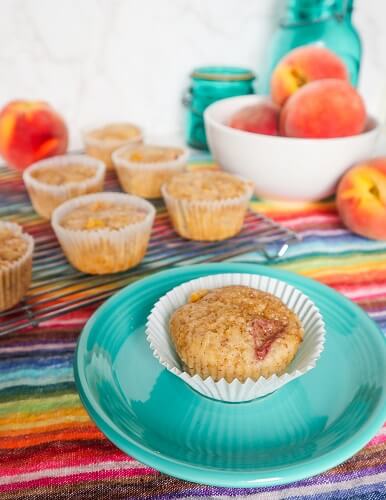 They baked up beautifully and smelled amazing!  There is nothing like enjoying fresh, warm muffins in your own kitchen!  These were so delicious!  Soft and sweet scented with vanilla and jammy peaches throughout! If you have some ripe peaches on hand, definitely give these Vegan Peach Muffins a try!  They are super easy to make!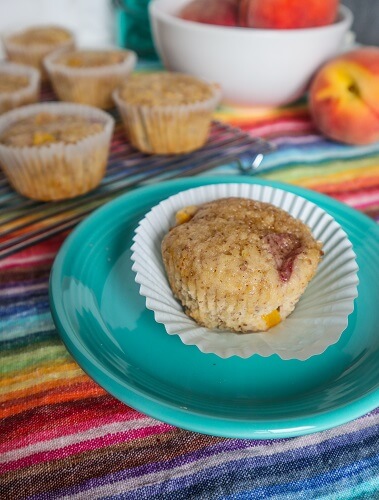 Vegan Peach Muffins

Makes 16
Ingredients:
1 1/2 cups whole wheat pastry flour or all purpose flour
3/4 cup plus 2 Tbsp granulated sugar or maple sugar
3/4 tsp baking powder (1/2 tsp plus 1/4 tsp)
1/2 tsp sea salt
2 flax eggs (2 Tbsp golden ground flax seed mixed with 1/4 cup plus 2 Tbsp filtered water, allowed to sit 15 minutes)
1/4 cup plus 2 Tbsp coconut oil or avocado oil
1/2 cup coconut milk or other plant based milk
1 1/2 tsp pure vanilla paste or extract
1 cup chopped peaches
Turbinado sugar
Instructions:
Preheat oven to 350F degrees, and line muffin tins with 16 standard sized liners.
In a large bowl, combine the flour, sugar, baking powder and sea salt and whisk to blend.
Add the flax eggs, oil, milk, and vanilla and beat with an electric mixer for about a minute (or 3 minutes if doing it by hand with a whisk).
Stir in peaches.
Spoon into the muffin tins filling them 3/4 full.
Sprinkle with turbinado sugar.
Place the tins in the oven and bake for about 15-20 minutes until the muffins are done in the center (you are able to insert a toothpick into the center and it comes out almost clean with a few moist crumbs).
Remove from the oven and let cool 15 minutes before enjoying.
Muffins keep in a container in the refrigerator for a week or the freezer for a few months.
(Visited 150 times, 1 visits today)