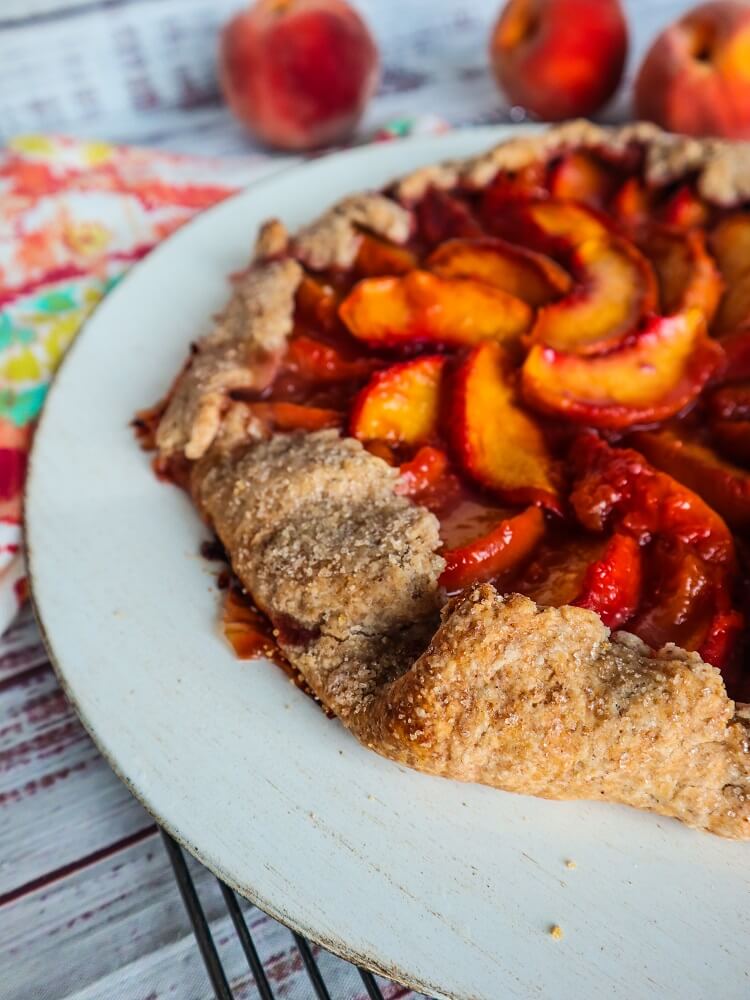 Vegan Peach Galette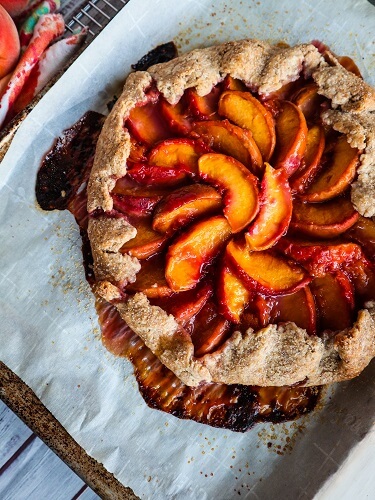 I have been all about the peaches lately. I made some peach scones and peach ice cream last week, and I have been eating them like crazy plus I made this peach galette. I was craving a peach pie, but I didn't want to go through the extra effort to make one, so I went with a galette. It was a work day after all, and easy recipes are needed after you are all tired from working all day. Galettes are perfect for that! They are way less fussy than pies because they are rustic, so if the crust isn't perfect it is ok, and you only need to deal with one crust not two.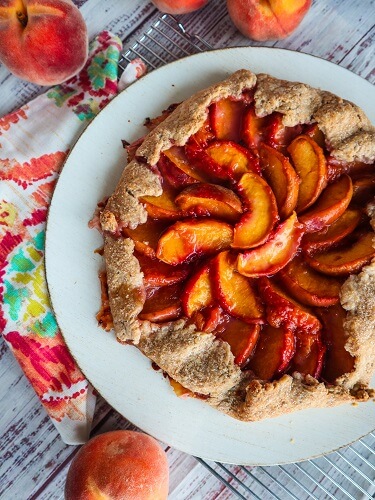 It only took me about 15 minutes to make the galette, the crust is fairly simple to make. The trick is just to not over-mix it because then it will be a little tough. But this one came out just right. I used a slightly different ingredient base than I have in the past, keeping the whole wheat pastry flour and almond meal and adding in coconut butter and pecan butter instead of the usual coconut oil. It tasted good before baking it, but would it hold up?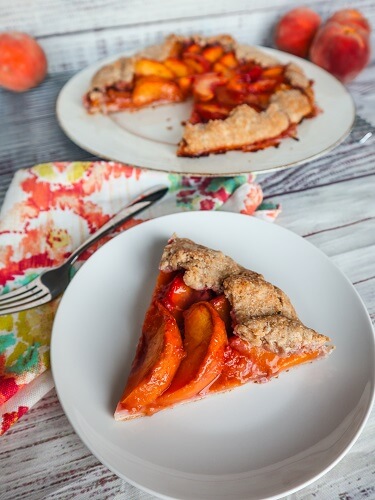 Well, luckily it did! It honestly tasted even better than just the coconut oil. I love nuts in pie crusts, they make them extra delicious! For the filling I kept it really simple because the peaches were so good and flavorful on their own. I wanted to allow them to shine, so I just added a little maple syrup and vanilla plus a touch of lemon juice to them.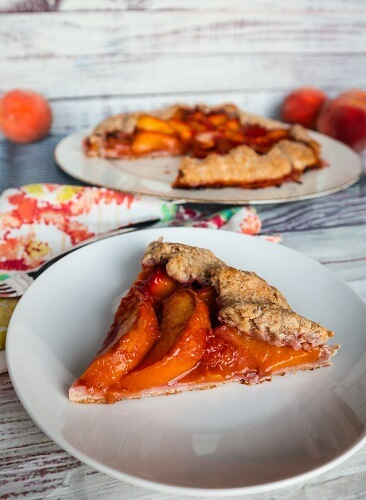 The galette baked up beautifully! It smelled so good while baking, I could not wait to try it! Luckily I did not have to wait long, because I like to enjoy these things while still warm from the oven. It was heavenly with a rich crust, jammy peaches baked to tender perfection with a hint of vanilla. My favorite way to enjoy these is with some coconut milk ice cream which I sadly didn't happen to have on hand (but you might). Next time I guess. If you are in the mood for something similar to peach pie but easier to make, give this a try!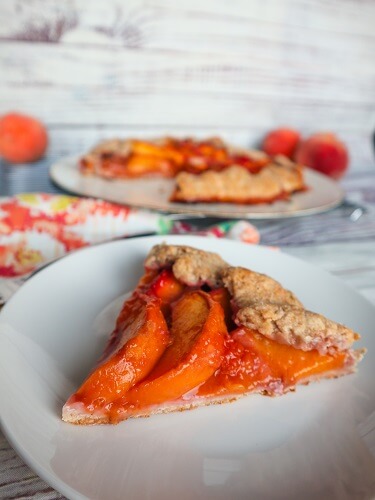 Vegan Peach Galette
Makes 2 8 inch galettes
Ingredients:
Crust:
1 1/2 cups organic whole wheat pastry flour* 
1/2 cup almond meal
3 Tbsp maple sugar
1/4 tsp sea salt
2 Tbsp coconut butter, warmed to liquid
1/4 cup pecan butter or raw almond butter
3-4 Tbsp cold filtered water or as needed
Filling:
6 fresh peaches, sliced
1/4 cup maple sugar
juice of one small lemon
a pinch of sea salt
maple sugar, for topping
Directions:
To make the crust, in a large bowl, mix together flour, meal, sugar, and sea salt.  Cut in coconut butter and pecan butter with a pastry blender or 2 knives until it is in pea sized pieces.  Mix in just enough water to create a smooth dough that holds together but isn't too sticky.  Add a touch more water if needed, and knead slightly until a smooth dough is created.
Roll it out into two 9 inch rounds using parchment underneath and floured rolling pin.  If it tears, no worries, just press it back together and patch it up. Using the parchment to move them, place them on a sheet pan.
Preheat oven to 400F degrees.  To make filling, mix together all ingredients in a large bowl.
Arrange the peaches over the dough circles, leaving a 1 1/2 inch boarder, then carefully fold up edges to cover the edge of the fruit. Sprinkle with a little sugar.  Place in the oven. 
Bake for 45 minutes (checking after 20 and if it is very brown, if they are tent with foil) until bubbling and fruit is tender.  Remove from oven and let cool on a wire rack for at least an hour.
  *If you want this to be gluten free, Gluten Free All Purpose Flour will work as well in this recipe (the same amount substituted for the whole wheat flour).
(Visited 770 times, 1 visits today)