Vegan Peach Coconut Macadamia Crumble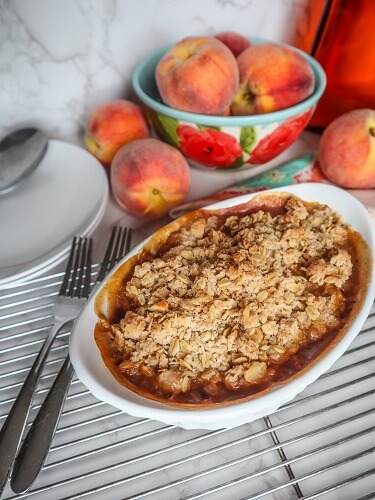 We have been eating loads of peaches lately.  My Dad gave us half a case of Colorado peaches a week ago, and we have made it about half way through them.  They are all so good and flavorful so I have been eating most of them as is.  But I decided a peach crumble sounded amazing! Crumble or crisp is one of my favorite desserts because it is so simple and easy to make!  This time I made a Vegan Peach Coconut Macadamia Crumble!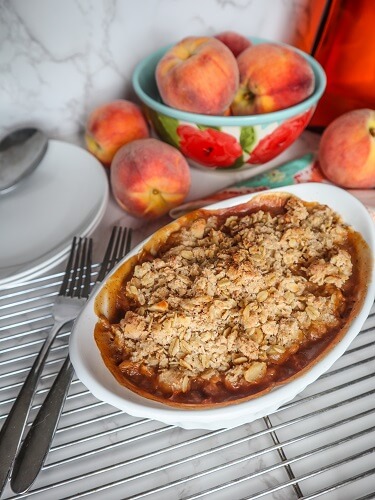 I make my crumble a little different than most people.  I put the filling in the baking dish, cover it and bake until the fruit is tender and bubbling then I put the topping on.  This way the topping does not burn and the fruit is cooked through every time.  These peaches were so flavorful I just added a touch of maple syrup and vanilla and they were perfect!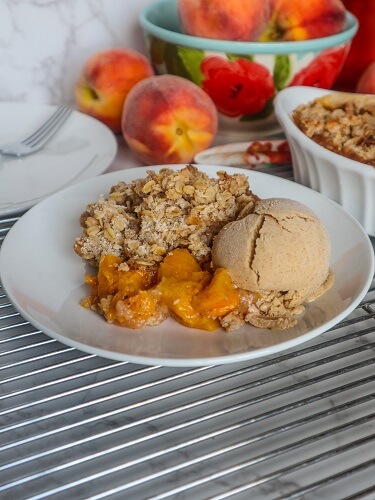 For the topping I always like to use oats along with the flour because they give it a nice texture! My Mom did this and I always loved it growing up. This time I had macadamia nuts and coconut on hand from another recipe so I decided to add them into the topping.   They are so heavenly paired with the peaches! This topping was nice and crunchy!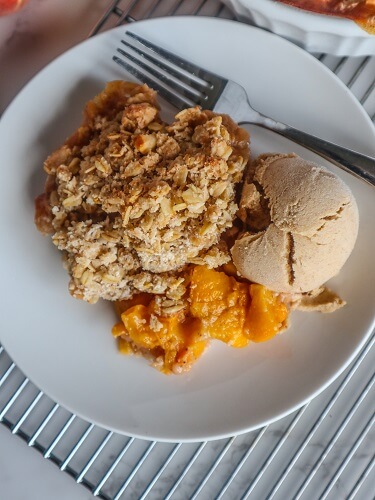 This smelled amazing while baking!  I could not wait to try it!  My favorite way to serve crumble is warm with some cool ice cream on the side so that is exactly what I did!  It was so incredibly delicious with the sweet vanilla scented jammy peaches and crispy sweet nutty crumble on top!  This is so easy to make, so if you have peaches on hand, definitely make this Vegan Peach Coconut Macadamia Crumble!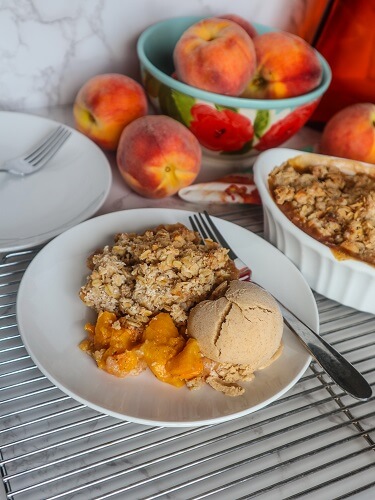 Vegan Peach Coconut Macadamia Crumble
Serves 2
6 inch wide ovenproof bowl or pie plate
Fruit:
3 cups organic peaches, sliced
2 Tbsp maple syrup
1 tsp pure vanilla extract
pinch sea salt
2 Tbsp organic whole wheat pastry flour or all purpose flour
Topping:
3 Tbsp organic whole wheat pastry flour or all purpose flour
3 Tbsp large flake dried unsweetened coconut
3 Tbsp chopped macadamia nuts
1/2 cup gluten free rolled oats
3 Tbsp coconut sugar
1/8 tsp sea salt
3 Tbsp coconut oil
Preheat oven to 400F degrees with the rack at the center position. Place a baking sheet lined with parchment paper on the rack. Oil a 6 inch wide pie plate or bowl with coconut oil. In a large bowl, toss together the fruit, maple syrup, vanilla, sea salt, and flour. Spoon into prepared bowl or pie plate, and cover with foil. Place plate on baking sheet and bake for 30-45 minutes until fruit is cooked through and bubbling.
Meanwhile, when the fruit in the oven is almost at 45 min, to make the topping, combine all ingredients in a bowl and mix together with your hands scrunching together to form small clumps until there are no floury spots left.
Remove baking fruit from oven. Top with the crumble topping, spreading it out evenly over the fruit. Bake for about 15 minutes until lightly brown and toasted on top (keep a close eye on it could burn very quickly). Remove from oven and let cool until warm, and top with some ice cream or coconut vanilla whipped cream and...enjoy!
(Visited 98 times, 1 visits today)