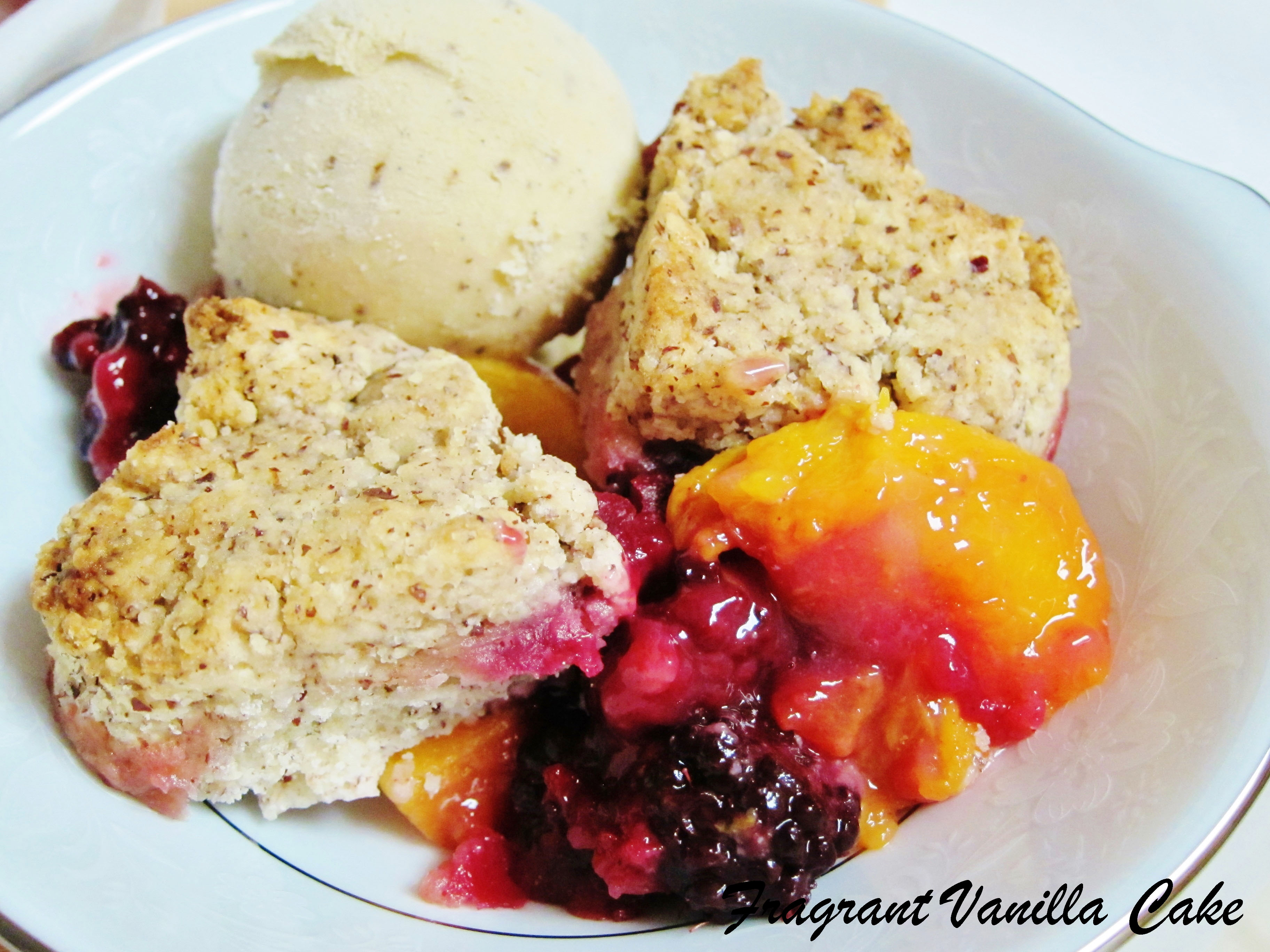 Vegan Peach and Blackberry Cobbler with Pecan Biscuits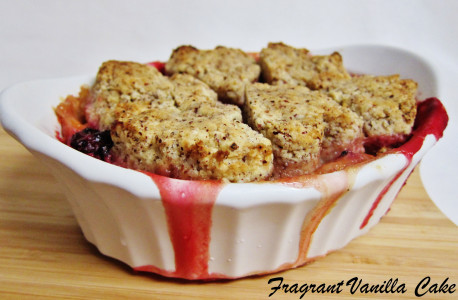 Eric calls me kitty because he thinks I act like a cat. Including hating getting wet.  I am not much of a swimmer and I can't stand getting rained on and wearing soaked clothes. So, I surprised myself last week and actually enjoyed getting rained on while running.  It was not raining when I started, and I decided to run an 8 mile route with a few big hills because I was feeling good.  55F degrees felt absolutely heavenly to me after a few hot weeks of humidity here in Minnesota and I was basking in it.  About 4 miles in it started to sprinkle.  No big deal, it was cooling me off.  Those big hills didn't seem so bad.  Then it started pouring when I had about 2 miles left.  I could not see, and my shoes were going squish slosh, heavy with water.  But it felt good. I was actually enjoying rain for once.  I had to laugh once I arrived home all soaked.  At least it washed off the sweat.  I felt refreshed and happy not like a drowned rat at all.  I guess it is all in how you look at things.  I chose to see the positive in the soaking run.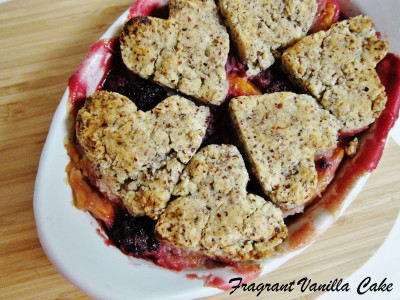 Also, while I was out running, I had time to dream up a delicious dessert to make.  You see running is my favorite time to think and dream up recipes when I am not making up new words to songs in my head.  Seems to bring out my creativity.  What I finally decided on was Peach and Blackberry Cobbler with Pecan Biscuits.  I was pretty excited about it!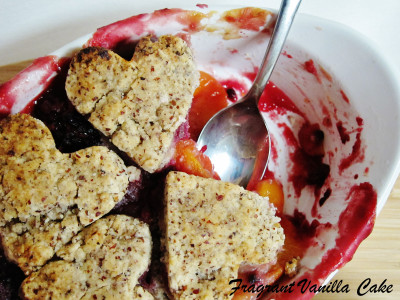 I was gifted some blackberries, and I had bought a bunch of peaches so it was perfect!  I just scented them with vanilla and sweetened them a touch (they didn't need much since the fruit was so flavorful).  The filling smelled simply heavenly while baking.  I topped it off with some pecan biscuits (my scone dough modified so this is really good stuff).  OMG I was sooo ready to dive in!  I even had some sweet corn ice cream to serve with it!  I can not resist a warm fruit dessert topped off with cool ice cream.  Trust me, you need this deliciousness in your life!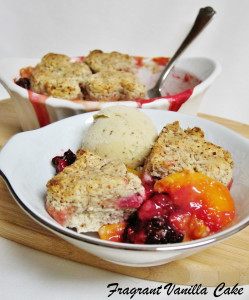 Vegan Peach and Blackberry Cobbler with Pecan Biscuits
2 cups organic peaches, sliced
1 cup organic blackberries
1 Tbsp maple syrup
2 Tbsp gluten free all purpose flour
1/2 Tbsp lemon zest
1 Tbsp lemon juice
1 tsp pure vanilla extract
biscuit topping:
3/4 cup gluten free all purpose flour
1/2 cup pecan meal*
2 Tbsp coconut sugar
1/2 tsp plus 1/8 tsp baking powder
1/8 tsp sea salt
2 Tbsp solid coconut oil, cut into chunks
1/4 cup cold full fat coconut milk (chilled in the fridge is best), mixed well
1 tsp pure vanilla extract
6 inch wide ovenproof bowl or pie plate
Preheat oven to 400 degrees with the rack at the center position. Place a baking sheet lined with foil on the rack. Oil a 6 inch wide pie plate or bowl with coconut oil. In a large bowl, toss together the fruit, maple syrup, lemon juice and zest, vanilla, flour. Spoon into prepared bowl or pie plate, and cover with foil. Place plate on baking sheet and bake for 45 minutes until fruit is cooked through and bubbling.
Meanwhile, when the fruit in the oven is almost at 45 min, to make biscuits, in a large bowl, combine the flour, pecan meal, sugar, baking powder, and salt. Cut in the oil with a pastry blender or 2 knives until the mixture starts to clump into pea sized pieces. In a small bowl, stir the vanilla extract into the coconut milk. Add the milk to the dough, and stir a few times, but do not overmix. The dough should hold together when squeezed, but still be clumpy. Place dough on a floured work surface, and pat into a 1/2 inch tall rectangle.
Remove baking fruit from oven. Cut small shapes out of the dough using a cookie cutter (or free form it), and place on top of the cobbler.  When all biscuits are on top of cobbler, sprinkle with coconut sugar and return to the oven. Bake for about 20 minutes
until biscuits are cooked through and lightly brown and toasted on top (keep a close eye on they could burn very quickly). Remove from oven and let cool until warm, and top with some ice cream or coconut vanilla whipped cream and...enjoy!
*raw pecans ground to a flour consistency in a food processor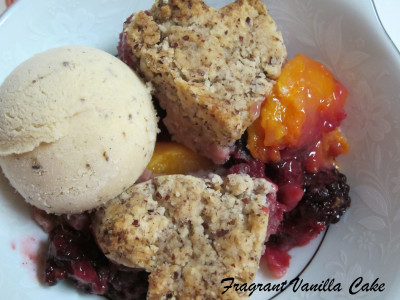 (Visited 36 times, 1 visits today)