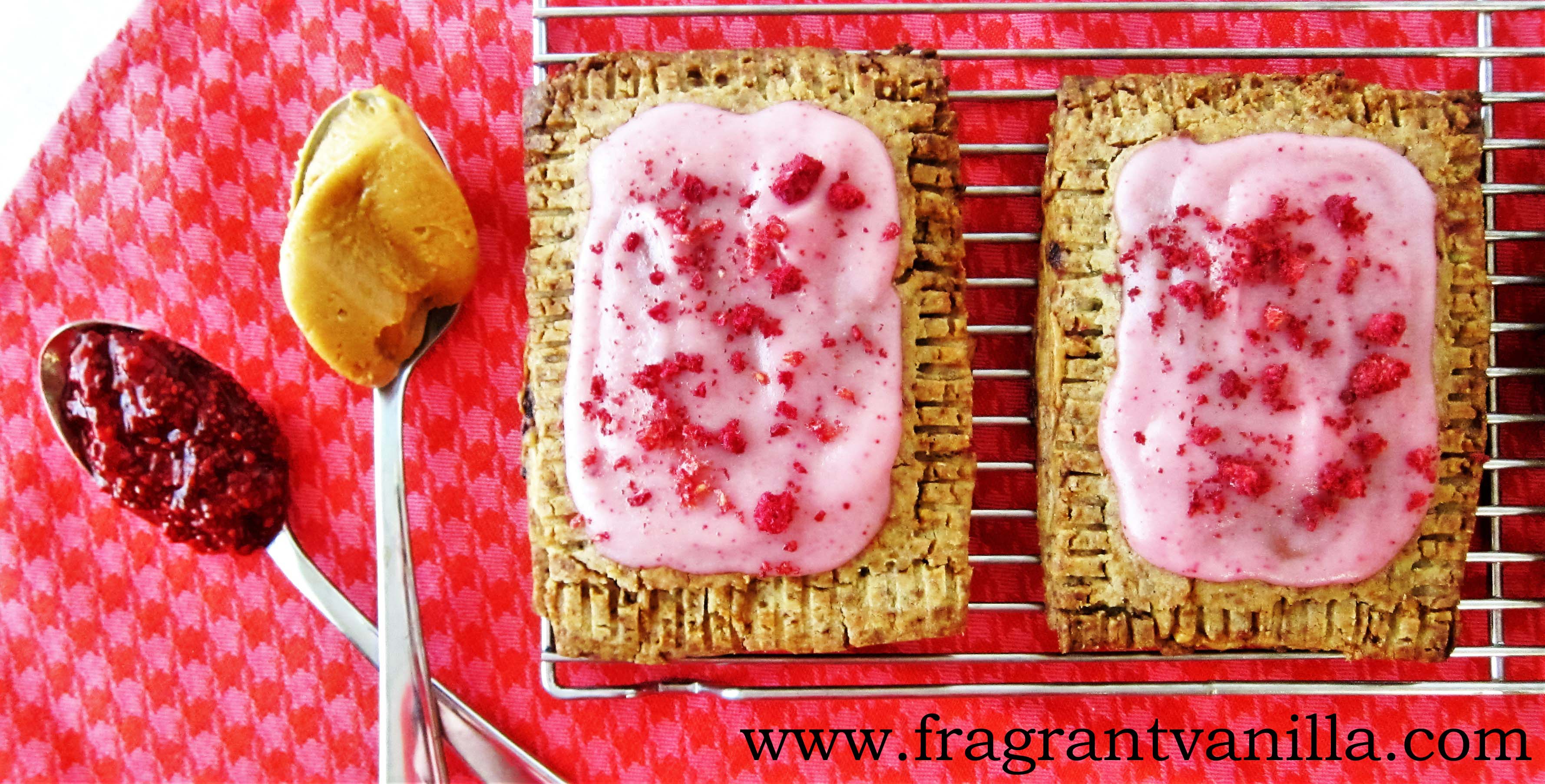 Vegan PB & J Pop-Tarts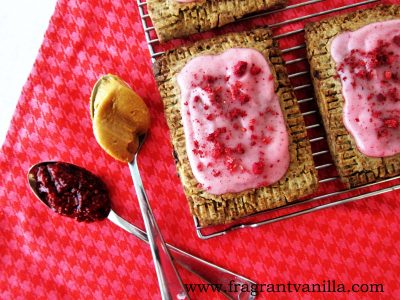 I was never much of a fan of pop-tarts when I was little truth be told, especially not the fruit ones, they tasted artificial to me. Probably because there was loads of sugar and artificial ingredients. The only ones I kind of liked were the cinnamon sugar. I did however love pie and pastries, just the real ones not usually the store bought packaged ones. Luckilly as an adult, I can make home made pop tarts that actually taste like pie, and that I enjoy! I have made a few different kinds, my favorite of which was a pumpkin pie variation last fall. I have been wanting to make a peanut butter and jelly variation for a while now, and now I finally got around to it.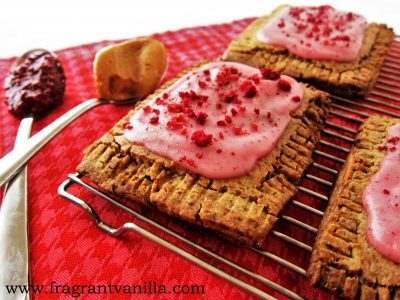 Truthfully, this has been in my head for months, but I kind of wanted to wait until berries were plentiful, because I knew I needed raspberries for it. Raspberry jam was always my favorite, thanks to my Mom, because that is what she always had on hand. I have always had an appreciation for the seeds in a chunky raspberry jam, so that is how I make mine. I even add chia seeds to give it even more texture. I made a quick jam for these, and it was perfect! I added a little of my home made organic peanut butter to the centers of the tarts with the jam and it was like an exciting PB and J!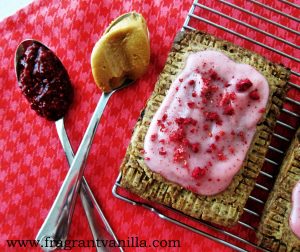 Is it weird that I think of PB and J as a dessert item? Well I do, because it is sweet and salty and kind of crave worthy. So to me these pop-tarts are more dessert than breakfast or snack. This is mostly because I don't like things that are too sweet after my workouts in the AM when I eat breakfast before work and prefer to indulge later. But if you have a sweet tooth and want to eat them for breakfast like the original pop-tarts were intended for go for it! These are sooo good. I love the gooey PB and J center, it is so much better than any of the pop-tarts I had growing up. I think you will agree, and if you are looking for the perfect weekend morning project, give these a go!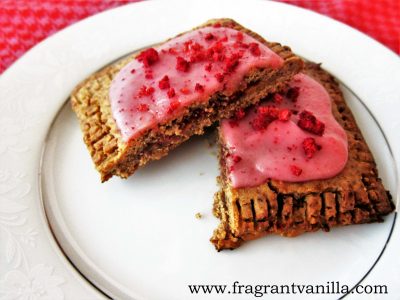 Vegan PB & J Pop-Tarts
Makes 6
Crust:
2 1/2 cups all purpose gluten free flour
1/4 cup coconut sugar or maple sugar
1/2 tsp sea salt
3/4 cup coconut oil in its solid state
about 6-7 Tbsp cold water (or as needed)
Filling:
1 cup fresh organic raspberries
1/2 Tbsp maple syrup
1 Tbsp chia seeds
1/4 cup plus 2 Tbsp peanut butter
Glaze:
3 Tbsp coconut butter, warmed to liquid
1 Tbsp raspberry juice
1 Tbsp maple syrup
pinch sea salt
3-4 Tbsp filtered water or as needed
To make the crust, in a large bowl, mix together flour, sugar, sea salt, and spices. Cut in coconut oil with a pastry blender or 2 knives until it is in pea sized pieces. Mix in just enough water to create a smooth dough that holds together but isn't too sticky. Add more water if needed, and knead slightly until a smooth dough is created. Roll out into a large rectangle and cut into 6 identical rectangles.  Chill if too soft before assembling.  You want the dough a little pliable, but not so warm that it will break. Preheat oven to 375 degrees.
To make filling, mash the berries, maple syrup and chia seeds together into a chunky jam.  Set aside.  Spread about 1 Tbsp peanut butter over half of the dough rectangles, then spoon about the same amount of jam over that. Cover with the remaining pieces of dough (I used a small spatula to carefully move them), pressing the edges and crimping with a fork. Bake for about 30 minutes until the crusts are starting to brown lightly. Remove from oven and let cool on a wire rack until warm.
Whisk glaze ingredients together until smooth (adding more water if too thick, you want it to be pourable). Spoon some of the glaze over each pop tart, and smooth it out to cover the top. Let set before serving.
(Visited 100 times, 1 visits today)