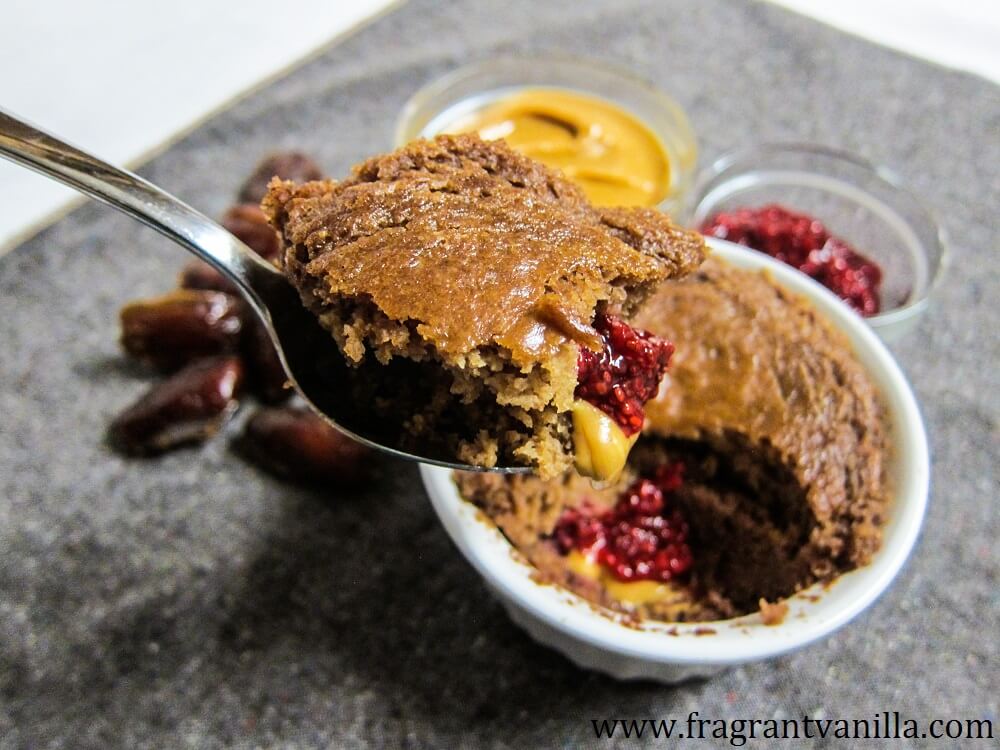 Vegan PB & J Mug Cakes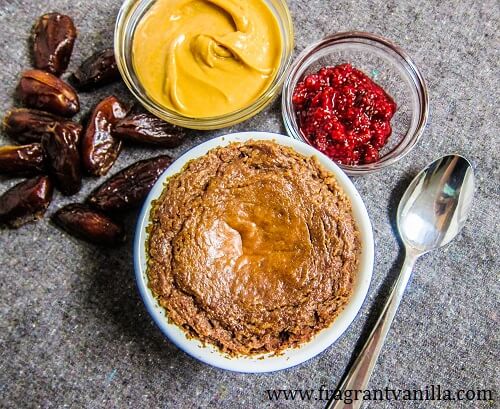 It has been pretty much raining here every day for over a week now.  It is a little depressing outside on one hand, and not so motivating to wake up to no sunshine, but on the other hand, everything is looking really green outside and the rain is kind of calming.  I did my first road race of the season, the Foodie 4 Mile run to support the Northeast Minneapolis Farmers Market on Saturday, and I admit I was a little worried about the rain being a downpour during the race.  I mean, I have done races in downpours before but it is not fun when it makes you chafe in places, your shoes are sloshing and you can't see.  Luckily that didn't happen.  It was just a nice light calm mist of rain that cooled it down just enough to create the perfect running conditions.  It was really fun, and I ran faster than I thought!  Not only that, I love that it supports something I am passionate about, food.  I love the farmer's market!  Local food is always the best.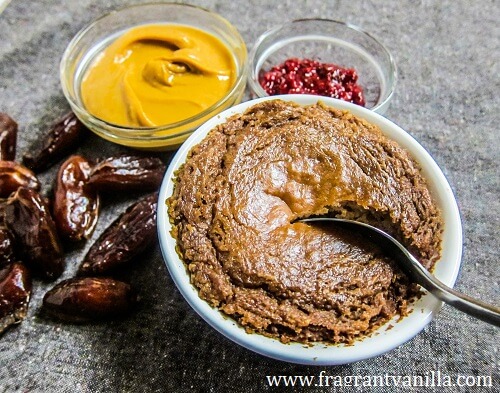 Anyways, after the race was over it started raining harder and continued all day. Kind of just another continuation of the whole week.  Eric and I ended up going for a walk in the rain in the afternoon, which was calming but I felt so chilly after.  I decided that I needed something comforting and warm for dessert.  Some PB and J cake was what I ended up making.  A simple cake with delicious filling, so no need for frosting, just meant to be enjoyed warm.  I used my usual cake batter for these sweetened with dates, and a little peanut butter added in for richness and it was delicious!  I don't know if you taste your cake batter before baking it but I always do. And this was yummy even before baking. I made two little cakes, just enough for us to enjoy.  A good sized dallop of peanut butter and jelly in the center before baking.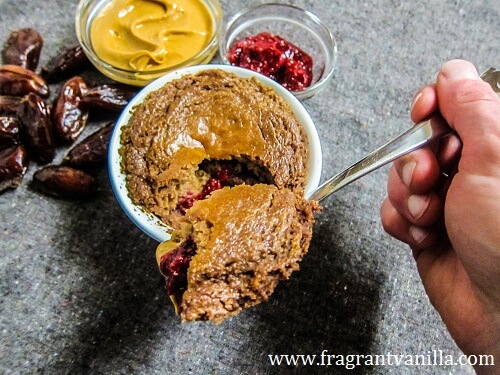 They were so delicious!  This is definitely something you need to enjoy warm from the oven. Maybe with some vegan ice cream on top of you have any on hand.  I am always a big fan of anything PB & J and these came together in less than 30 minutes which was a big win.  It was the perfect thing to enjoy after a nice hot bath with lavender and epsom salts, and awesome for a rainy day when in need of good cake.  On a side note about the epsom salts, they are seriously a life saver for any kind of sore muscles and what not.  It helped me get my plantar fasciitis under control, through soaking my feet every day.  So now after a hard effort, I like to soak in them.  It is also a really good way to relax when you add your favorite essential oils.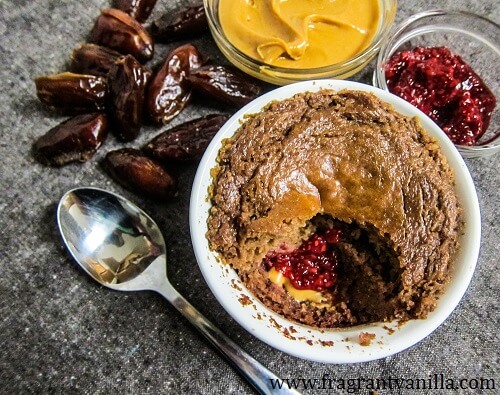 Vegan PB & J Mug Cakes
Makes 4
Four mugs
Cakes:
3/4 tsp baking soda
1/2 tsp baking powder
1/4 tsp sea salt
3/4 cups packed soft medjool dates, pitted, soaked in water for 30 minutes and 3/4 cup of the water reserved
2 Tbsp organic peanut butter
2 tsp pure vanilla extract
1/2 cup filtered water
1 Tbsp apple cider vinegar
Filling:
6 Tbsp organic peanut butter
6 Tbsp raspberry jam
Instructions:
Preheat the oven to 375F degrees and position rack in center of oven. Oil four 2 cup mugs.
Whisk flour, baking powder, baking soda, sea salt in a large bowl to blend well. Place dates, reserved water, peanut butter, water, and vanilla extract into a blender, and blend until smooth, then whisk this blended mixture into the flour mixture until well blended. Whisk in the cider vinegar until bubbles form.
Transfer half of the batter to prepared mugs, then drop 1 1/2 Tbsp jam and peanut butter into the center of each.  Pour the remaining batter over it.
Place in the oven, and bake until tester inserted into center comes out clean, about 20-25 minutes until set and a toothpick inserted into the center comes out almost clean with a few moist crumbs attached.  You don't want to over-bake.  Let cool until warm and enjoy!
(Visited 87 times, 1 visits today)