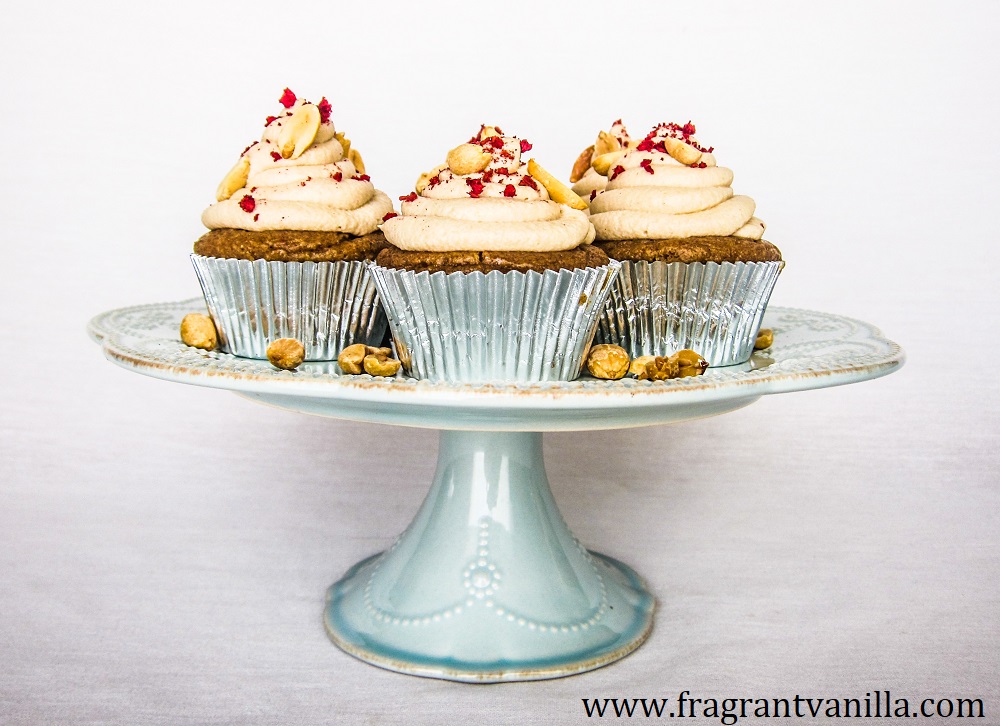 Vegan PB & J Cupcakes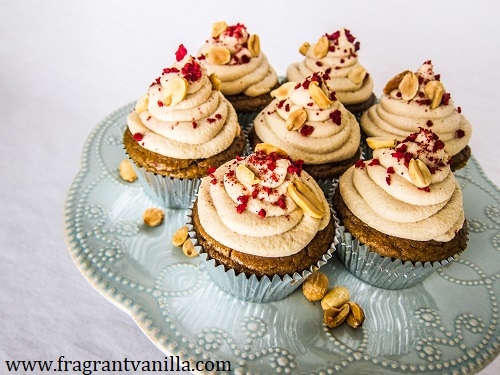 I make a dessert every weekend, it is just a thing I do.  Not something simple like cookies, usually a cake, or a pie, or cheesecake.  Something worth getting super excited over.  Not that cookies are not exciting, but they just don't get me going like cakes and pies do.  I usually come up with something mid week that sounds fabulous, but last week I was kind of uninspired.  Probably from being a little tired from the Holidays.  I mean, they do take a lot out of you, especially if you work the week after Christmas like I did.  So I went into Friday, which is the day I bake or make these fabulous desserts, not knowing what I was making.  I was kind of thinking either a banana sticky toffee pudding or some peanut butter vanilla caramel cupcakes, but wasn't set on either and I was up for change if inspiration came.  And I didn't have to wait long for it to come.  Eric and I received a package of home made jam from his Dad that day we were at work.  He sent us 6 jars of different jams that he makes himself!  I was super excited.  Two of them were raspberry, my favorite. He actually grows the berries himself which makes it even more awesome.  So, given all of this jam, I had to make something using it. Of course I chose the raspberry.  My Mom always bought raspberry jam growing up, and it remains my favorite to this day.  I decided to make peanut butter and jelly cupcakes with it.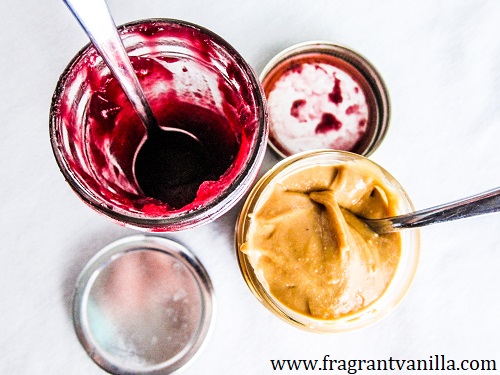 I had kind of decided that I wanted cake, but not to have to make a whole layer cake, so cupcakes were perfect.  I made a date sweetened peanut butter cake batter, that tasted wonderful even before baking.  Dates are a great addition to cake batter if you want to have a cake that is moist, fruit sweetened and soft in texture but not too heavy.  They also impart a light caramel flavor that I love, and in this case it goes well with the peanut butter.  I could make these two ways.  I could bake the cupcakes, then scoop out the middle and put jam in there, or I could spoon it in the batter and let it bake in. I went for the latter because it was less work.  And, they turned out lovely!  I enjoyed the jam so much, that I decided to spoon a little on top of the cupcakes before the frosting too.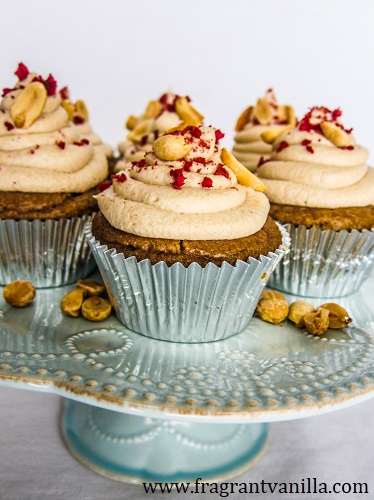 For the frosting, I made a fluffy peanut butter cream frosting and it was super delicious!  It tasted like peanut butter mousse almost.  Once they were all frosted and looking lovely after a sprinkle of dried raspberries and peanuts I was ready to dive in. They were heavenly!  The luscious creamy frosting, and gooey tart sweet jam were so good with the moist sweet cake!  It was like the most amazing PB&J sandwich dessert style!  Peanut butter and jelly sandwiches were my favorite growing up, and although I never make them anymore, I do love a good peanut butter and jelly dessert!  If the inner child in you loves them too, give these cupcakes a try!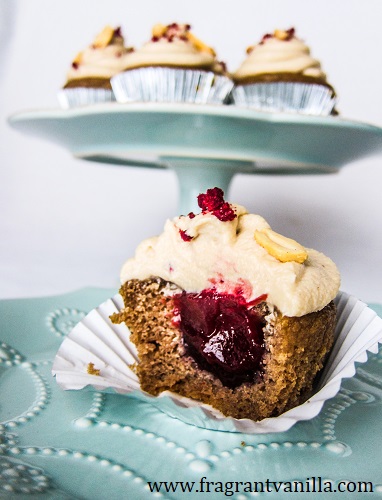 Vegan PB & J Cupcakes 
Makes 8 cupcakes
Ingredients:
Cake:
3/4 tsp baking soda
1/2 tsp baking powder
1/4 tsp sea salt
2/3 cup packed soft medjool dates, pitted, soaked in water for 30 minutes and 1/2 cup of the water reserved
2 Tbsp organic peanut butter
1 tsp pure vanilla extract
1/2 cup filtered water
1 Tbsp apple cider vinegar
about 1/3 cup raspberry jam
Vegan Peanut Butter Cream Frosting:
1 15 oz can full fat organic coconut milk, chilled
1/2 cup organic peanut butter
1/4 cup maple syrup
1 tsp pure vanilla extract
1/4 tsp sea salt
1/2 cup plus 2 Tbsp melted coconut butter (warmed to liquid)
For topping:
about 3 Tbsp raspberry jam
freeze dried raspberry pieces
organic roasted peanuts
Directions:
Preheat the oven to 375F degrees and position rack in center of oven.
Line 8 muffin tins with paper liners.
Whisk flour, baking powder, baking soda, sea salt in a large bowl to blend well.
Place dates, reserved water, peanut butter, water, and vanilla extract into a blender, and blend until smooth, then whisk this blended mixture into the flour mixture until well blended. Whisk in the cider vinegar until bubbles form.
Pour the cake batter into prepared muffin tins about 1/3 full, then drop 1 Tbsp of jam into the center.  Spoon the remaining batter over them so that they are 3/4 full, and place in the oven.
Bake cake until set and a toothpick inserted into the center comes out almost clean, about 15 minutes.  Remove from oven, let cool completely.
To make the frosting, combine all ingredients in a high speed blender or food processor and blend until completely smooth.  Pour into a bowl and place in the freezer until the consistency of stiffly whipped cream (about 30-45 minutes depending on how warm it has gotten).  Once it is ready place in the refrigerator until ready to frost the cupcakes
When ready to assemble cupcakes, place 1 tsp jam onto the top of each one.  Place the frosting in a pastry bag, and pipe around the jam and on top of it (in a spiral motion starting at the outside edge) to cover the top of the cupcake.  Sprinkle with the freeze dried raspberries and peanuts.  Serve!
Store any leftover cupcakes in a container with a lid in the refrigerator for up to 1 week.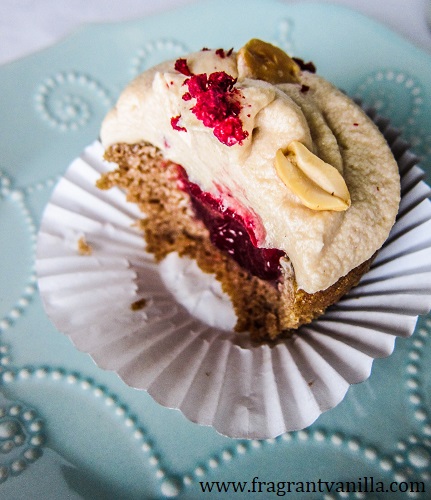 (Visited 303 times, 1 visits today)