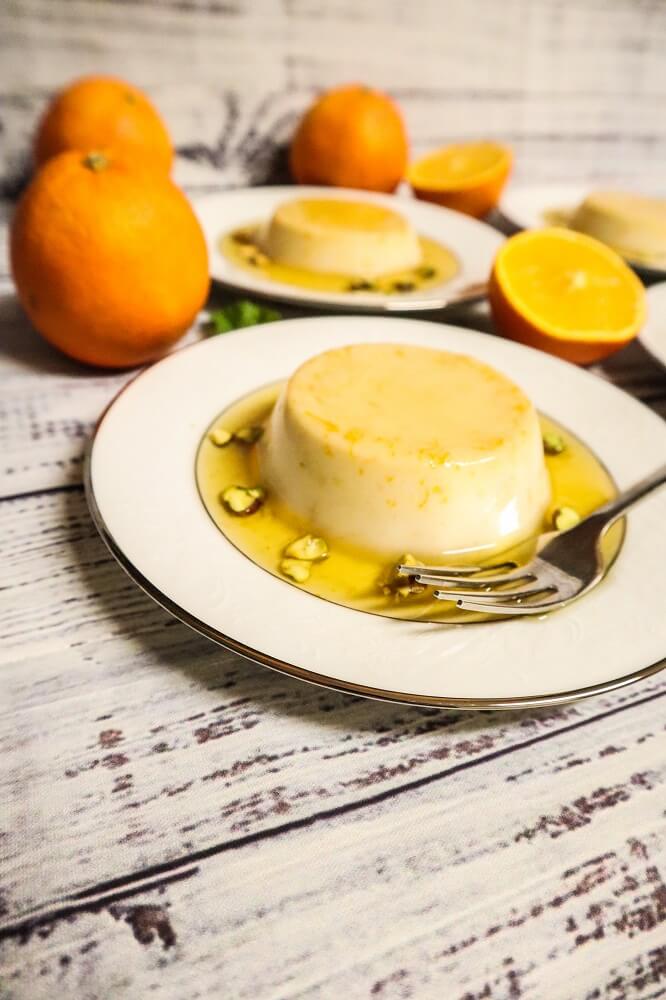 Vegan Orange Rosewater Creme Caramel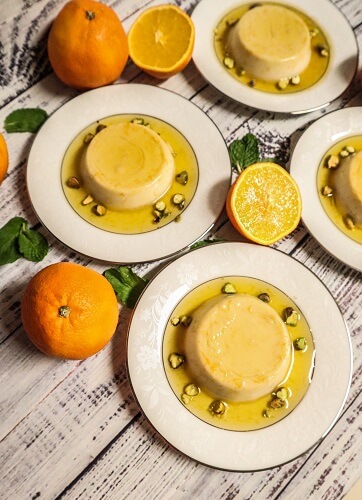 We are in the middle of citrus season, so I have been craving desserts with it lately.  I love all of it, lemons, grapefruits, limes and oranges.  But this time I chose the oranges because it is what I happened to have an abundance of on my counter fruit and veggie collection this week. I wanted something rich and delicious but easy to make, and so I made some creme caramel!  I was dreaming of a sweet orange creme caramel with a hint of rosewater.  I love rosewater in desserts, its aroma is unlike anything else, so heavenly!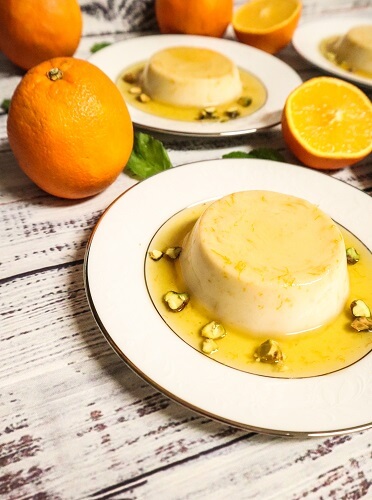 I recently picked up some rosewater at House of Halva in St. Paul MN, and it is some of the best rosewater I have ever had!  I was super excited because I hadn't had any at home in a few years and I found this one for a really good price and it is good quality.  I have been adding it to my lemonade and berry kombucha and even in my vanilla lattes and it is amazing in drinks but I finally got around to including it in a dessert last weekend when I made the creme caramel.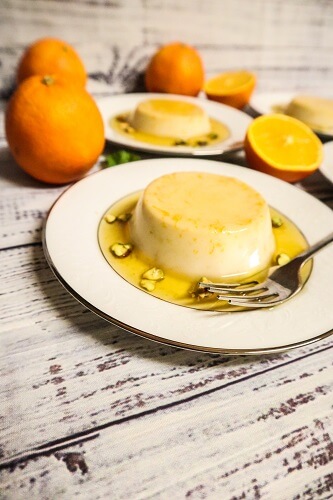 The best part about the creme caramel is it is easy to make.  For the custard, I used a coconut milk base because I think it makes the richest smoothest custard, and I added in a bit of orange juice and zest, plus vanilla and rosewater to make it fragrant.  A bit of maple syrup to sweeten and it is perfect!  Just a little cornstarch and agar and it makes a custard that is firm enough to hold up, but creamy when cut into.  It smelled amazing and tasted even better, even before setting.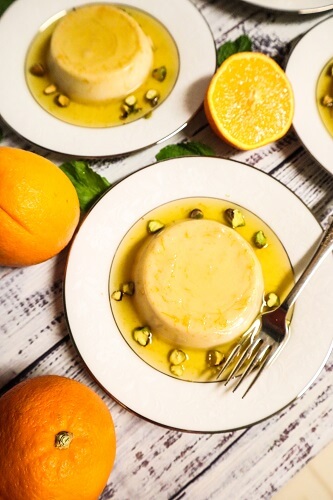 For the caramel I didn't go the route of dissolving sugar in water I simply boiled down a little maple syrup with orange juice until it thickened slightly and then added some rosewater.  I could not wait to try these!  When I un-molded them the next day I was super excited!  They came out lovely, and I garnished them with some pistachios.  They were soooo good!  Creamy, rich and delicious with that heavenly scent of rosewater and sweet orange!  If you have oranges and rosewater on hand, definitely give these a try!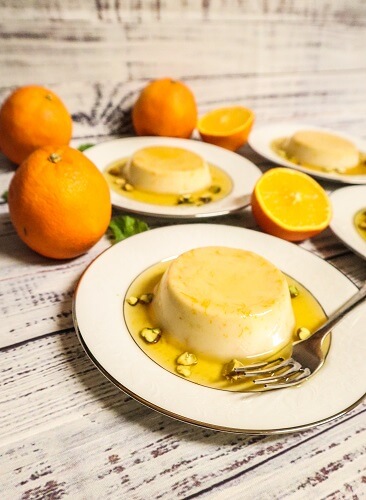 Vegan Orange Rosewater Creme Caramel
Makes 4
Ingredients:
4 1 cup ramekins
Caramel:
1/4 cup maple syrup
2 Tbsp orange juice
1 tsp rosewater
Custard:
1 3/4 cups full fat coconut milk
2 Tbsp maple syrup
1 Tbsp orange juice
1 Tbsp orange zest
3/4 tsp agar powder
1 Tbsp cornstarch
Instructions:
Set 4 one cup (8oz) ramekins on a tray.
In a small saucepan, combine the maple syrup and orange juice bring to a boil.  Cook for about 5 minutes, stirring constantly until it has reduced slightly.  Remove from heat, add rosewater and pour into the bottoms of the ramekins.
To make the cream, combine the coconut milk, and maple syrup in a saucepan and bring to a simmer.
Mix the orange juice and zest with the vanilla, agar powder, and cornstarch in a small bowl, and then whisk into the hot coconut milk.  Whisk until just thickened, then pour into the prepared ramekins over the caramel.
Place the tray of ramekins in the refrigerator until chilled completely.  For at least 2 hours, or overnight.
Once the custards have set and you are ready to serve, place a plate on top of each one, then flip it over.  If they are sticking at all, run a knife along the sides to loosen being careful not to disturb the custard.
Enjoy!  Refrigerate any leftovers.
(Visited 1,299 times, 1 visits today)