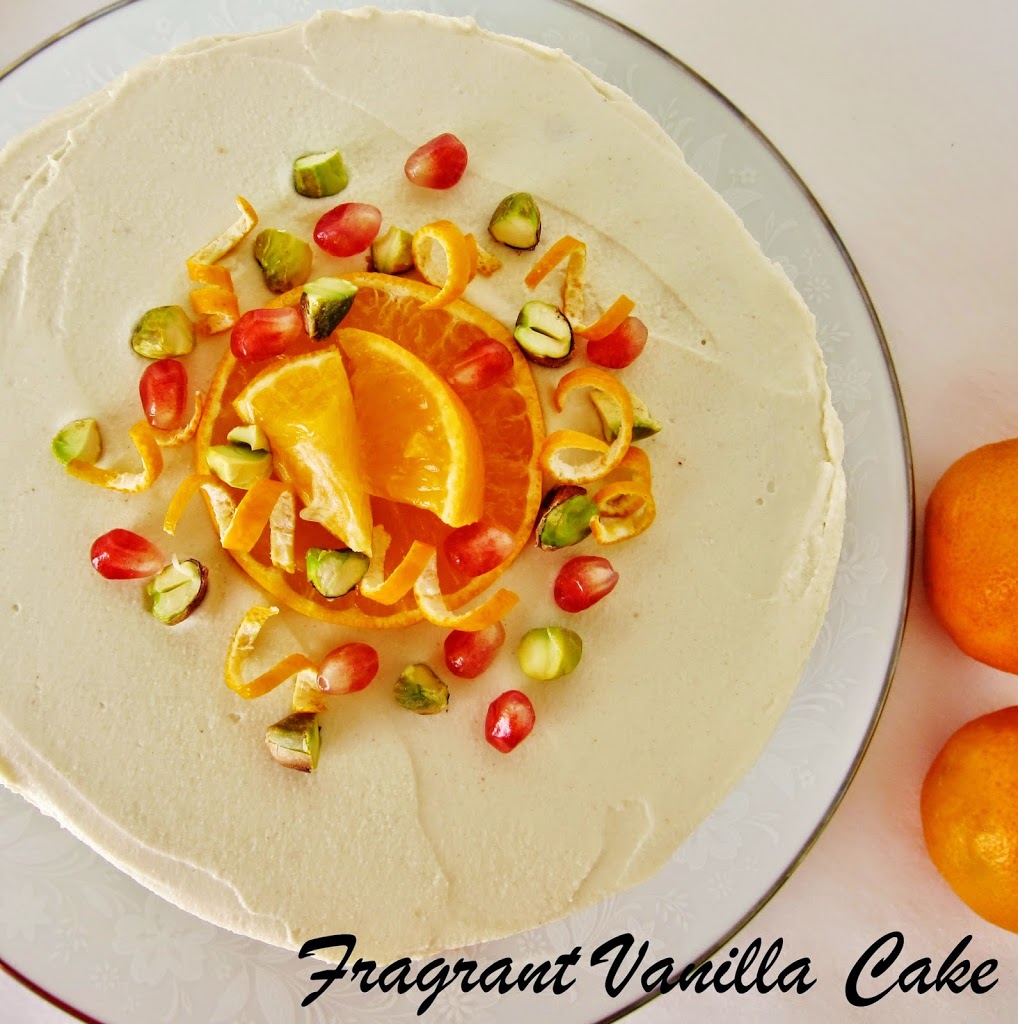 Vegan Orange Blossom Layer Cake
Last Sunday was amazing.  By amazing, I don't mean I did anything out of the ordinary like traveling to a warm place away from Minnesota and having a crazy weekend.  I mean amazing in the sense that I enjoyed all of the little normal things I did and was grateful to be able to enjoy them.  We are having a particularly warm weather stretch this last 2 weeks, and it was total ice and snow melt down.  35F degrees in January is freaking awesome!  I was excited to go running not all bundled up with clear paths in the sunshine!  Just being out made me happy.  Then later that day, enjoying more fresh air on a walk with Eric and seeing the most beautiful raspberry smoothie colored sunset! Yes, that is how I describe my favorite sunsets here.
Not only did I get out and enjoy the great outdoors, I made this fabulous vegan layer cake as well.  Involving oranges as the main component...which are amazing this time of the year.  But not only that, I made a frosting with cacao butter in it that tasted like white chocolate!  Normally I do not have cacao butter in my pantry, but I decided to splurge a little and use it sparingly.
This cake smelled amazing while it was baking, the aromas of orange and vanilla filled my home.  If a smell can bring you joy, this one definitely does. The cake itself even un-frosted tasted wonderful. How do I know this?  Yes I ate all the trimmings because that is one of the best parts of being a baker.  Once the frosting was added I knew it would be even more heavenly.  Not only did I add that white chocolate component to the frosting, I added a touch of orange flower water as well to make the cake even more aromatic.  This cake tasted like happiness. It was a wonderful contribution to my amazing day.  See what I mean?  I did nothing out of the ordinary and it all made me happy.  That is how life should be.  Enjoy the little things.
Vegan Orange Blossom Layer Cake
Makes 1 6 inch 4 layer cake
2 6 inch cake pans
Cake:
1 3/4 cups Bob's Red Mill All Purpose Gluten Free Flour
1 1/2 tsp baking soda
1 tsp baking powder
1/2 tsp cardamom
1/2 tsp sea salt
1 cup coconut sugar
1/2 cup virgin coconut oil, warmed to liquid
2 Tbsp organic orange zest
1 cup orange juice (at room temperature)
1 Tbsp pure vanilla extract
2 Tbsp cider vinegar
Frosting:
4 cups young coconut meat*
2 cups raw cashews, soaked at least 4 hours and drained well
3/4 cup coconut water
3/4 cup raw coconut nectar or maple syrup
1/2  tsp sea salt
seeds of one vanilla bean, or 1 Tbsp pure vanilla extract
1/2 tsp orange flower water
1/2 cup coconut butter, warmed to liquid
1/4 cup raw cacao butter, warmed to liquid
Instructions:
Preheat the oven to 375 degrees and position rack in center of oven. Line two six-inch-diameter cake pans with 2-inch-high sides with parchment paper. Coat parchment paper and pan sides lightly with coconut oil so that the cake doesn't stick.
Whisk flour, baking soda, baking powder, sea salt, and sugar in a large bowl to blend well.
Whisk oil, zest, orange juice, vanilla extract together in small bowl to blend well, then whisk into the flour mixture until well blended. Whisk in cider vinegar until bubbles form.
Transfer cake batter to prepared pan and bake cakes until tester inserted into center comes out clean, about 25-30 minutes.
Cool cake completely in pan on rack, about 1 hour. Cut around sides of pan to loosen. Turn cake out onto platter; peel off parchment paper. Let cool completely, then place in the fridge to chill until very cold to make slicing easier. When chilled, slice cakes horizontally in half so that you have 4 layers.
Meanwhile, to make the frosting, combine all ingredients but the coconut butter and cacao butter in a high speed blender or food processor and process until smooth.  With the motor running, add the coconut butter and cacao butter and process a minute more.  Pour the frosting into a bowl and let sit in the fridge until the consistency of whipped cream.
When ready to frost, place one cake layer on a plate. spread frosting about 1/2 inch thick over the first layer, then top with the second.  Repeat the frosting, then another cake layer, then more frosting then the last cake layer. Spread frosting over the top and down the sides of the cake.  Store cake in the fridge.
*If you do not have access to young coconut meat, you can use 4 cups soaked cashews instead along with the other cashews.
(Visited 655 times, 1 visits today)