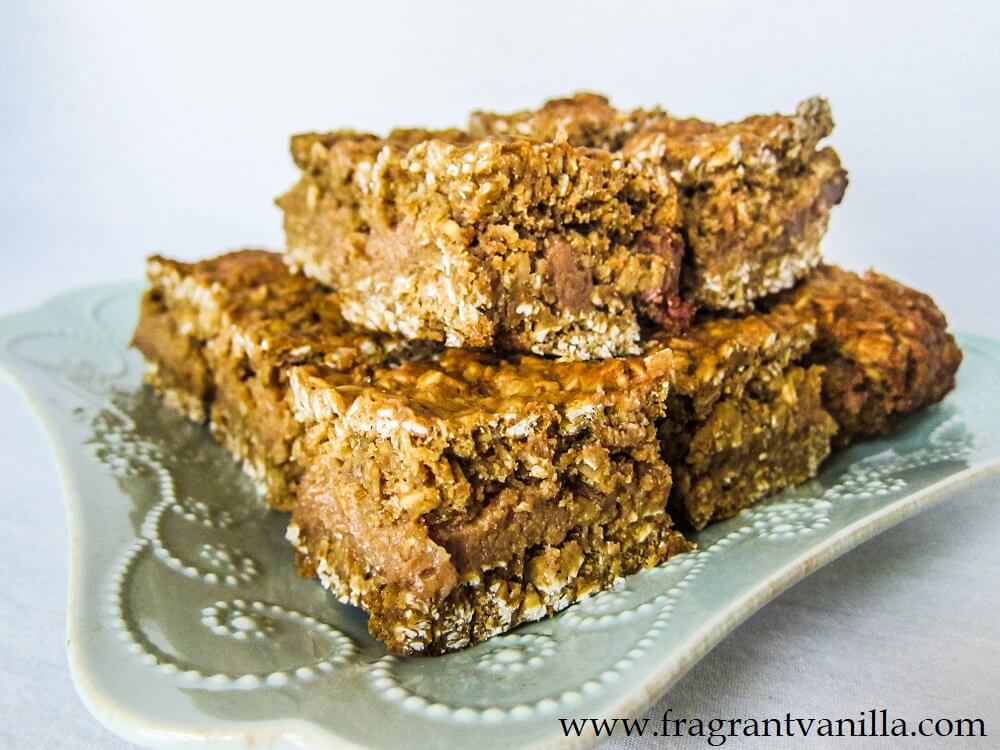 Vegan Oatmeal Caramel Cookie Bars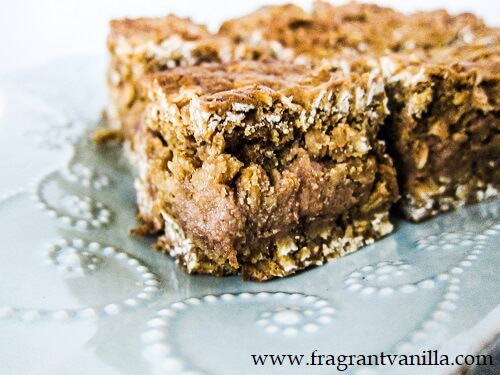 My Mom is always asking me to veganize recipes she finds on pinterest or sees somewhere at a restaurant or bakery. And, I am happy to do so.  I love to create new vegan recipes, especially for non-vegans because often then they see that you do not need animal products to create delicious things.  My Mom loves most of my food though, and she has actually cut way down on the animal products that she eats and enjoys mostly plant based foods.  So, I am happy to cook and bake for her!  She buys these salted caramel oatmeal cookies from her work a lot, so I thought I would make something like that.  But then she also showed me a Pinterest recipe for some caramel stuffed cookies that she thought looked good so I sort of combined the two.  I made Vegan Oatmeal Caramel Cookie Bars.  Cookie on the top and bottom and caramel in the middle.  My Mom has always been a huge fan of oatmeal cookies, and that was one of the things she used to make often when I was little.  "They are healthier than regular cookies because they have good fiber." She used to say.  I agree, and they are so delicious and I love that chewy texture.  Also, she made bar cookies often because they were faster than rolled. So I knew she would appreciate the bars.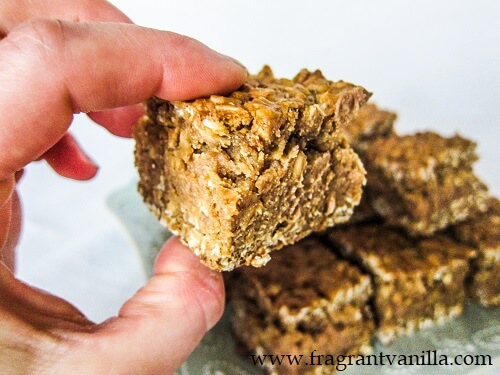 For the caramel I kept it simple, and made it with dates. Because dates are like nature's caramel.  I can't believe I used to be afraid to try them when I was little.  I was really missing out.  Seriously, it doesn't get more natural than popping a date into your mouth instead of actual sugary caramel and it is better in my opinion because sometimes real caramel is too sweet for me. This caramel had only 4 ingredients and it was eat with a spoon delicious! I used my classic oatmeal cookie dough for these and I knew it would be amazing once combined with the caramel.  They smelled absolutely heavenly while baking!  The only bad thing about these is you have to wait for them to completely cool before cutting them.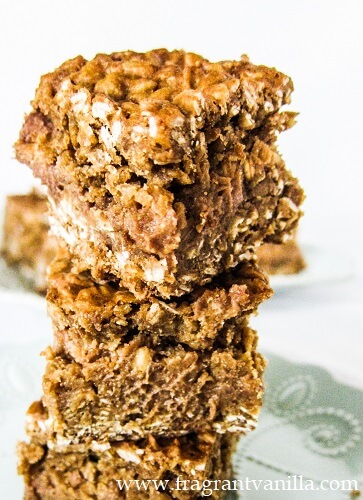 But trust me, it is well worth the wait!  They are chewy, gooey in the middle, and even more delicious than I imagined!  The oatmeal cookie dough has a caramel like flavor already thanks to the coconut sugar, but with the caramel in the center of the bars it is like double caramel deliciousness!  I can not wait to share them with my Mom, I know she will love them too.  If you are an oatmeal cookie fan, you need to try these!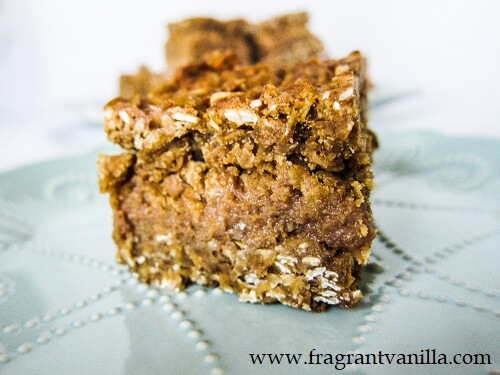 Vegan Oatmeal Caramel Cookie Bars
Makes 16 bars
Ingredients:
Caramel:
1 1/4 cups soft medjool dates, pitted (if they are not soft, soak them in water 30 minutes, and drain before using)
1/4 cup raw pecan butter or almond butter
1/4 tsp sea salt
1 tsp pure vanilla extract
1/2 cup filtered water
Cookie:
3/4 cup virgin coconut oil, warmed to liquid
1 1/2 cups coconut sugar
2 flax eggs*
1 Tbsp pure vanilla extract
1 1/2 cups gluten free oat flour
1 tsp baking soda
3/4 tsp sea salt
3 cups gluten free old fashioned rolled oats
Directions:
To make the caramel, combine all ingredients in a high speed blender and blend until smooth.  Set aside in a bowl.
For the cookie part, in a large mixing bowl, mix together the coconut oil, and sugar until well blended. Add flax eggs, vanilla, and beat until well combined (the mixture will become very thick).
Mix in the flour, soda, and sea salt until well blended. Mix in the oats until well combined, and evenly distributed throughout the dough.
Heat the oven to 350F degrees with the rack set at the middle position. Oil an 7x11 inch rectangular pan with coconut oil, and line the bottom with parchment.
Press half of the dough into the prepared pan. Spread the caramel over that, then drop the remaining dough by the Tbsp over that.
Place in the oven and Bake for 30-35 minutes or until golden and set, but not over baked. Let cool completely before cutting into bars.
*Whisk together 2 Tbsp ground flax seed, 1/4 cup and 2 Tbsp water in a small bowl.  Allow to sit in the fridge for 15 minutes until the mixture has set up (or become kind of thick).
(Visited 116 times, 1 visits today)