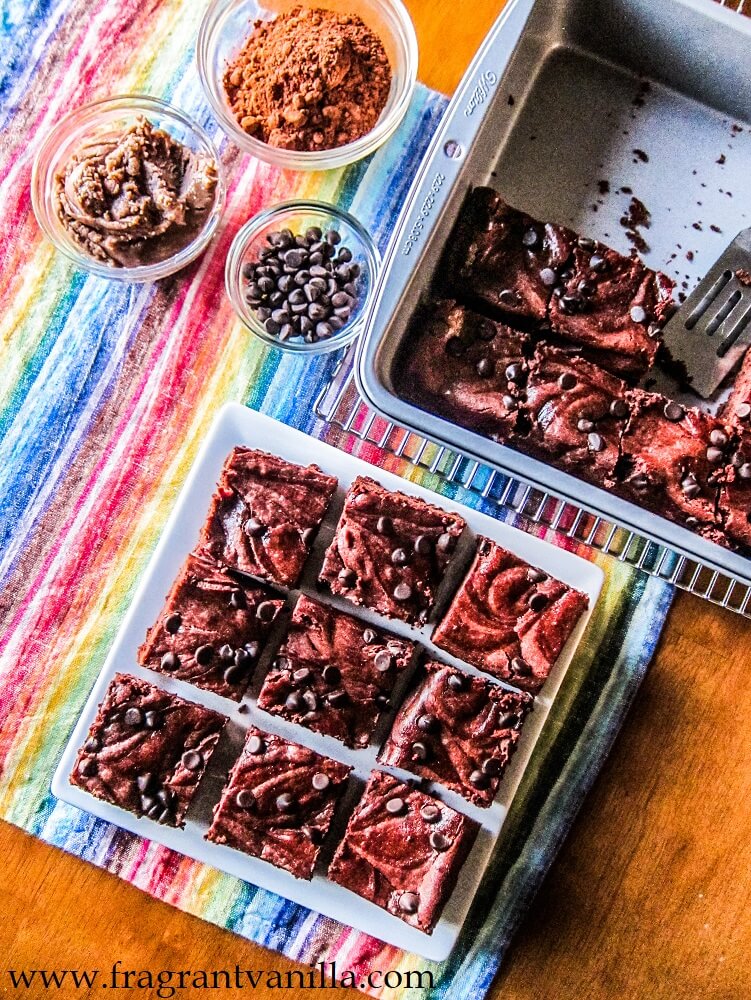 Vegan Nutella Swirl Brownies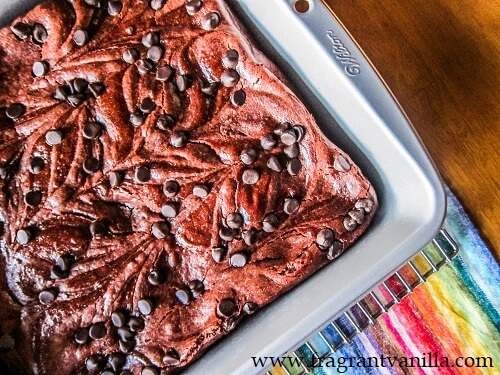 I saw a recipe for Nutella brownies on Pinterest, and I said to myself, "I have to veganize those!!!"  I have tons of hazelnut butter on hand, and was in a chocolate craving mood so it was perfect!  I never buy actual real Nutella anymore because it is not vegan and contains mostly sugar and oil, but I used to love it as a kid. I mean, it was kind of an excuse to eat chocolate for breakfast on toast.  Not that it was a healthy breakfast, but I really didn't care at that point.  I now make my own home made nutella and it is so much better.  The main ingredient is hazelnuts as it should be.  I love just plain old hazelnut butter as well.  I imagined these brownies as super decadent and rich with the nutella filling becoming almost a fudge or cheesecake like texture.  Fudgy brownies have always been my favorite, I am not of the cakey brownie camp at all. Well, I think I did pretty well with these creating my dream brownies.
I used my classic brownie base which is rich from the avocado oil and sweetened with coconut sugar  For an added bonus, it is a gluten free batter as well, and you can't even tell.  I added some hazelnut butter to it to to make it extra rich.  If you are going for an oil free version, I will note that you can use applesauce in place of the avocado oil, but keep in mind the texture of the brownies will be slightly less rich.  The batter tastes amazing even before baking, but you know what is even more tasty?  The nutella swirl that ribbons through it.  For that, I kind of made a variation of what I use in  my cheesecake brownies, only swapping hazelnut butter for the cashew butter and adding cacao powder to make it extra chocolaty and delicious.  I mean, this stuff is so good you could eat it with a spoon.  These brownies take about a half an hour to bake, and it is kinda torture and heaven at the same time as you sit and smell them.  That aroma always puts me in a good mood.  You can't possibly remain crabby while baking brownies.  Not with licking the batter from the bowl, smelling the deliciousness as they bake and being able to taste them once they cool enough to cut. Happiness in a pan.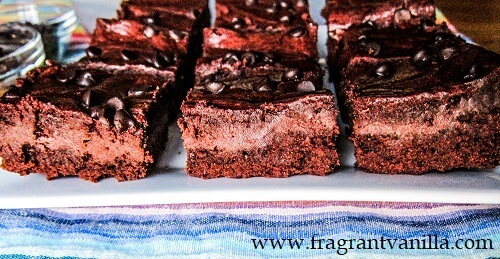 Once they were cooled enough to cut I was getting excited.  They looked like the perfect brownies. When I cut into them, I could tell they were going to be just my style.  Nice and fudgy, melt in your mouth rich chocolate with that nutty hazelnut flavor.  And you know what?  These are especially for those of you that like the center pieces of brownies because these are all fudgy and all taste like center pieces as long as you do not over bake them.  I honestly think they are some of the best brownies I have tasted.  If you are a brownie lover, or have ever been a fan of Nutella I think you might just need these in your life!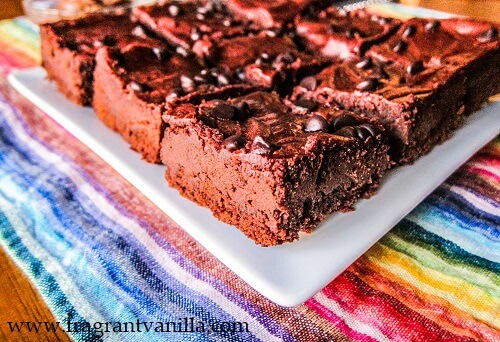 Vegan Nutella Swirl Brownies
Makes 16
Swirl:
3/4 cup thick coconut milk (from the top of a chilled can)
3/4 cup hazelnut butter (or almond butter will also work here)
2 Tbsp maple syrup
1/8 tsp sea salt
1/4 cup cacao powder
Brownies:
1/2 cup avocado oil
1/4 cup hazelnut butter
1 cup coconut sugar
1/4 cup plus 2 Tbsp filtered water mixed with 2 Tbsp ground flax seeds
1/2 cup cacao powder or unsweetened cocoa powder
1/4 teaspoon sea salt
½ cup vegan chocolate chips
Directions:
To make the swirl, combine all ingredients in a blender and blend until smooth. Pour into a bowl and set aside.
To make the brownies, pre-heat the oven to 350F degrees.
Whisk together the sugar, oil and hazelnut butter until well combined and the sugar is starting to break down. Add the flax mixture and and beat until smooth. Add the flour, cacao powder and sea salt and beat until smooth.
Scrape the batter into a greased 8x8 inch pan, then drop the swirl over it in 2 Tbsp amounts, and swirl it with a knife.
Sprinkle with chocolate chips. Place in the oven, and Bake for about 30-35 minutes or until set (but do not over bake).
Let cool before cutting into bars.
*If you want to make these with whole wheat pastry flour or all purpose flour and not make these gluten free, just swap them one to one for the gluten free flour.
(Visited 327 times, 1 visits today)