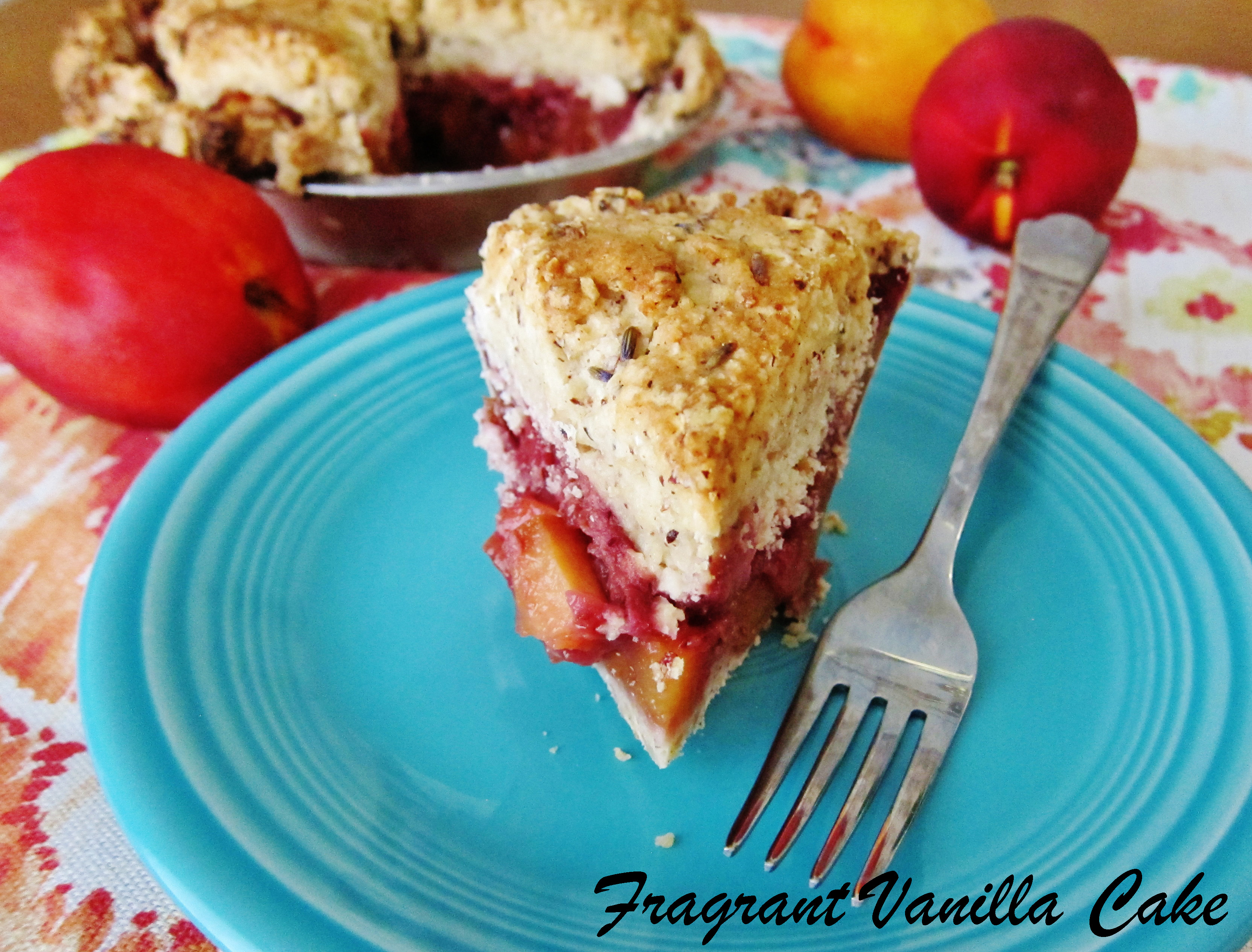 Vegan Nectarine Strawberry Lavender Almond Cobble Pie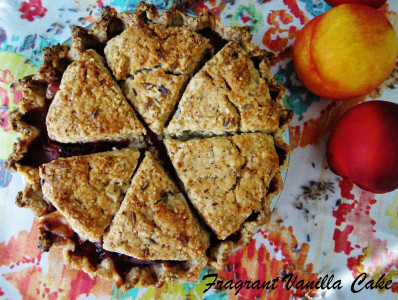 Lately I am trying to always see the positive in things.  I was working on it yesterday on my run when it was very hot and sticky (it has been hitting 90 the last few days here), and I was feeling pretty miserable.  Yes it was hot, but I had so many good things going for me I decided trying to see the positive. I was able to run in the first place, which was not something that could be said a few years back when I was plagued with injuries.  I was feeling good other than the fact that it was hot, and keeping up a good pace, and at least there was no ice like there is in the Winter and I could wear minimal clothing and not be weighed down.  Soon there were way more positives than negatives about the situation I realized.  And what's more, I don't know about you, but I feel more accomplished when things don't come quite so easy and I have to work for them.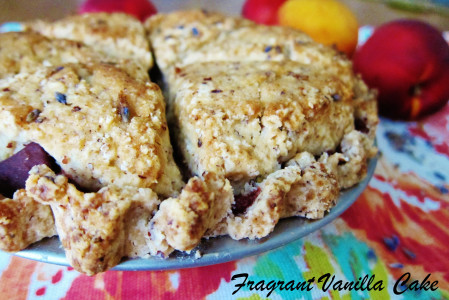 I decided that all that hard work deserved some pie.  I was thinking about it all day at work.  The thing is, I have a hard time deciding between two desserts sometimes, because they both sound good to me.  I wanted cobbler and I wanted pie. So I ended up making a cobble pie.  I had loads of nectarines at home, and some strawberries, so I combined the two for a deliciously sweet combination.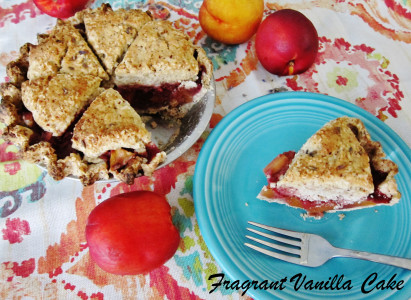 I decided I wanted to add in some lavender as well to make it even more heavenly and some almond in the crust to make it more flaky and delicious.  I made a my usual gluten free crust with the almond meal added for the crust, then delicious cobbler biscuits to top off the fruit instead of the usual crust.  It was pretty decadent, but oh so good!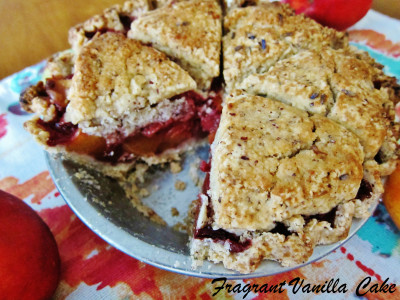 I know what you are thinking...who wants to bake a pie on a 90 degree day when it is hot?!  Yeah I am kind of crazy, but my home is much cooler than the hot kitchen I work in all day so it was not so bad.  The pie was well worth it!  I got the best of both worlds, and it was a good ending to a good day.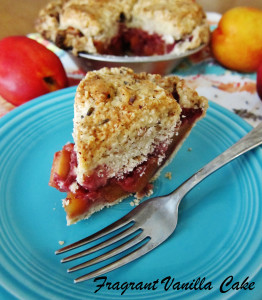 Vegan Nectarine Strawberry Lavender Almond Cobble Pie
Makes 1 6 inch pie
2 large nectarines, cut into small chunks
1 cup strawberries, quartered
1 Tbsp maple syrup
2 Tbsp all purpose gluten free flour
1 tsp dried lavender flowers
2 tsp pure vanilla extract
3/4 cups all purpose gluten free flour
3/4 cup almond flour
 2 Tbsp coconut sugar
 1/4 tsp sea salt
5 Tbsp coconut oil, in its solid form
1 Tbsp pure vanilla extract
about 2-3 Tbsp cold water
3/4 cup gluten free all purpose flour
1 tsp dried lavender flowers
1/2 tsp plus 1/8 tsp baking powder
2 Tbsp solid coconut oil, cut into chunks
1/4 cup cold full fat coconut milk (chilled in the fridge is best), mixed well
1 tsp pure vanilla extract
To make the crust, in a large bowl, mix together flour, sugar, sea salt, and lemon zest.  Cut in coconut oil with a pastry blender or 2 knives until it is in pea sized pieces.  Mix in vanilla and just enough lemon juice to create a smooth dough that holds together but isn't too sticky.  Add a touch of water if needed, and knead slightly until a smooth dough is created. 
Roll out into about a 7-8 inch round using parchment underneath and floured rolling pin.  Place bottom crust into a 6 inch pie pans and fit to edges (being careful since gluten free dough is more fragile). If it tears, no worries, just press it back together and patch it up. Flute the edges, or crimp with a fork. Set aside in the refrigerator.
Pre-heat the oven to 400F degrees. In a large bowl, toss together the filling ingredient. Spoon into crust. Place plate on baking sheet, and tent with foil.  Bake for 45 minutes until fruit is cooked through and bubbling.
Meanwhile, when the fruit in the oven is almost at 45 min, to make biscuits, in a large bowl, combine the flour, almond meal, sugar, lavender, baking powder, and salt. Cut in the oil with a pastry blender or 2 knives until the mixture starts to clump into pea sized pieces. In a small bowl, stir the vanilla extract into the coconut milk. Add the milk to the dough, and stir a few times, but do not overmix. The dough should hold together when squeezed, but still be clumpy. Place dough on a floured work surface, and pat into a 1/2 inch tall circle.
Remove baking fruit from oven. Cut the dough circle into wedges, and place on top of the bubbling fruit.  When all biscuits are on top, sprinkle with coconut sugar and return to the oven. Bake for about 20 minutes until biscuits are cooked through and lightly brown and toasted on top (keep a close eye on they could burn very quickly). Remove from oven and let cool until warm, and top with some ice cream or coconut vanilla whipped cream and...enjoy!
(Visited 77 times, 1 visits today)