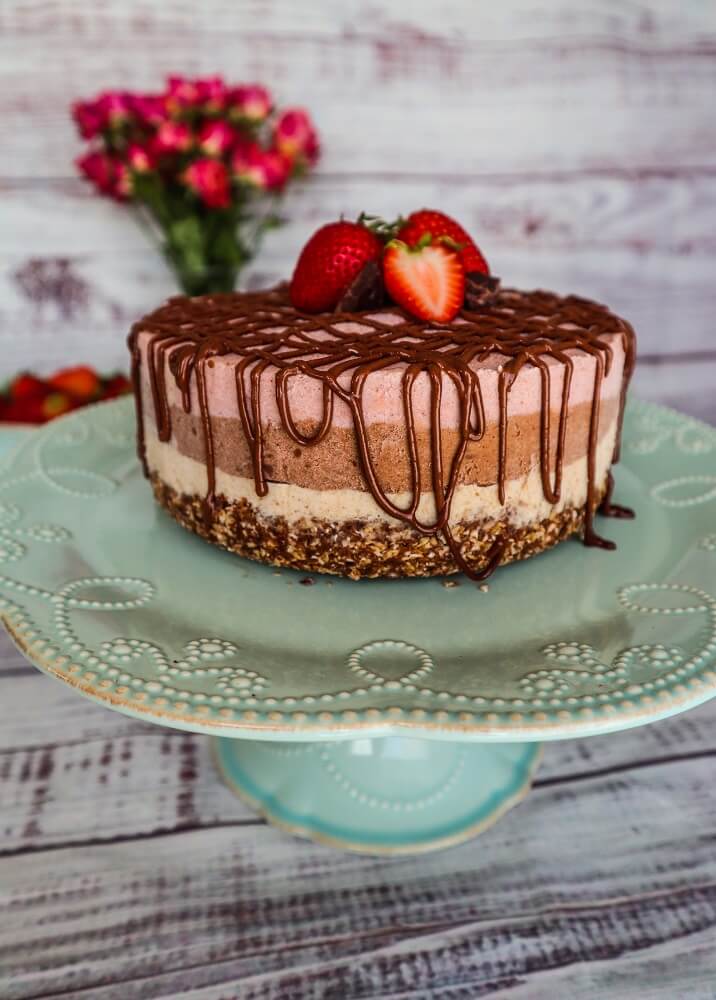 Vegan Neapolitan Ice Cream Cake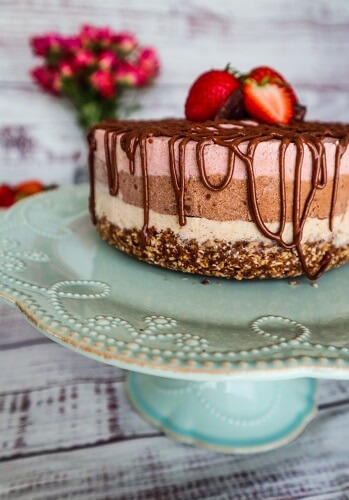 I always liked neapolitan ice cream.  It seemed kind of fancy with its 3 flavors layered together and it meant that you didn't have to simply choose one flavor of ice cream which was always hard for me. But I haven't seen any vegan neapolitan ice cream for sale, so I thought I would make my own.  Except I thought it would be fun to make a cake instead of just ice cream to scoop so I went for it!  It has been warming up here lately and pretty soon it will feel summery so it is the perfect time of year to start making ice cream treats! Not that I don't eat them year round because I totally do!  They are just that much more refreshing if it is warm.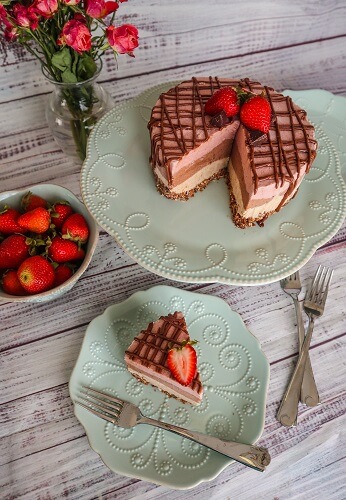 I have an ice cream maker but I actually didn't use it to make this because it was not frozen and I didn't want to wait  until the next day. So that makes the recipe a little easier!  If you wanted to use one you could if you wanted to speed up the process you would just end up freezing the plain vanilla base, then dividing it and whisking in the other two flavors then layering it.  But it turned out just as delicious without that step and I am all for making it a little more easy.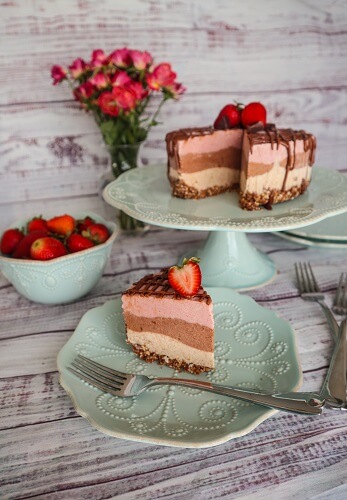 For the base I used coconut milk with a little raw cashew butter to make it rich and creamy and it was heavenly!  I made the vanilla first, then whisked a strawberry puree into some and also cacao powder for the chocolate portion.  For the crust I made something similar to what I make for my raw style cheesecakes and it worked out perfect!  I like to think of it as a much healthier version of an oreo crust, since I don't keep oreos on hand or really any store bought cookies that could be used for a crust.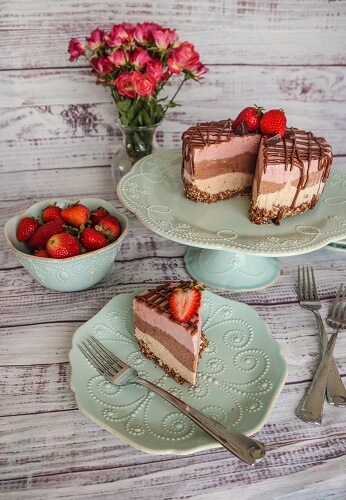 I drizzled it with a little chocolate fudge and topped it off with strawberries and it was ready to dive into!  I could not wait!  It was so heavenly!  The vanilla, chocolate and strawberry ice creams were creamy, dreamy and sweet the perfect match for each other!  This upgraded version of the ice cream I ate as a child is way better than the original!
Vegan Neapolitan Ice Cream Cake
Makes 1 8 inch round cake
Crust:
3/4 cup organic gluten free rolled oats
3/4 cup finely shredded dried unsweetened coconut
3 Tbsp unsweetened cocoa powder
3/4 cup soft pitted medjool dates (soaked in filtered water if not soft for 30 minutes and drained well.)
3 Tbsp almond butter
1/4 tsp sea salt
Ice Cream:
2 15 oz cans full fat coconut milk (use a brand that is mostly thick cream like Thai Kitchen)
1/2 cup raw cashew butter
3/4 cup maple syrup
1 tsp pure vanilla extract
1/4 tsp sea salt
3 Tbsp cacao powder
1/3 cup strawberry puree
For topping:
Fudge:
2 Tbsp cacao powder
1 Tbsp maple syrup or as needed
Strawberries
Instructions:
Oil a 8 inch spring form pan and line with parchment paper.
To make the crust, combine all ingredients in a food processor and process until fine and starting to hold together when squeezed. Once it is at that stage, press it into the bottom of the prepared pan.  Set aside.
To make the ice cream, combine all ingredients but the cacao powder and strawberries in a high speed blender or food processor and blend until very smooth (if you are using a food processor and it still has little bits you may want to strain it through a fine meshed strainer to remove them).
Pour into a bowl and place in the freezer for about 30 minutes or until chilled, whisking after 15.
Divide between 3 bowls, and whisk the cacao powder into one of them, the strawberries into another and leaving the last vanilla.
To assemble the cake, pour vanilla ice cream over the crust, then place in the freezer for about 20 minutes until the top is more firm, then pour the chocolate ice cream and repeat the process then the strawberry.
Place in the freezer until firm, about 6 hours.
Unmold the cake.
To make the fudge, whisk together the cacao powder and maple syrup until smooth (if it is too thick add a little more syrup until it is pourable but still thick).
Drizzle the fudge over the top of the cake and top with strawberries.
Enjoy!
Store any leftover cake in the freezer in an airtight container.
(Visited 927 times, 1 visits today)