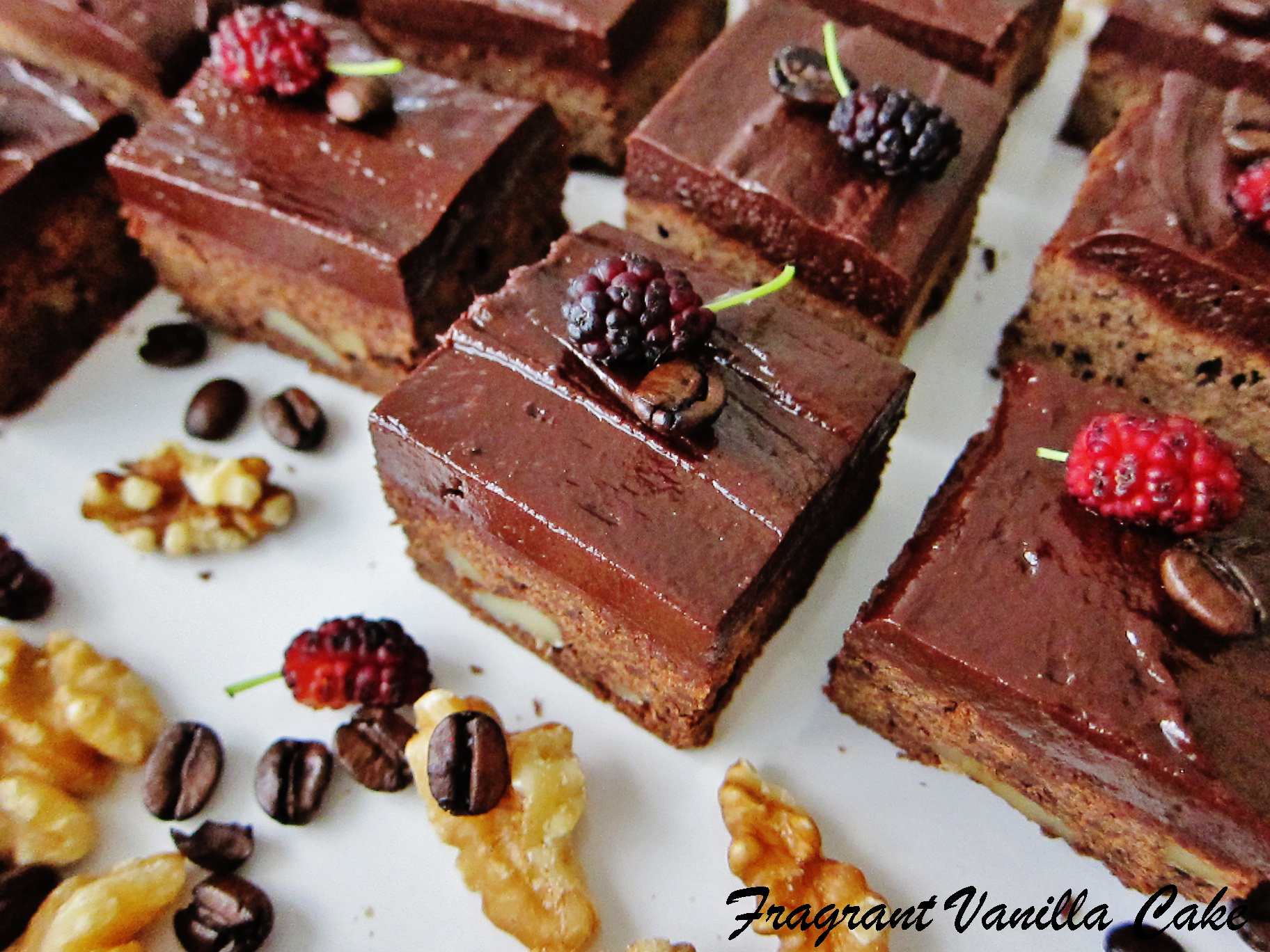 Vegan Mocha Walnut Brownies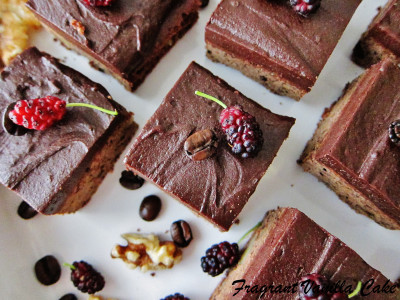 On at least one of my days off every week I need to spend time with just myself. Maybe it is the introvert in me, but that is something I look forward to and it is very important.  I do things like go for a walk, bike ride, or run (sometimes all three if I feel the need) my favorite time to think about the past week, think about the coming week and just think in general about things like what kind of recipes I want to make and what not.  I find my best inspiration there, when I am outdoors in my own little world, but still present enough to hear the birds chirping and wind whistling through the trees around me.  Last week I got to enjoy some time to go for a walk, and I decided that I wanted to make brownies, and I also harvested some wild mulberries while I was out.  I finally remembered to bring a container.  I walk there often, and I usually just grab a few.  But this time I figured bring some home for later.  I figured they would make a perfect garnish for my brownies!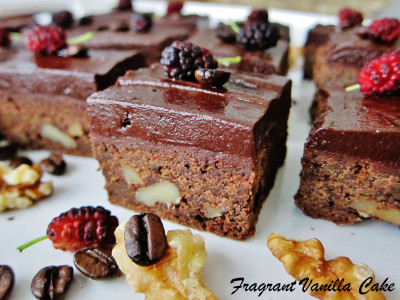 Who doesn't like to do things like brownies on their day off?!  Crazy people if you don't.  Just kidding. I know not everyone is a baker but that is what I am here for, to make them and share with you.  Anyways, I decided that I wanted mocha walnut brownies.  I wanted them to be fudgy and moist.  That is the way I like my brownies.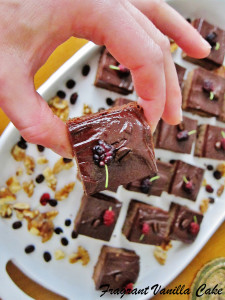 I have been experimenting with aquafaba lately (which is liquid from canned chickpeas if you are not familiar with the term).  Trying to make vegan meringues and marshmallow fluff because that is what it is good for surprisingly.  There have been a lot of some flops and some successes.  But I wanted to try something with the aquafaba besides the meringue type stuff...so I decided to try making some brownies with it (which is where I am going with this whole aquafaba thing) because I heard it is wonderful in baked goods.  Luckilly this one ended up being a win!
You can use it as a substitute for eggs, so that is what I did!  The brownies turned out fabulous.  Fudgy and delicious, rich and dark studded with crunchy walnuts.  I topped them off with more fudgy goodness in the form of frosting.  Trust me, you need these babies in your life. Don't discard that chickpea liquid next time, make some brownies!
Vegan Mocha Walnut Brownies
Makes 20 small brownies
1 1/4 cups all purpose gluten free flour
2/3 cup raw cacao powder or unsweetened cocoa powder
1 TBsp espresso powder
1 cup coconut sugar
1/4 tsp sea salt
1/2 cup coconut oil, warmed to liquid
1 cup aquafaba (the liquid from canned chickpeas)
2 tsp pure vanilla extract
1/2 cup chopped raw walnuts
frosting:
1/3 cup raw walnut butter
1/3 cup maple syrup
2/3 cup cacao powder
1 tsp espresso powder
pinch sea salt
1 Tbsp coconut oil, warmed to liquid
filtered water as needed
Preheat the oven to 350F degrees.  In a large bowl, whisk together the flour, cacao powder, espresso powder, sugar and salt until well combined.  Add the coconut oil, aquafaba, and vanilla and whisk until smooth and well combined.  Stir in the walnuts.  Pour the batter into a lined and oiled 8x8 inch square baking pan and place in the oven.  Bake  for 20-25 minutes until just set (you do not want to over bake). Let cool.
Meanwhile, to make the frosting, whisk together all ingredients in a bowl until smooth adding a little bit of filtered water if necessary.  You want the consistency of a spreadable fudgy frosting.  Spread over the cooled brownies, and cut into squares.
(Visited 559 times, 1 visits today)