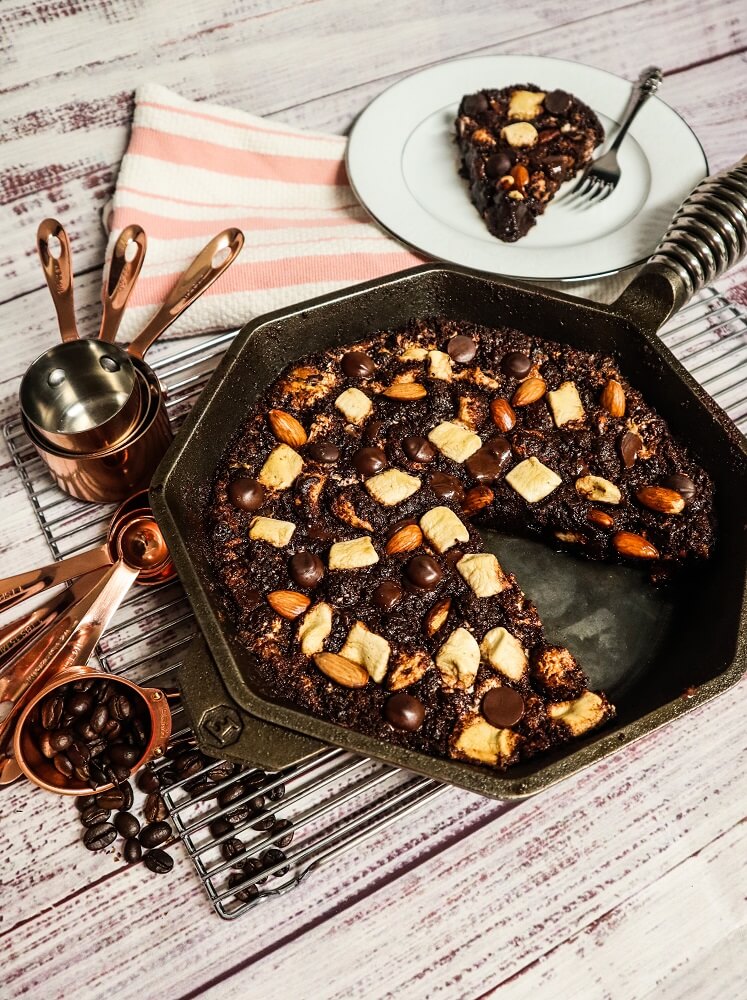 Vegan Mocha Rocky Road Skillet Brownies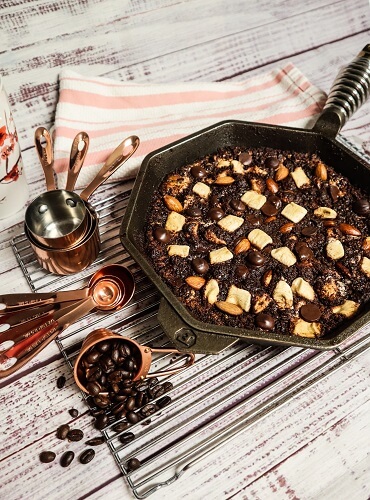 I have been wanting to make something rocky road for a while now since I had some leftover marshmallows from the holidays, and I got my chance this week. I had made some vegan brownies at work and they smelled so delicious and inviting I just had to make some of my own at home.  Rocky road brownies! And I recently remembered that I own a nice cast iron skillet because I made a vegan frittata that I know works great for baking things like brownies in so I figured I would use that to make them.  Most of the time I will just bake them in a pan, but I feel like the skillet is more fancy and fun!  After all, who doesn't love getting a giant brownie wedge instead of a tiny brownie all to themself?!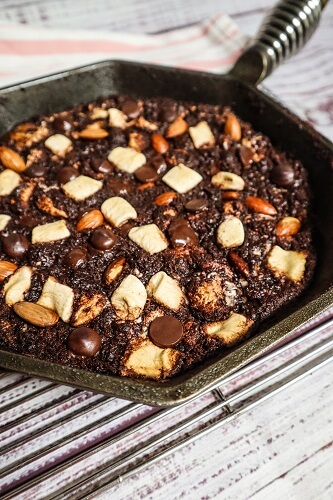 When I bake the brownies in the skillet, I usually start by warming it up in the oven first to help the brownies cook a little faster. You just gotta be careful and remember that the handle is hot when you go to put it back in the oven. I almost burned myself, although I should totally know better since I work in a kitchen every day (facepalm).  For the base of these, I used a mixture of avocado and almond butter for the fats.  With this combination they will stay soft and fudgy.  If you wish to use another neutral oil (as long as it is liquid at room temperature), or even olive oil feel free though, they will still come out nice.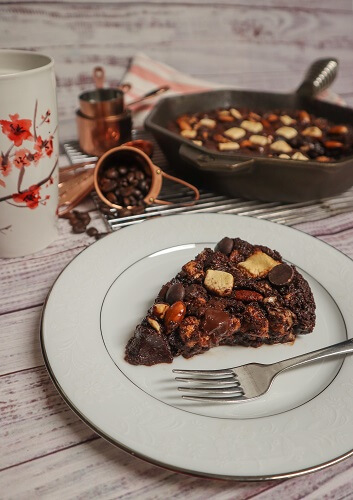 They have plenty of cacao powder in them to give them that rich chocolate flavor I crave from brownies, but I thought they would be even better if I added in some espresso powder to give them more depth, and because I thought they would be amazing with a mocha alongside later for a snack. I know rocky road variations are all different but I went with the combo of toasted almonds, marshmallows and chocolate chunks!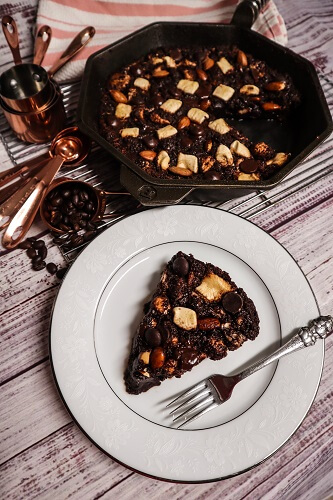 They smelled heavenly while baking, and I could not wait to try them!  Once they had cooled and I was able to cut a wedge, they did not disappoint! They were fudgy and rich, with a hint of coffee flavor, the marshmallows and chocolate chunks on top had toasted into gooey deliciousness, and the toasted almonds were the perfect touch.  They were totally heavenly!  If you are craving something chocolate, definitely give these a try!  And they are amazing with a cup of coffee!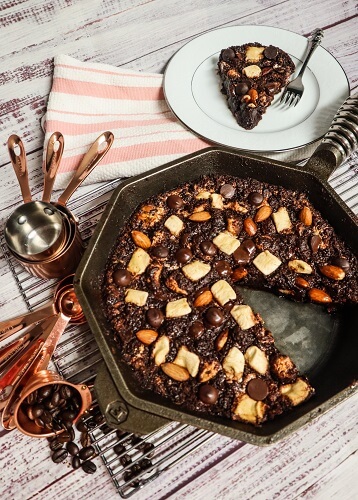 Vegan Mocha Rocky Road Brownies
Makes 16
Brownies:
1/2 cup avocado oil
1/4 cup almond butter
1 cup coconut sugar
2 flax eggs (2 Tbsp ground flax seed mixed with 1/4 cup plus 2 Tbsp filtered water)
1 cup organic whole wheat pastry flour (or AP flour will work as well)*
1/2 cup cacao powder or unsweetened cocoa powder
2 Tbsp espresso powder
1/4 teaspoon sea salt
3/4 cup vegan dark chocolate chips plus more for sprinkling top
3/4 cup vegan marshmallows, plus more for sprinkling on top
3/4 cup chopped almonds, plus more for sprinkling on top
Directions:
Preheat the oven to 350F degrees and oil a 9 or 10 inch cast iron skillet. Place the pan in the oven while you make the batter.
Whisk together the sugar, oil and almond butter until well combined and the sugar is starting to break down. Add the flax eggs and beat until smooth. Add the flour, cacao powder, espresso powder and sea salt and beat until smooth.  Stir in chocolate chips, marshmallows and almonds.
Remove the pan from the oven.
Scrape the batter into a the pan,  smooth it out, and sprinkle with more marshmallows, chocolate chips and almonds.
Place back in the oven, and Bake for 25-30 minutes or until set (but do not over bake because you do not want it dry).
Let cool at least 45 minutes before cutting into wedges.
*If you wish to make these gluten free, I can recommend Bob's Red Mill Gluten Free All Purpose Baking Flour because I have tried it before in my brownies and it works great!
(Visited 730 times, 1 visits today)