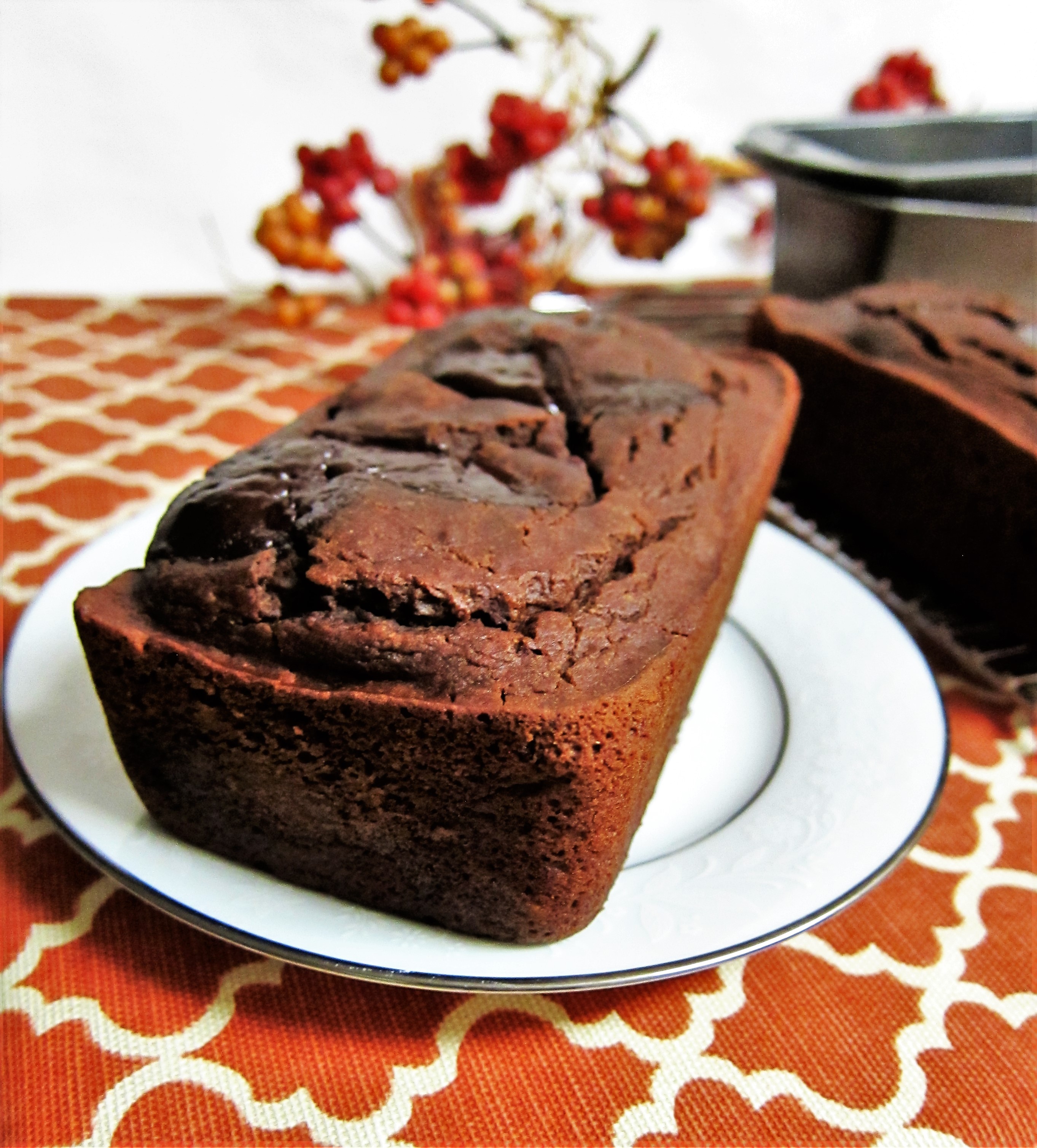 Vegan Mocha Pumpkin Bread
I had some leftover pumpkin from another recipe needing to be used in the fridge, and I did not want to put a lot of work into making something with it.  Cake sounded good, but I have made lots of pumpkin spice cakes this year. Plus cake was a little more work than I wanted.  Chocolate also sounded good, so I wanted to incorporate that, and Eric had recently suggested I make something with coffee...so what I finally decided on was pumpkin mocha bread.  Quick bread...a simple cake with no layers and frosting to mess with.  My mouth was watering at the thought of it.  Not only was this bread going to be flavored with pumpkin spice, cacao powder and coffee, it had to have gooey chocolate chunks, because I was totally going to eat it warm.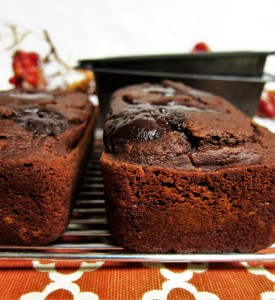 It came together fast, and smelled like heaven while baking.  I made mini loaves, so one loaf was perfect for two to share.  What I got when I cut into one was gooey delicious chocolate, and soft and aromatic bread that tasted wonderful.  A hint of spice, a hint of coffee, and just enough chocolate to make me and Eric happy.  If you have leftover canned pumpkin and coffee after this week, now you know what to make!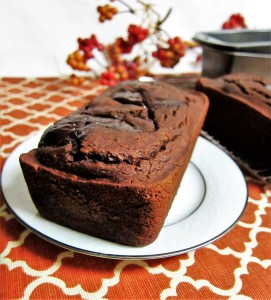 Vegan Mocha Pumpkin Bread
Makes 4 mini loaves
1 1/2 cups gluten free all purpose flour
1/4 cup cacao powder
1 cup coconut sugar
2 Tbsp cinnamon
2 tsp ground ginger
1/2 tsp ground nutmeg
1/4 tsp cloves
1 tsp baking soda
1 tsp baking powder
1/2 tsp sea salt
3/4 cup pureed pumpkin or squash
1/4 cup olive oil
1 Tbsp pure vanilla extract
1 Tbsp l. c. Finns coffee extract
1/2 cup + 2 Tbsp coffee
2 Tbsp apple cider vinegar
1 cup chopped vegan dark chocolate
Preheat the oven to 375F degrees and position rack in center of oven. Oil four small bundt pans. Whisk flour, baking soda, spices, salt, and sugar in a large bowl to blend well. Whisk pumpkin, oil, vanilla extract, and coffee together in small bowl to blend well, then whisk into the flour mixture until well blended. Whisk in cider vinegar until pale swirls form in the batter and it is well combined. Transfer cake batter to prepared pan and bake cakes until tester inserted into center comes out clean, about 25-30 minutes. Cool cake completely in pan on rack, about 1 hour. Cut around sides of pan to loosen. Turn cake out onto platter; peel off parchment paper. Let cool completely.
(Visited 80 times, 1 visits today)