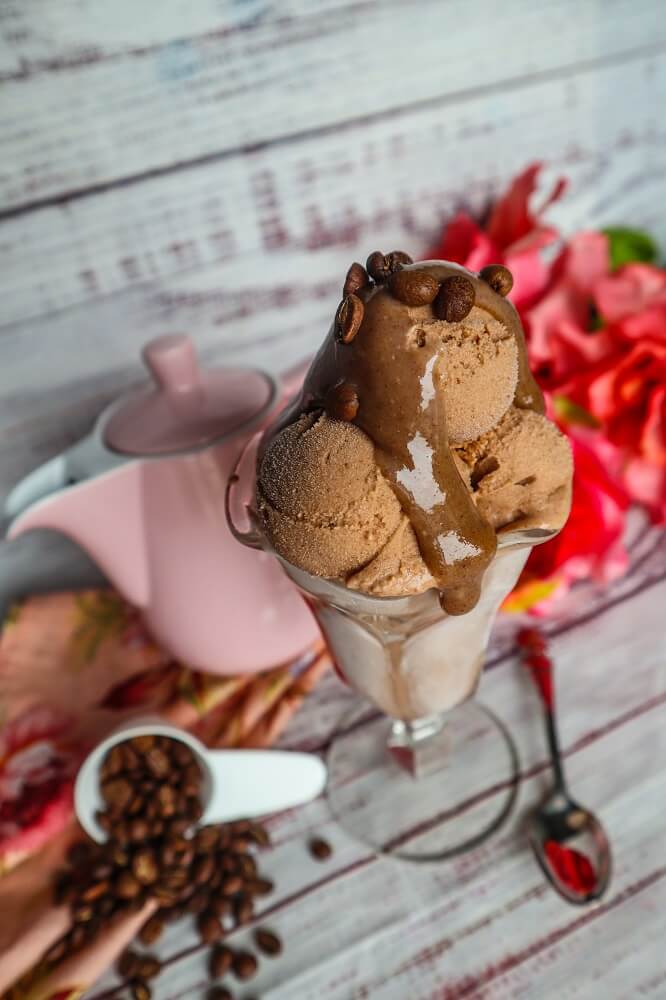 Vegan Mocha Caramel Ice Cream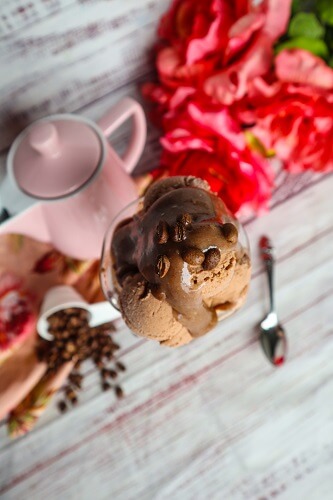 It has been a bit warm here lately, so I have been in the mood for frozen desserts and ice cream!  Rather than buy it at the store, I make mine at home because it can be spendy there and I like to use more natural ingredients in mine like dates instead of sugar.  I wanted something decadent last week, so I decided to make a mocha caramel ice cream!  Natural Delights Dates recently sent me some of their dates along with an ice cream maker and some popsicle molds, so I thought I would use the dates for the caramel in this and try out my new ice cream maker!  It is a Cuisinart, and I have always wanted one like this!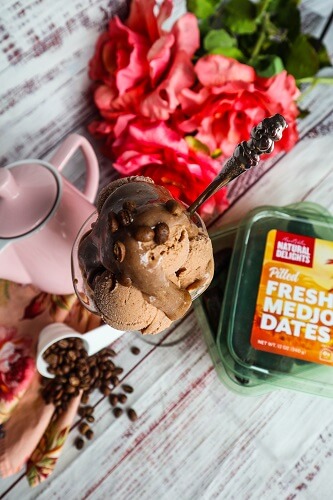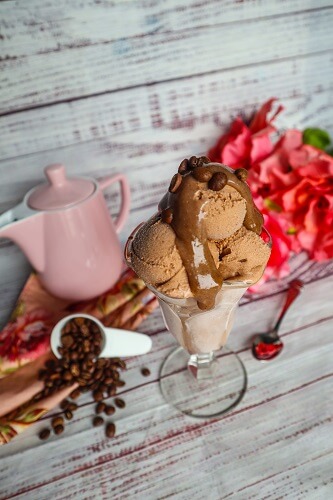 For the ice cream base, I used full fat coconut milk.  This is my favorite ice cream base because it has a light sweetness and it is nice and rich and tends to be less icy.  I combined it with a bit of almond butter to thicken it as well as well as give it a little more richness. I am not really a fan of low fat ice cream unless it is a soft serve nice cream or something.  I like my scoop-able ice cream more creamy and thick.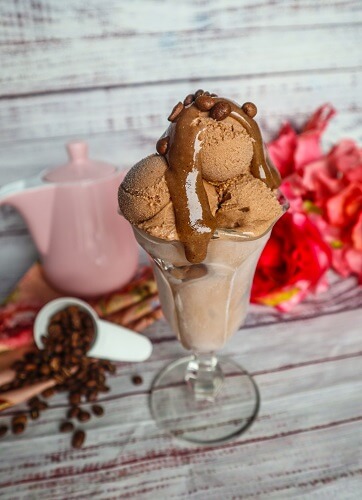 For the caramel I added in a full cup of dates and some vanilla for the sweetness and it was perfect!  A bit of espresso powder and it tasted like an amazing chilled chocolate caramel latte (which I now have to try making at home now in drink form after having this ice cream flavor because I love it so much).  The base was heavenly!  I just needed to freeze it and let it thicken!  The ice cream maker worked lovely, and I could not wait to try the finished product!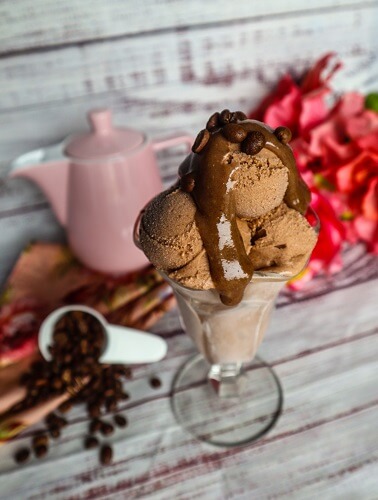 It was sooo good!  Rich and creamy with a vanilla caramel flavor with just the right amount of coffee and chocolate!  It was amazing on its own but it would also be really good as an affogato (ice cream with coffee poured over).  If you are in the mood for some rich and dreamy ice cream give this a try!  If you don't own an ice cream maker, no worries I have included instructions for that as well!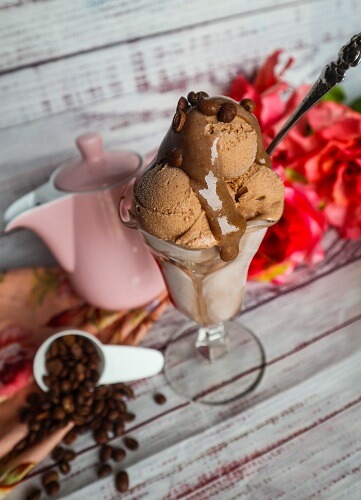 Vegan Mocha Caramel Ice Cream
Makes about 3 1/2 cups ice cream 
Ingredients:
1 15 oz can organic full fat coconut milk
1 cup soft, pitted dates
1/2 cup almond butter
1/2 tsp sea salt
2 tsp pure vanilla extract
1 Tbsp espresso powder or 3 Tbsp strong brewed coffee
3 Tbsp cacao powder
Caramel Sauce: 
3 Tbsp maple syrup
3 Tbsp almond butter
1 tsp pure vanilla extract
pinch of sea salt
2-3 Tbsp water (or as needed)
Instructions:
Combine all ingredients in a high speed blender and blend until smooth.
Pour into an ice cream maker and process until thick, then pour into a freezer container with a lid.  Alternatively if you don't have an ice cream maker, you can pour into a bowl in the freezer and whisk about every half hour until a thick malt like consistency.
Allow to sit in the freezer until firm enough to scoop and serve!  If it becomes too hard in the freezer allow to sit out 15 minutes before serving. 
To make the caramel whisk ingredients together until smooth, adding enough Tbsp water to make it pourable but not too runny. 
Serve the ice cream with the caramel sauce. 
(Visited 881 times, 1 visits today)