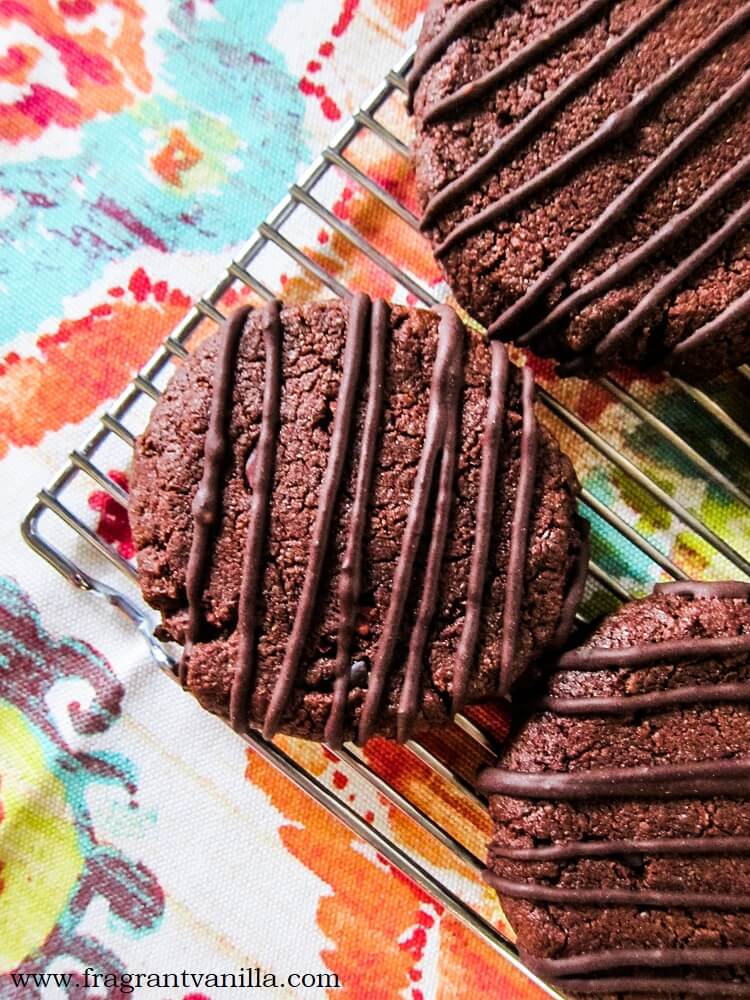 Vegan Mocha Brazil Nut Butter Cookies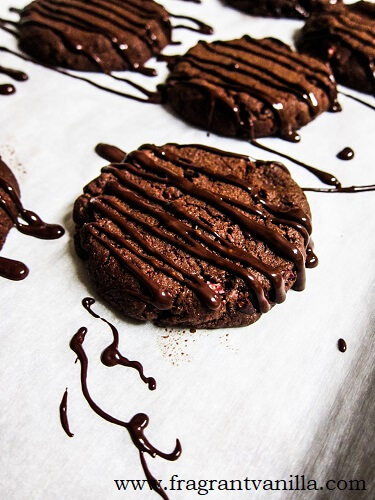 You know what my favorite guilty pleasure is?  Nut butters.  Yes, I eat a little bowl of nut butter with fruit to dip in it and call it dessert sometimes. It is not because I am too lazy to make a dessert, it is because I am craving delicious nut butter.  And, I wish I could eat the whole jar, but I know that anything in excess is not healthy.  I have my favorites, like peanut butter and pecan butter, but love them all, and when Raw Guru recently sent me some Brazil nut butter I was excited about it.  I make my own nut butters all the time, but none of them are as smooth and rich as the Raw Guru nut butters, so if you like really good nut butter too, check them out on their website.  Brazil nut butter is something that seems unusual and special to me too, so instead of just eating the jar like I normally would, I decided that it deserved to be used in something really good.  So I made some Vegan Mocha Brazil nut butter cookies.
Nut butter cookies are always amazing, but add some cacao and coffee into the mix and they are even better!  For these, I made my usual peanut butter cookie base, but with the Brazil nut butter, cacao powder and espresso and it was sooo good!  As you know if you read this blog frequently, I am a cookie dough girl.  I like it better than actual baked cookies most of the time, so of course I had to keep sampling this dough.  Of course, second best is fresh baked cookies, so I got both out of it which was a win all around.  I added in some Raw Guru cacao nibs too for a nice crunch. I like cacao nibs because they are chocolaty without being sweet, and I am someone who likes really dark chocolate.  They have almost a coffee flavor note to them too, which fits right in with these cookies.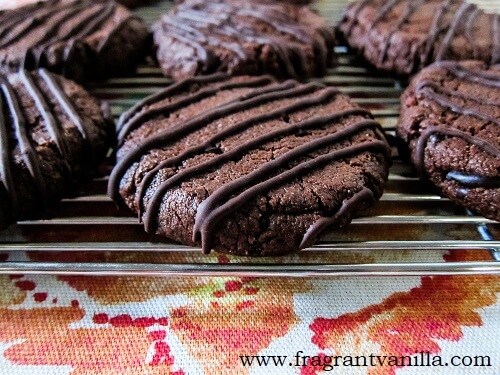 They smelled amazing while baking, the aroma of dark chocolate and a hint of coffee filling my kitchen and home. That is part of why I love baking, the amazing smells.  It is hard to be unhappy while baking, the aromas alone are mood boosters.  They turned out soft and chewy, just how I wanted them.  I decided to drizzle them with Rawmio dark chocolate Raw Guru sent me as well, because why not?! Make them extra decadent and delicious!  These cookies are sooo good!  Rich, fudgy, dark chocolate flavor with a slight nuttiness, and touch of coffee.  The cacao nibs add a nice little crunch that I love as well!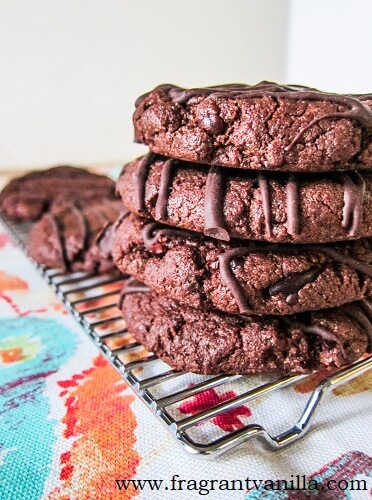 Vegan Mocha Brazil Nut Butter Cookies 
Makes 12 cookies
Ingredients:
Cookies:
Chocolate Drizzle:
Instructions:
In a small bowl, whisk together the flax seed and water.  Place the bowl in the fridge for 15 minutes, this is your flax egg.
In a large bowl, with a wooden spoon, mix together the sugar, brazil nut butter, coconut oil, vanilla and flax egg, until smooth.  Then mix in the flour, cacao powder, espresso powder, soda, baking powder, and sea salt in until the mixture is smooth. Then mix in the cacao nibs.
Preheat the oven to 375F degrees.  Line a sheet pan with parchment.
Shape the cookie dough into 2 inch balls, place on your baking sheet a few inches apart and flatten slightly with your hand or the bottom of a glass.
Place in the oven and bake at 375 for 12 minutes or so, until lightly browned and set.  Allow to cool completely on a rack.
Melt the dark chocolate in the top of a double boiler.
Drizzle the dark chocolate over the cookies, then set in the freezer until it has hardened.
Enjoy!
*If you can't get Brazil nut butter, or you prefer another nut or seed butter, go ahead and use that.  Just make sure it is a more runny nut butter or mix in a little melted coconut oil to make it runny, because the consistency of the Brazil nut butter is runny and in order for the recipe to work, it should be one with the same consistency.
(Visited 330 times, 1 visits today)