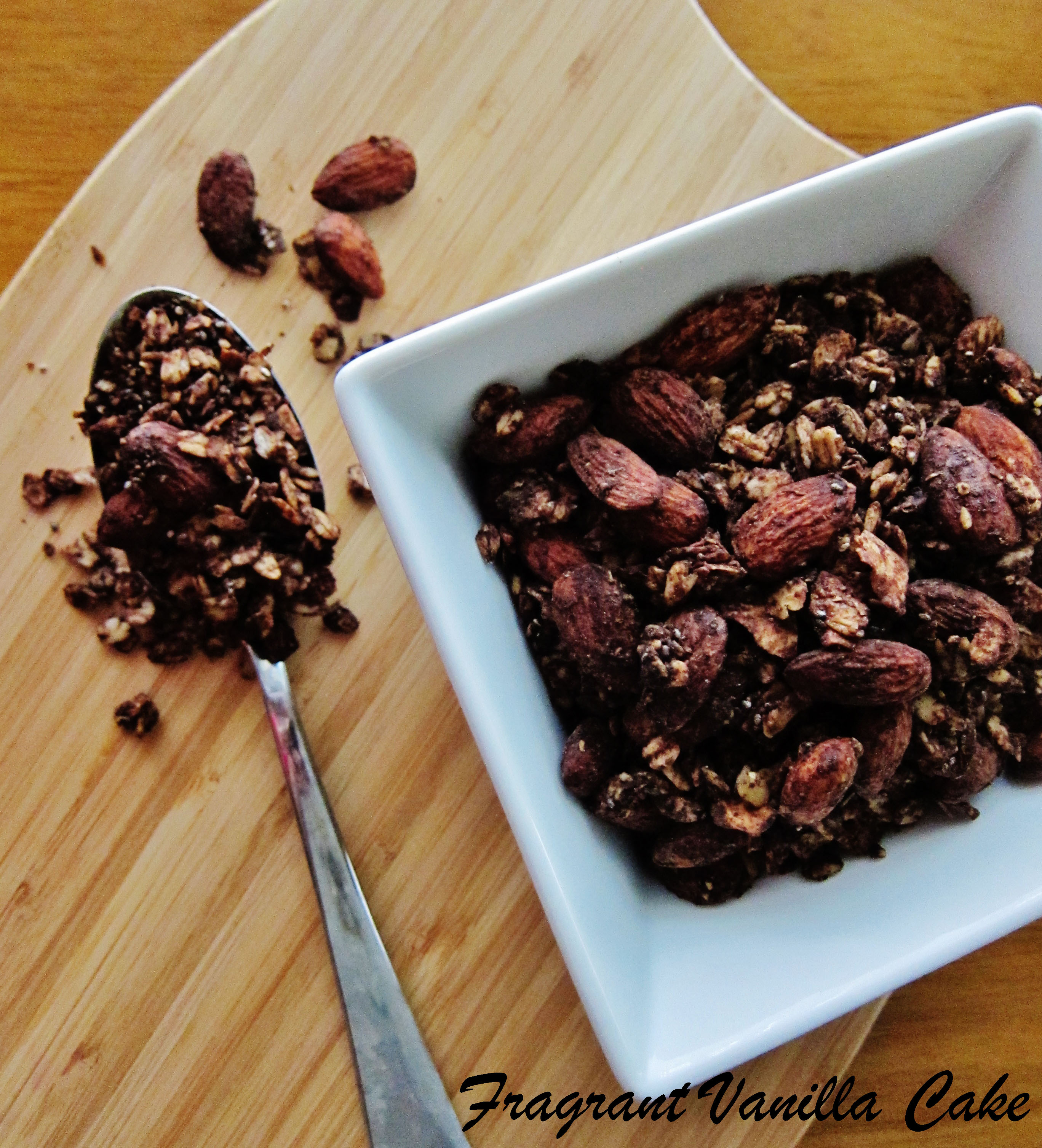 Vegan Mocha Almond Granola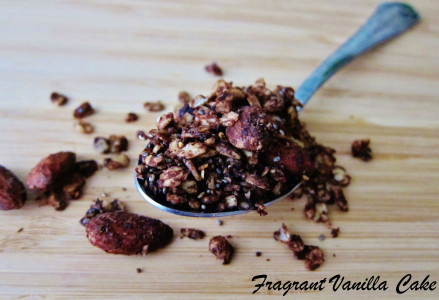 On a whim last weekend I decided that I needed to make chocolate granola.  I had not made oat granola in ages...probably a 4-5 years, so it was about time.  I had just been bragging to Eric about how good my oat granola was when I realized I had not made him any, ever! So I had to make some.  He loves chocolate above all other sweets, so I thought chocolate would be perfect.  But not just plain chocolate, I had to add a little pizzazz!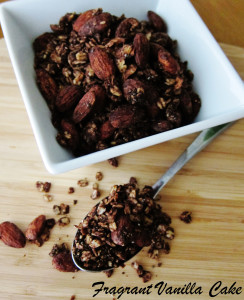 In the form of coffee and almonds.  Mocha sounded wonderful.  I added in plenty of cacao powder, lots of raw almonds and chia and hemp seeds for an omega 3 boost.  I like to add protein rich things to my granola to make it a more substantial snack.  Yes, I mainly eat this as a snack, but I have a feeling Eric will have it for breakfast since he is the one that always had a thing for Coco Puffs. I prefer my breakfasts a little less sweet, so I like this as a bedtime snack when I want something munchy, crunchy, salty and sweet, or as a topper for ice cream or yogurt for dessert.  It provides such a nice crunch on soft things like yogurt.  This granola was so decadent and delicious.  I would not usually call granola decadent but this tasted like it.  Sooo yummy!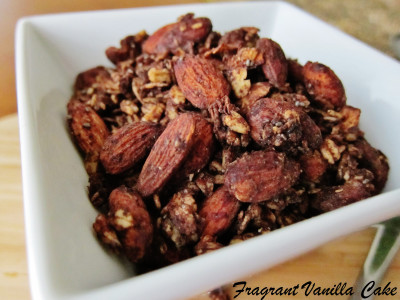 Vegan Mocha Almond Granola
Makes about 14 cups of delicious granola
6 cups old fashioned rolled oats
4 cups raw almonds
1/2 cup chia seeds
1 cup shelled hemp seeds
2 cups large flake coconut
1/2 cup cacao powder or unsweetened cocoa powder
3/4 cup coconut oil, warmed to liquid
3/4 cup maple syrup
3 Tbsp coconut sugar
1 1/2 tsp sea salt
2 tsp coffee extract (or you may use 1 Tbsp espresso powder)
1 Tbsp pure vanilla extract
Line a large baking sheet with non-stick foil, and spray with cooking spray. Preheat the oven to 350 and set rack at the medium position. In a large bowl, combine oats, almonds, chia seeds, hemp seeds, coconut and cacao powder, and set aside. In another bowl, whisk together oil, maple syrup, coconut sugar, sea salt, coffee extract and vanilla extract until well combined, then pour over oat mixture and toss to coat until completely blended. Pour out onto prepared baking sheet, and spread out evenly. Bake for 35 minutes, stirring about every 10 minutes or so until the granola is evenly browned. Remove from oven and let cool.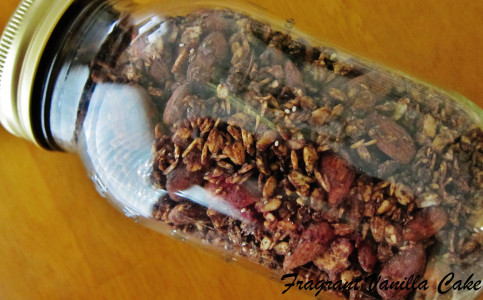 (Visited 41 times, 1 visits today)