Vegan Mixed Berry Pie with Pecan Crumble Topping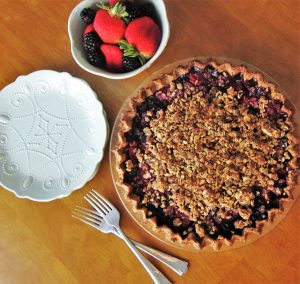 Berries make me think of summer.  Eric and I always pick the wild raspberries and mulberries that we come across on our walks, as sort of a little sweet treat.  They are kind of special, like little jewels in the forest because you don't see that many of them, and they are only around for a short time.  I always look forward to that.  I have never actually gone to a farm and picked berries, just the wild ones.  That is something I hope to do soon.  But for now, I am buying berries like crazy at the store, because they are my favorite fruit.  After all, in Minnesota we only get the really good ones for about 3 months of the year.  And the local ones even less than that.  Around my Birthday mid-July it is peak berry season, and I always have to go to the Farmer's Market to get some.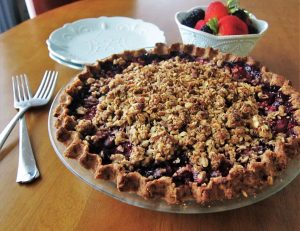 But, that time is not here yet, and I wanted pie, so I just bought berries at the store.  I wanted a pie with more than one type of berry, because there is something that I love about each one, and when you combine them it is even more delicious!  Strawberries are more sweet so when combined with raspberries, they are balanced.  Blueberries have a gelling quality that makes them perfect for pies when cooked, so I included those as well.  I also added a little lemon to this pie, because I love lemon with berries.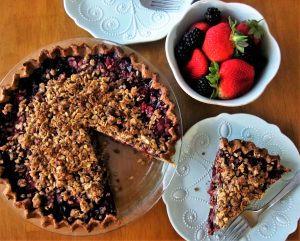 For the topping, I wanted a crumble instead of just a crust, because crust is more difficult when you are in a hurry, and more opportunities to have it go wrong.  Plus I love a good crumble topping, it is my favorite.  I included oats and pecans to make it extra crunchy.  This pie smelled simply heavenly while baking.  Filling my entire house with the aroma of sweet jammy berries and baking pie crust.  I couldn't wait to dive in.  But unfortunately I had to wait until it cooled because pies look prettier when sliced cool.  I served it with some berry ice cream I had made and shared it with Eric.  It was fabulous!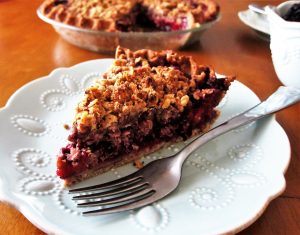 Vegan Mixed Berry Pie with Pecan Crumble Topping
Makes 1 8 inch pie
Crust:
1 1/2 cups Bob's Red Mill all purpose gluten free baking flour
3 Tbsp coconut sugar
1/4 tsp sea salt
6 Tbsp coconut oil, in its solid form
about 2-3 Tbsp cold water
Filling:
6 cups fresh or frozen organic berries (if they are frozen, thaw them first, and drain off any liquid)
juice and zest of one small lemon
1/4 cup coconut sugar
2 Tbsp arrowroot powder or all purpose gluten free flour
2 tsp pure vanilla extract
pinch sea salt
Topping:
1/2 cup Bob's Red Mill all purpose gluten free baking flour
2 Tbsp coconut sugar
3 Tbsp melted coconut oil
1/4 cup gluten free rolled oats
1/2 cup chopped pecans
pinch sea salt
To make the crust, in a large bowl, mix together flour, sugar, sea salt. Cut in coconut oil with a pastry blender or 2 knives until it is in pea sized pieces. Mix in just enough water to create a smooth dough that holds together but isn't too sticky. Add a 2-3 Tbsp water as needed, and knead slightly until a smooth dough is created.
Roll out into about a 9 inch round using parchment underneath and floured rolling pin. Place dough into an 8 inch pie pan and fit to edges (being careful since gluten free dough is more fragile). If it tears, no worries, just press it back together and patch it up. Flute the edges, or crimp with a fork. Set aside in the refrigerator.
To make the topping, combine all ingredients in a bowl, and mix together and squeeze together until it is clumping up a bit. Set aside.
Pre-heat the oven to 400F degrees. In a large bowl, toss together the filling ingredients. Spoon into crust. Scatter the topping over that. Bake for 1 hour in the middle rack of the oven until berries are all jammy and it is and bubbling (after 15 minutes check it and if it is getting too dark, tent it with foil for the rest of the time in the oven).
Remove from oven and let cool before cutting.
(Visited 100 times, 1 visits today)