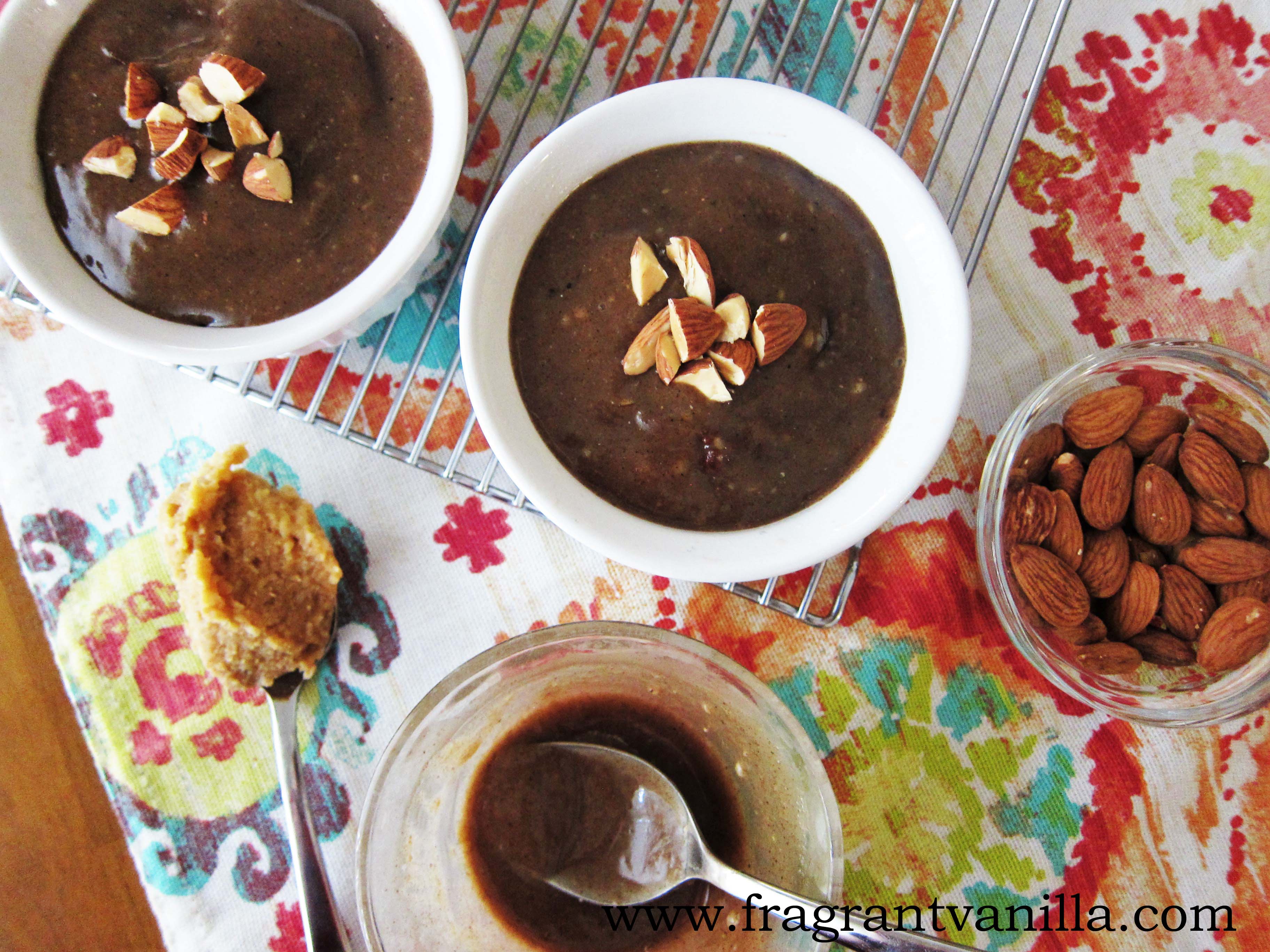 Vegan Miso Almond Brownie Cakes with Caramel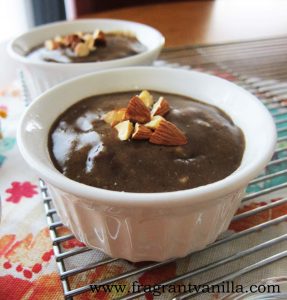 I love white miso.  It has a delicious sweet and salty sort of flavor.  Some people are weird about it, like, euw, miso, because it is a fermented product, but it is delicious and as you know, I love to ferment things like sauerkraut and kombucha.  So I don't mind the fact that it is fermented.  Anyways, it adds wonderful flavor to whatever you use it in, most commonly soups or things like savory salad dressings.  But I like it when paired with sweet things as well!  A few years back, I made some miso almond brownies, and I was thinking about them lately when someone told me they made my recipe for them.  This is a recipe from 2011, so I have changed quite a few things about my baking since then.  I decided I needed to revamp them to make them up to my standards now.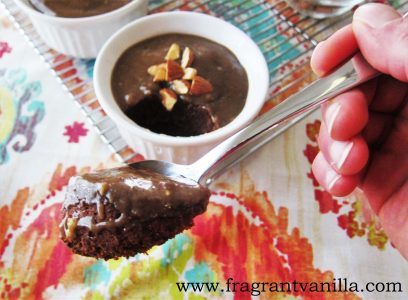 I also decided that I wanted little brownie cakes instead of bars, because that is more fun.  One of these little cakes is perfect for two people.  These, unlike my old recipe, are gluten free, and oil free.  Also, the other ones had tofu in them, to keep them moist and instead of eggs, but here I have used aquafaba (the liquid of cooked or canned chickpeas, and one of the best egg replacers I know).  And, the other ones had a sort of ganache on top, but I topped these off with a miso laced caramel.  I love caramel with nuts and chocolate.  It is a match made in heaven as of course you know!  Anyways, these took less time to bake, the centers stayed perfectly gooey and moist, and when topped off with the caramel, they were wonderful!  That miso added a little something extra, and the almonds made them slightly nutty.  One of these is perfect for sharing with someone, so if you want to impress that someone special, bring them one of these.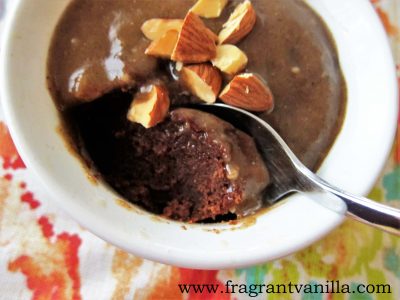 Kind of fun to redo a recipe I made years ago, I should really do it more often because I feel like I am a better baker now, and I have new techniques that are more slick.  I never stop learning, I am always trying to absorb new and better ways of doing things, especially making delicious desserts.  Looking back at posts from 5 years back I have learned a lot, and I like to think my photos have gotten way better.  Anyways, sorry for getting all nostalgic, I hope you enjoy the recipe!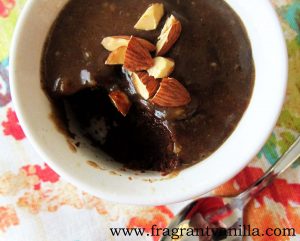 Vegan Miso Almond Brownie Cakes with Caramel
Makes 4
Caramel:
1/2 cup soft medjool dates, pitted (if they are not soft, soak them in water and drain well first)
1 Tbsp creamy organic almond butter
1 heaping Tbsp white miso
1/8 tsp sea salt
1 tsp pure vanilla extract
1/4 cup filtered water (or as needed)
Brownies:
1/2 cup plus 3 Tbsp creamy organic almond butter
1 Tbsp white miso
1 cup coconut sugar
1/4 cup plus 2 Tbsp reduced aquafaba or 2 flax eggs*
2 teaspoon vanilla extract
1 cup gluten free all-purpose flour
1/2 cup cacao powder or unsweetened cocoa powder
1/4 teaspoon sea salt
To make the caramel, combine all ingredients in a blender and blend until smooth (adding a little water if necessary, it should be the consistency of pourable but still thick caramel). Pour into a bowl and set aside.
To make the brownies, pre-heat the oven to 350F degrees. Whisk together the sugar, nut butter, miso until well combined and the sugar is starting to break down. Add the aquafaba and vanilla and beat until smooth. Add the flour, cacao powder and sea salt and beat until smooth. Scrape the batter into four oiled 1 cup glass ramakins . Place in the oven, and Bake for about 15-20 minutes or until set (but do not over bake). Let cool for about 10-15 minutes, then spoon the caramel over each one.  Enjoy!
*The aquafaba is the liquid from cooked or canned chickpeas. You want it to be thick like egg whites. If you are wanting to make flax eggs, simply mix together 2 Tbsp ground flax seeds, and 6 Tbsp filtered water and let sit in the refrigerator for 15 minutes before using in the recipe, and also add 1/4 cup extra water to the recipe.
(Visited 330 times, 1 visits today)