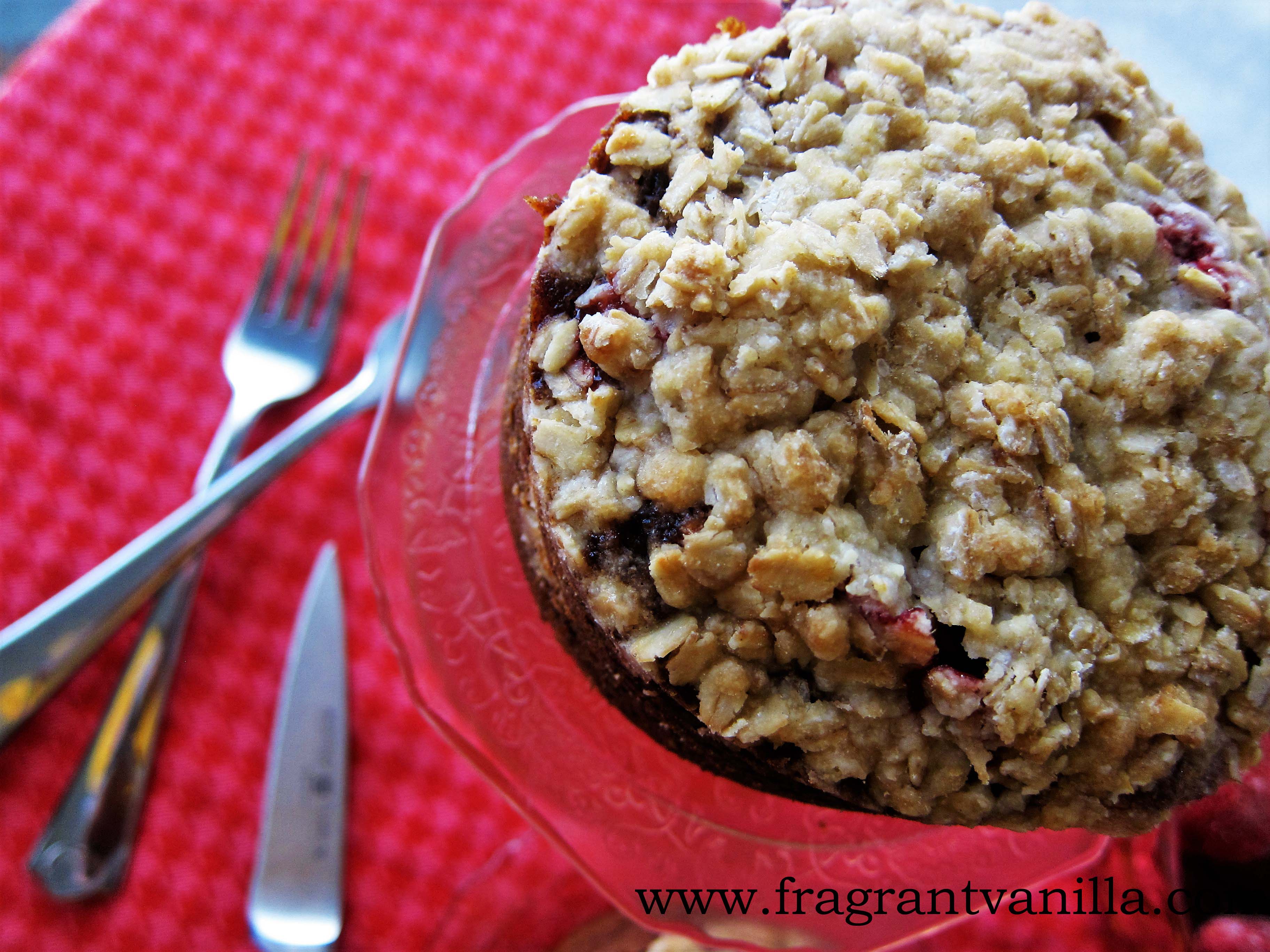 Vegan Mini Strawberry Cream Cheese Coffeecakes
I used to love coffeecake as a child.  I would beg my Mom to buy the stuff from the grocery store.  The kind with strawberries and cream cheese, and a bit of streusel topping, just enough to give it some crunch on top of the sweet cake.  It was so good in my 8 year old mind.  I am sure it was not the healthiest, since it was store bought and probably had some questionable ingredients, but I thought it was pretty awesome at that point.  Now as an adult, I am fortunate enough to be able to veganize desserts like that so I can enjoy them and know that I am eating good ingredients.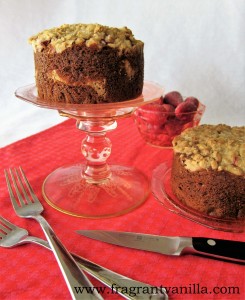 I decided to do just that last weekend.  I knew I wanted cake, and I had bought some strawberries just for that purpose, but I did not want a layer cake or one with frosting.  Coffeecake sounded amazing so that is what I decided on.  With a cream cheese swirl and plenty of streusel just how I used to like it.  I made a little different version of this last summer that I did not share on the blog and it was really good so I knew this one would be too.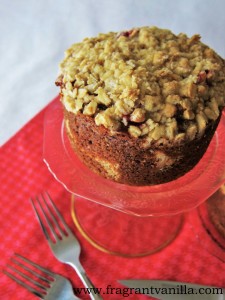 Instead of making a big cake this time though (last time I made an 8 inch), I decided to make little individual cakes to that they were easier to share (plus I wanted my own).  I made a date sweetened batter, and a cashew cream cheese for the filling.  The berries baked into jammy goodness in the cake, and the streusel topping was the perfect crunchy contrast to it all.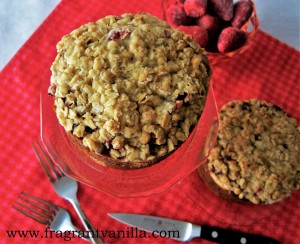 This cake was way better than the coffeecakes I enjoyed as a child!  If you are looking for the perfect non-frosting cake to make this spring when strawberries are in season, give this a try.  I have directions at the bottom if you would like to bake it all in one pan instead of mini cakes too.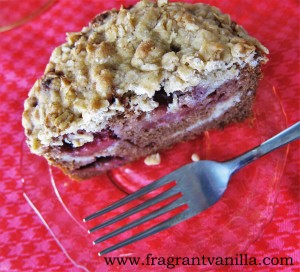 Vegan Mini Strawberry Cream Cheese Coffeecakes
Makes 4 4 inch round cakes
Streusel:
1/2 cup gluten free oats
1/4 cup coconut sugar
1/4 cup all purpose gluten free flour
1/8 tsp sea salt
3 Tbsp coconut oil
Cream Cheese:
1/2 cup raw cashew butter
1/4 cup coconut milk
2 Tbsp  maple syrup
pinch sea salt
1 tsp pure vanilla extract
Cake
1 1/2 cups all purpose gluten free flour
1 1/2 tsp baking soda
1 tsp baking powder
1/2 tsp sea salt
1 cup packed soft medjool dates, pitted, soaked in water for 30 minutes and 1/2 cup of the water reserved
1/4 cup coconut oil, warmed to liquid
1 Tbsp pure vanilla extract
1 cup filtered water
2 Tbsp apple cider vinegar
1 1/2 cups strawberries, cut into smaller pieces
For the streusel, combine all ingredients in a bowl, and mix and squeeze together with your hands until it forms little clumps.  Set aside.
For the cream cheese, combine all ingredients in a high speed blender until smooth (if it seems too thick, add a little more water.  You want to be able to pour and spread it over the bottom layer of cake).  Set aside.
Preheat the oven to 375F degrees and position rack in center of oven. Line two 6 inch round cake pans with 2-inch-high sides with parchment paper. Coat parchment paper and pan sides lightly with oil so that the cake doesn't stick and line the bottom of the pan with a piece of parchment fit to the pan.
Whisk flour, baking powder, baking soda, and sea salt, in a large bowl to blend well. Place dates, reserved water, oil, water, and vanilla extract into a blender, and blend until smooth, then whisk this blended mixture into the flour mixture until well blended. Whisk in the cider vinegar until bubbles form. Mix berries.  Transfer half the cake batter to the prepared pans, then pour and spread the cream cheese mixture over that.  Then pour the remaining batter over that, then sprinkle the streusel over the top.  Place in the oven and bake cakes until tester inserted into center comes out clean, about 40 minutes. Cool cakes completely in pan before unmolding and serving.
*Note: this recipe may be baked in an 8 inch square pan for one large cake, just keep in mind it takes 1 hour to bake.
(Visited 97 times, 1 visits today)