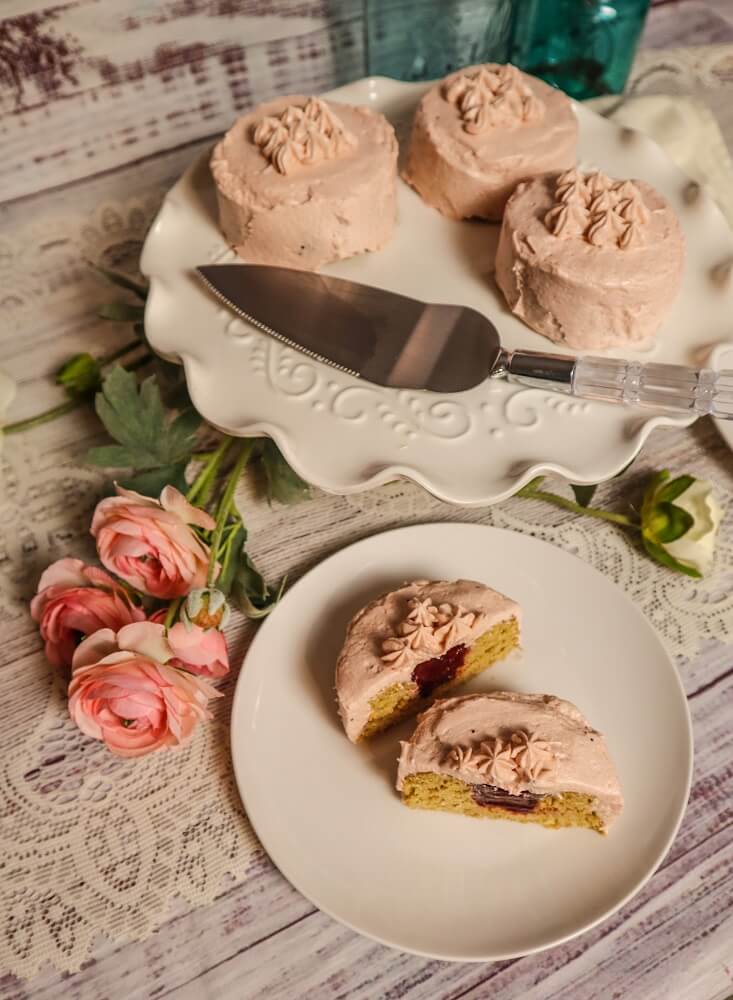 Vegan Mini Strawberry Cakes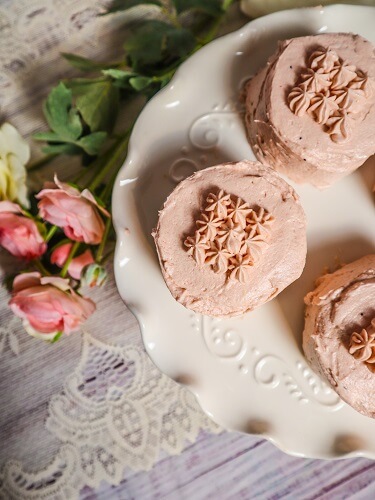 I am sooo ready for spring!  We are getting little glimpses of it here in Minnesota in between the really cold days, but I can't wait until all of the snow melts and we have green plants outside again, especially towards the end of spring when early strawberries are in season! It will be a while, I know but I can dream right?! Right now I will settle for above 40 degree days, that sounds fabulous. I am craving desserts with strawberries though, even though the fresh ones aren't quite in season yet.  So I decided to make some Vegan Mini Strawberry Cakes last weekend!  Because why not bring a taste of early spring into my home?!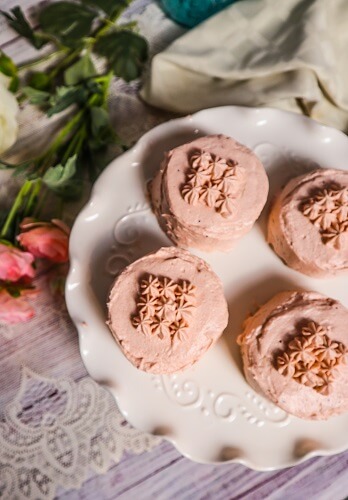 For the cakes, instead of making mini layer cakes, which is a little more work and requires more pans (I only have 2 mini round pans), I made frosted bundt cakes.  I have a mini silicone bundt pan, and I figured I might as well use it since I have it!  It is one of those many pans that don't see the light of day often and get shoved to the back of the cupboard, so it needed some baking love!  I am one of those people who collects weird pans, even though I may not use them much.  Eric had actually given me this one as a gift a while back.  It worked perfect for these cakes, especially since I wanted to fill them and the bundts have a nice hole in the center.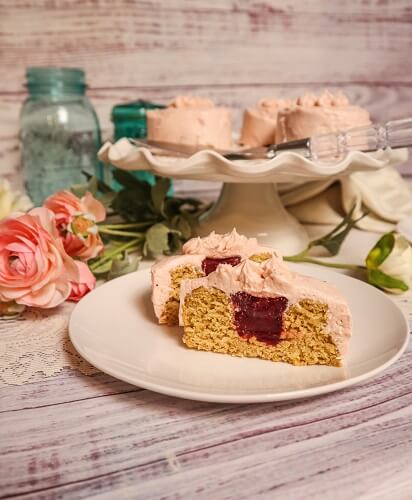 I used my classic vanilla cake batter and they baked up nicely and my kitchen smelled amazing! I love the aroma of freshly baked vanilla cake, seriously it is one of the best smells ever (hence the name of this blog). I filled them with Eric's Dad's home made strawberry jam.  Seriously it is the best jam ever!  He even grows the berries in his back yard, we got to sample them when we visited him in Michigan last year.  So if you make these cakes, make sure you use good strawberry jam, it makes a difference!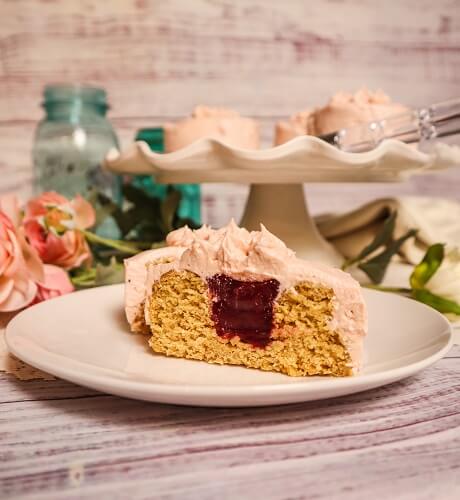 I frosted them with a buttercream frosting instead of just a glaze.  I know a glaze is what is classically on bundt cakes, but I didn't think of these as actual bundt cakes, just strawberry cakes and I baked them in a bundt pan so that they would have a nice hole for the strawberry jam filling, which I wanted there to be plenty of. Plus I just love buttercream frosting, so I made a nice strawberry buttercream and it was heavenly on these!  The Vegan Mini Strawberry Cakes were totally scrumptious, and I much enjoyed devouring my first one with my mid-morning coffee!  If you are craving a strawberry dessert, definitely give these a try!
Vegan Mini Strawberry Cakes
Makes 4 mini cakes
Ingredients:
one 4 hole silicone mini bundt pan
Cake:
3/4 cup plus 2 Tbsp organic whole wheat pastry flour
3/4 tsp baking soda
1/2 tsp baking powder
1/4 tsp sea salt
1/2 cup maple sugar
1 cups full fat coconut milk (the thick kind, I prefer Thai Kitchen brand) at room temperature
1 tsp pure vanilla extract
1 Tbsp cider vinegar
Filling:
about 1/2 cup strawberry jam
Frosting:
3/4 cup vegan butter, I used Earth Balance (at room temperature)
1-2 Tbsp plant based milk (add 1 then if needed add another if frosting comes out too stiff)
1 tsp pure vanilla extract
1/4 cup freeze dried strawberries, blended in a blender until they are fine powder
2 cups powdered sugar
Instructions:
Preheat the oven to 350F degrees and position rack in center of oven.
Oil the bundt pan.
Whisk flour, baking soda, sea salt, and sugar in a large bowl to blend well.
Whisk coconut milk and vanilla extract together in small bowl to blend well, then whisk into the flour mixture until well blended.
Whisk the cider vinegar into the batter.
Transfer the batter to prepared pan.
Place in the oven, and bake cake until tester inserted into center comes out clean with just a few moist crumbs attached, about 25-30 minutes.  Remove from oven and let cool completely.
Spoon jam into the center of each cake.
To make the frosting, beat the butter with the milk and vanilla until fluffy.
Add the strawberry powder, and then powdered sugar 1 cup at a time, and beat until completely mixed and light and fluffy (if the frosting is too stiff add that other Tbsp of milk).
Spread the frosting over the tops of the cakes (to seal in the jam) and down the sides.
Serve!
Cakes keep stored in the refrigerator, covered for up to 1 week.
Notes:
*If you would rather use coconut sugar or even just granulated sugar for this, either will work in place of the maple sugar. (if you use the granulated it will be more green)
*This cake can be made gluten free by swapping out the whole wheat pastry flour for Bob's Red Mill gluten free all purpose baking flour (this is a brand I have used before and have tested it in cakes with great results).
(Visited 404 times, 1 visits today)