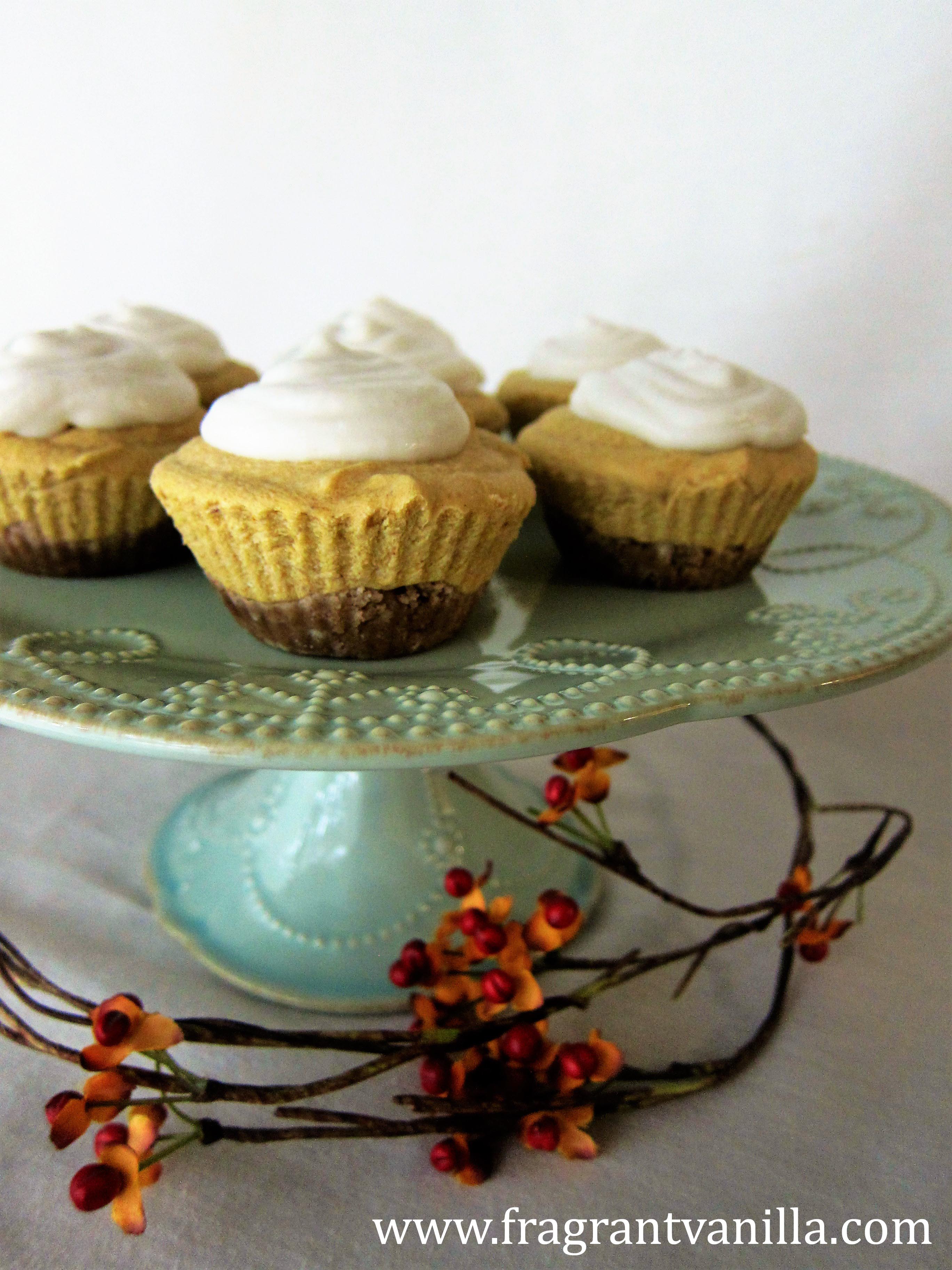 Vegan Mini Pumpkin Spice Cheesecakes and Sweetleaf Stevia Giveaway!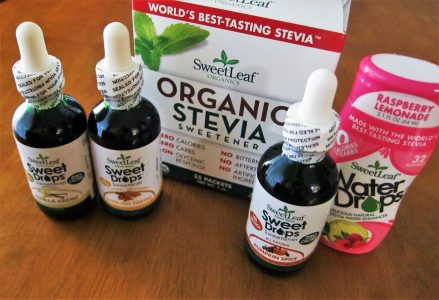 When SweetLeaf Stevia contacted me to see if I would like to do a collaboration I could not say no!  To be honest, I have been buying their stevia for over 10 years, and I used to go through a lot of it.  I have tried a few other brands and none of them measure up taste and quality wise to Sweetleaf Stevia.  They have many products, but the sweet drops have always been my favorite.  English toffee was always my flavor of choice.  Back when I still drank lots of coffee, it was all I used to add to it.  I didn't want all of that extra sugar most people put in their coffee after all, and it gave it a caramelly flavor without the sugar.  I would even bring it places with me in my purse so I could add it to my coffee because I didn't care for the sweeteners at the coffee shops.  So, I can assure you Sweetleaf Stevia is quality product.  And, if you prefer another flavor in your coffee, they have 20 flavors of sweet drops!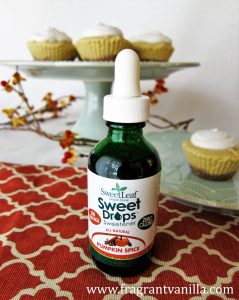 They sent me several products to test out this time, including stevia packets, raspberry lemonade water drops, and liquid drops English Toffee (my favorite), Vanilla Creme, and Pumpkin Spice (which I was really excited about trying as it is Fall now).  The packets are awesome for adding to coffee or tea, because they are close to traditional sugar packets.  The raspberry lemonade drops make water more interesting, which is perfect for those who have trouble drinking lots of water because it is too boring for them.  That is not me, I love water, but it is good!  I added mine to some water with lemon in it already because I like the balance of tart and sweet and it was super refreshing!  As far as the liquid stevia flavors went, I enjoyed the vanilla in some coconut yogurt and it tasted delicious!  The English toffee, is awesome in coffee like I said, but also good to sweeten anything that you want to have a sort of caramel flavor.  So, for instance if you were making some coconut whipped cream, add it instead of the vanilla and maple syrup, because it tastes just as good, and no effect on your blood sugar!  My advice is, start by adding one dropperful, taste, and adjust to taste from there (adding by the drop after that, since you can't take away, you can only add).  The pumpkin spice drops, I wanted to make something special with in honor of it finally being fall, and to show that you can make sugar free desserts.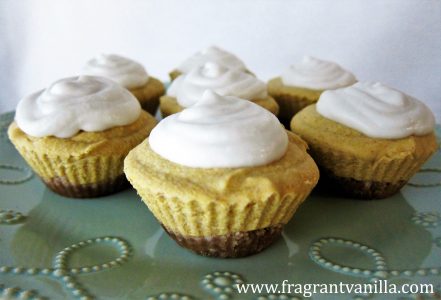 So I made mini Pumpkin Spice Cheesecakes. Yes, they were completely sugar free!  Not even any dates in the crust.  The pumpkin spice stevia drops smell like delicious cinnamon, and I might add these are good in coffee too!  But they worked perfectly in the cheesecakes.  I made a sort of cookie crust for these, using the pumpkin spice drops, and it tasted slightly like spice cookies but more mellow.  For the filling, I added the pumpkin spice stevia as well, along with a few of my usual pumpkin spices and it was a delicious combination of flavor!  The stevia made the filling just sweet enough, and you would never have known it was sugar free!  Once they were all chilled, I topped them off with coconut whipped cream sweetened with…you guessed it, the pumpkin spice stevia drops.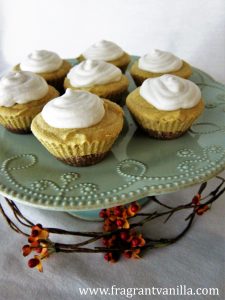 These little cheesecakes were delicious!  You could not tell that they had no sugar in them, and I would be proud to serve them to guests at a Fall party.  Maybe you can't do sugar in your diet, or you know someone else who can't.  Share this recipe with them, they will thank you, trust me!  Even though I can eat sweets, I sometimes like to limit my sugar intake so these are perfect for that and you won't feel deprived, or like you are eating something yucky (like some stuff that leaves the sugar out).  Sweetleaf Stevia is your savior when it comes to sugar free desserts just sayin!  Guess what?  They have been kind enough to allow me to give away some of their product!  I am giving away one of the English Toffee Sweet Drops and one of the Pumpkin Spice Sweet Drops to one lucky winner (in the US)!  Just scroll to the bottom of the page to enter my giveaway.  Or, head over to the Sweetleaf Stevia website and check out their products!  You can find them in most health food stores or Co ops (at least in Minnesota where I live).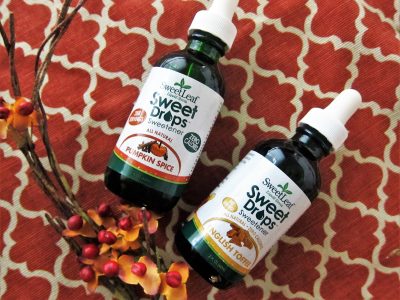 Vegan Mini Pumpkin Spice Cheesecakes
Makes 8
Crust:
1/2 cup gluten free organic oat flour
1/4 cup almond butter
2 Tbsp coconut butter, warmed to liquid
2 Tbsp filtered water
1/8 tsp sea salt
Cheesecake Filling:
1 cup full fat organic coconut milk at room temperature
1/2 cup pumpkin puree
1/2 tsp cinnamon
1/4 tsp ginger
1/16 tsp cloves
1/16 tsp nutmeg
1/8 tsp sea salt
3/4 cup coconut butter, warmed to liquid
For Topping:
1/2 cup full fat coconut milk
pinch sea salt
2 Tbsp coconut butter, warmed to liquid
Instructions:
To make the crust, stir together all ingredients in a bowl, and then press into the bottoms of 12 silicone muffin tins.  Place in the freezer while you make the filling.
To make the filling, combine all ingredients in a blender and blend until smooth.
Pour the filling over the crust, and place in the freezer to firm up for about 45 minutes or up to an hour.  Once they have firmed up, unmold them and place them on a tray.
Meanwhile, combine all of the topping ingredients in a blender and blend until smooth.  Pour into a bowl and place in the freezer until thickened (to the consistency of whipped cream) about 30 minutes.
Once the cheesecakes have set, and topping has chilled, pipe the topping over the cheesecakes and serve! Store any left over cheesecakes in the refrigerator.
(Visited 153 times, 1 visits today)