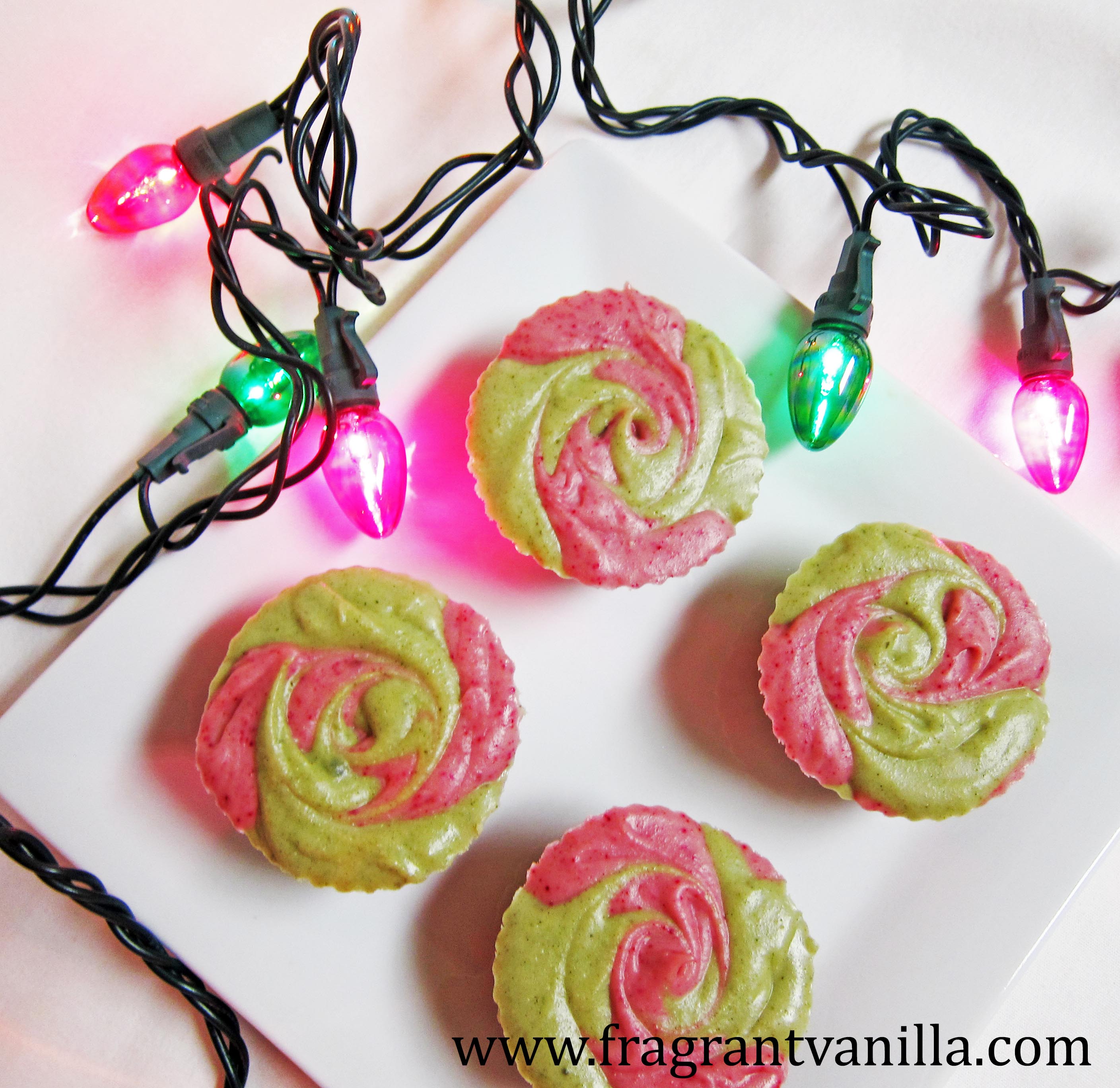 Vegan Mini Peppermint Swirl Cheesecakes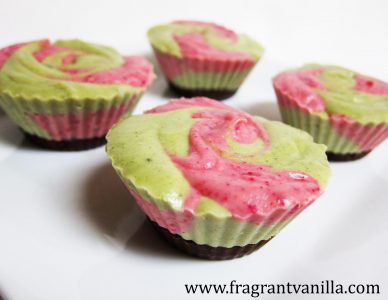 One of the things I love about living in Minnesota is the beautiful scenery we get with the changes of the seasons.  Sure, it gets really cold here in the winter sometimes.  But you have to admit that waking up to a world of sparkling white outside your window is beautiful!  I had to get out and enjoy it last weekend, and I bundled up (but not too much because it was not below 30) and went for a run on the fresh powder.  I love how soft it is, and that squeaking sound my shoes make as they compact it with every footstep.  I also love being the first one on a trail to make the footprints.  So peaceful and serene.  The snow really put me in the mood for Christmas. Although I have been hearing Christmas music around in the stores, and people have their Christmas lights up and whatnot, I hadn't really felt in the Christmas mood before that.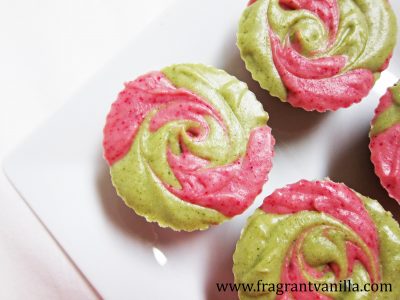 So, I put on some Christmas music, and decided to make something festive!  Something red and green and delicious!  Some Vegan Peppermint Cheesecakes! I have been using peppermint a lot in my diffuser, because it smells like candy canes.  And to be honest, that is what gave me the idea!  I am not a big candy cane fan (I have never liked sugary hard candy), but I love peppermint and vanilla together in desserts!  I made mini cheesecakes because they are easier and faster to make than one big one, and great for sharing!  I love sharing treats this time of the year!  And of course shocking people by telling them that they are vegan after they say they are delicious after tasting them.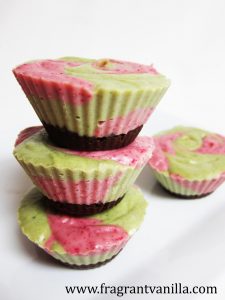 These are simple to make, don't let the swirls and color fool you.  For the crust, I chose a chocolate with a cookie dough like texture and a hint of mint.  It was so good I could have just eaten it like that (the big cookie dough fan that I am), but I wanted there to be enough for the cheesecakes! I used a rich coconut milk and cashew base, which always tastes the best in cheesecakes in my opinion.  For the colors, I went the natural route using matcha (green tea) powder, and beet powder to give them those beautiful hues.  Once they were all chilled and set, I could not wait to taste them!  They were super delicious, the mellow scent of vanilla and fresh peppermint the perfect flavors for the luscious creamy filling and rich chocolate crust! I highly recommend making these for your Holiday parties!  Sooo good!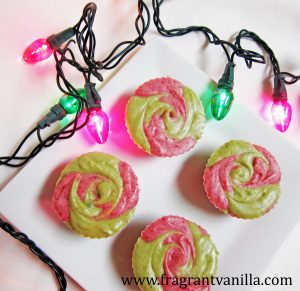 Vegan Mini Peppermint Swirl Cheesecakes
Makes 8
Ingredients:
Crust:
1/4 cup plus 2 Tbsp gluten free organic oat flour
2 Tbsp unsweetened cocoa powder
2 Tbsp organic raw cashew butter
2 Tbsp coconut butter, warmed to liquid
1 Tbsp maple syrup
1/2 tsp pure peppermint extract
1/8 tsp sea salt
Cheesecake Filling:
1 cup full fat organic coconut milk at room temperature
1/4 cup organic raw cashew butter
3 Tbsp maple syrup
1/8 tsp sea salt
1 tsp pure vanilla extract
1/2 cup plus 2 Tbsp coconut butter, warmed to liquid
1 tsp matcha (green tea) powder or spinach powder*
1 tsp beet powder*
Instructions:
To make the crust, stir together all ingredients in a bowl, and then press into the bottoms of 8 silicone muffin tins, and set them on a tray.  Place in the freezer while you make the filling.
To make the filling, combine all ingredients but the matcha powder and beet powder in a blender and blend until smooth.
Divide the filling between two bowls, and mix the matcha into one bowl, and the beet powder into the other.
Drop the filling over the crust in the tins by the tsp, alternating the two colors until you have the tins full, then swirl with a toothpick to create marbling.
Place cheesecakes in the freezer to firm up for 1-2 hours or until firm (depending on how warm the filling was).  Once they have firmed up, unmold them and place them on a tray to serve!
Store any leftover cheesecakes in the refrigerator for up to 1 week.
*If you would like to use natural food colorings or spinach or beet juice instead of the powders, go right ahead!  Just add a little at a time until you reach the desired color.  Note that if you add a lot of liquid, you may need to add 1 Tbsp or more extra coconut butter to firm these up.
(Visited 55 times, 1 visits today)