Vegan Mini Peanut Butter Chocolate Chip Cookie Dough Cheesecakes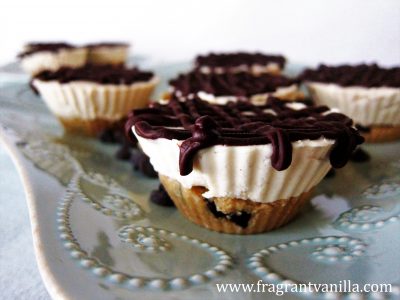 When I was younger I used to browse recipes online and cook books from the library and actually make them exactly as they were.  But now I rarely do that.  Because of course, most of the recipes I come across that look really good to me are not vegan, and I didn't used to be a vegan or care about the nutritional content of things, but now I do!  So now I say to myself, how can I veganize that and make it better?  So, I was having one of those moments recently when a friend on Facebook posted a recipe for some peanut butter cheesecake bars with a cookie dough bottom.  They sounded really good, and I knew I could make a vegan version!  But, I decided not to make them into bars, I made them into little mini cheesecakes instead. Because I have made a lot of bars lately, and I feel like cheesecakes are cuter. Yes, I sometimes decide on things based on cuteness.  Nothing wrong with that!  We eat with our eyes after all.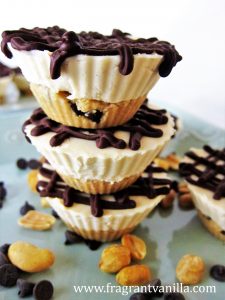 I am game for cookie dough anything, and I love peanut butter so I was excited about this.  I made some vegan cookie dough with oat flour as the base and a little peanut butter added in...'cause why not?!  I stirred in some of my favorite vegan chocolate chips and it was good stuff.  I could have just eaten that. I am one of those types of people who likes cookie dough better than actual baked cookies and I am not ashamed of it.  I restrained myself from sampling too much, and pressed it into the bottoms of my muffin tins.  That is the beauty of mini cheesecakes, you can use fun little muffin tins that are easy to unmold (mine are silicone, that way I am not wasting paper and foil).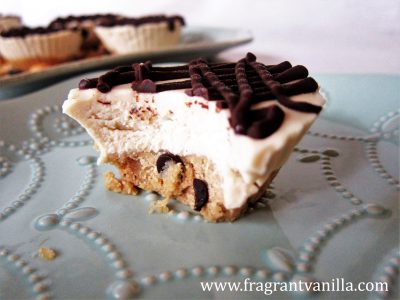 For the filling, I used a simple coconut milk base laced with peanut butter and it was luscious.  I knew these were going to be amazing once they had chilled.  I topped them off with some melted dark chocolate too, because that is what the other recipe I was basing this off of had, and they looked like pure deliciousness goodness.  Talk about little heavenly bites!  This is some crave worthy stuff.  Three of my favorite things all together, cheesecake, cookie dough and peanut butter.  You can't go wrong with that!  Trust me, you need to try out these little gems and share them with your family and friends.  They will thank you, and you will all be happy!
Vegan Mini Peanut Butter Chocolate Chip Cookie Dough Cheesecakes
Makes 8
Cookie Dough:
1 cup gluten free organic oat flour
1/4 cup organic peanut butter
1/4 cup coconut butter, warmed to liquid
2 Tbsp maple syrup
1 tsp pure vanilla extract
1/8 tsp sea salt
1/2 cup vegan chocolate chips
Cheesecake Filling:
1 cup full fat organic coconut milk at room temperature
1/4 cup organic peanut butter
3 Tbsp maple syrup
1/8 tsp sea salt
1 tsp pure vanilla extract
1/2 cup plus 2 Tbsp coconut butter, warmed to liquid
For Topping:
1/3 cup chopped vegan dark chocolate or vegan chocolate chips
Instructions:
To make the cookie dough, stir together all ingredients in a bowl, and then press into the bottoms of 8 silicone muffin tins.  Place in the freezer while you make the filling.
To make the filling, combine all ingredients in a blender and blend until smooth.  Pour the filling over the cookie dough in the tins, and place in the freezer to firm up for about an hour.  Once they have firmed up, unmold them and place them on a tray.
Melt the chocolate for the topping in the top of a double boiler until smooth, then drizzle over the finished cheesecakes.  Place them in the freezer until the chocolate has set for about 5 minutes then enjoy!  Store any left over cheesecakes in the refrigerator.
(Visited 66 times, 1 visits today)