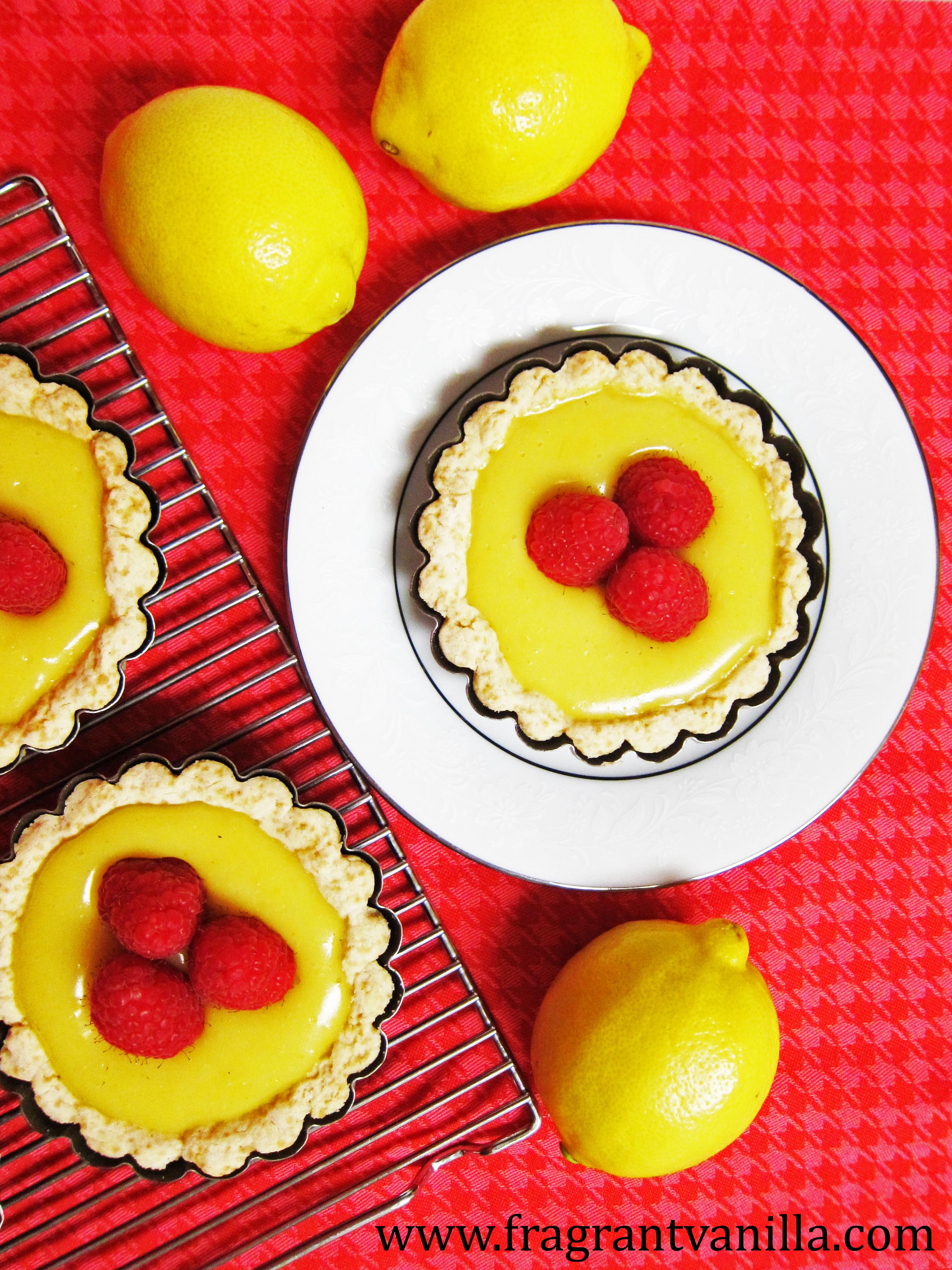 Vegan Mini Lemon Tarts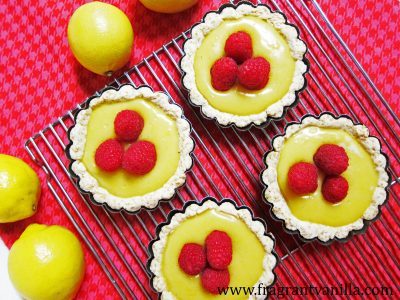 My Mom taught me to love lemon and all things citrus and tart.  I think it originally came from my Grandma, who loved lemon as well, and so did her Mom.  At least, my Mom told me that my Great Grandma used to always make lemon desserts that were amazing, like lemon meringue pie and cookies when she came to visit.   My Mom and I used to go to a candy counter when I was younger that sold these amazing key lime truffles.  They were really tart, and the sales lady warned us, but we thought they were just perfect!  Citrus desserts should be tart, not covered up with sweet.  We used to make lemon bars and key lime pies when I was younger, and they were always good because we didn't overdo it on the sugar and allowed the citrus flavors to shine.  I still like my citrus desserts like that, and every Winter I like to make them when we are all lacking in sunshine here in Minnesota.  My Mom asked me a few weeks back if I could make her some sort of lemon tart, and of course I said yes!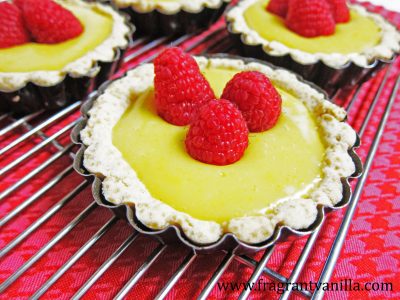 I decided to make mini lemon tarts because she is a fan of individual desserts.  For the crust, I used just a classic gluten free pie crust so that the lemon curd could be the star.  I figured out how to make vegan lemon curd a while back, because it was one of the things I used to love before going vegan.  So, I used that recipe and tweaked it slightly for the tarts.  It is mostly lemon juice as it should be, I sweeten it with some maple syrup in place of the usual sugar, and thicken it with arrowroot starch instead of the classic eggs. It is bright, tart, sweet and delicious!  Just as lemon curd should be in my opinion, and it tastes like sunshine!  It worked out perfectly in the tart shells, and firmed up just enough while remaining silky and delicious thanks to the coconut oil I added in place of the classic butter.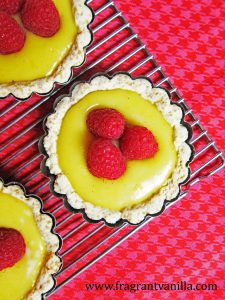 Once they were chilled and ready to go I topped them off with raspberries.  They were super delicious!  I will never get tired of lemon desserts, they make me happy!  My Mom loved them as well, saying she enjoyed them even better than tarts with classic lemon curd because she is not a fan of the egg flavor they sometimes have.  I would have to agree.  If you are a lemon fan, give these a try!  Tis the season for lemon!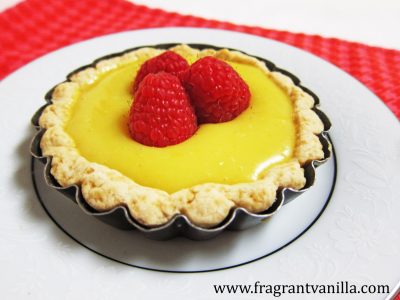 Vegan Mini Lemon Tarts
Makes 8
Crust:
1 1/4cups all purpose gluten free flour
2 Tbsp coconut sugar or maple sugar
1/4 tsp sea salt
1/4 cup plus 2 Tbsp coconut oil in its solid state
about 3-4 Tbsp cold water
Curd Filling:
1 cup fresh lemon juice
2 Tbsp filtered water
1 Tbsp organic lemon zest
1/4 cup plus 2 Tbsp maple syrup
1/4 cup cornstarch
pinch of sea salt
1/8 tsp turmeric (optional, for color)

2 Tbsp full fat coconut milk

2 tsp pure vanilla extract

3 Tbsp coconut oil
Fresh organic raspberries for serving
To make the crust, in a large bowl, mix together flour, sugar, and sea salt. Cut in coconut oil with a pastry blender or 2 knives until it is in pea sized pieces. Mix in  just enough water to create a smooth dough that holds together but isn't too sticky. Add more water if needed, and knead slightly until a smooth dough is created.
Roll out into a rectangle using floured parchment underneath and floured rolling pin. Cut into 8 five inch circles.  Oil 8 four inch mini tart pans well with coconut oil and fit the circles into them. Shape to fit the pans, don't worry if they tear, just press them back together. Set aside in the refrigerator.
Preheat oven to 375F degrees, then place the tart shells in the oven and bake for about 20 minutes until lightly brown.  Remove from the oven and let cool.
To make filling, combine the lemon juice, water, zest, maple syrup, cornstarch, sea salt and coconut milk in a saucepan and cook over medium heat just until it thickens.  Remove from heat and whisk in vanilla and coconut oil.
Pour the filling into the crusts, and place in the refrigerator to firm up for a few hours.  Once chilled, garnish with berries and serve!
(Visited 958 times, 1 visits today)