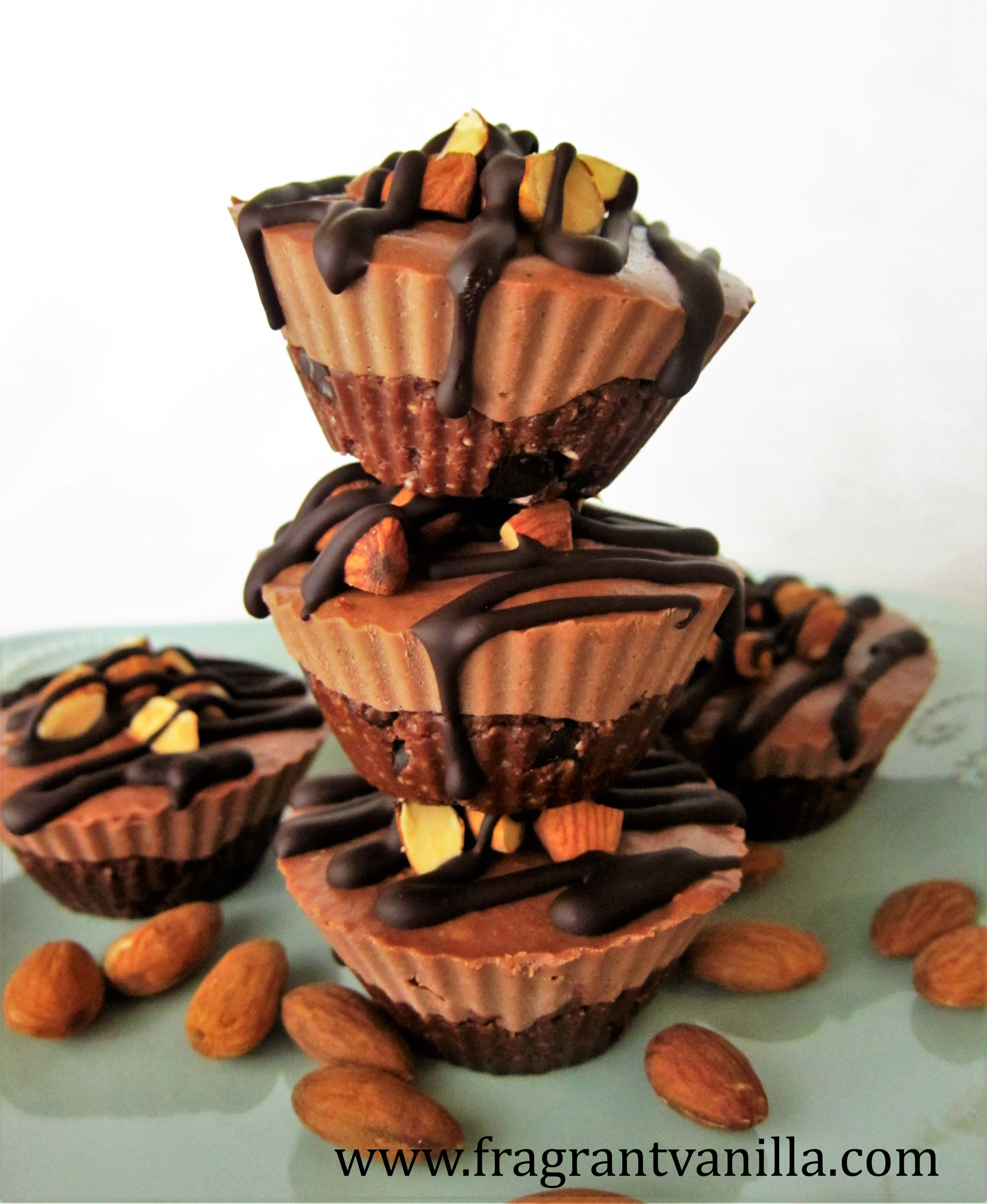 Vegan Mini Chocolate Almond Brownie Cheesecakes
On my days off, I like to make something a little decadent. This time, I made some chocolate almond brownie cheesecakes.  I am loving desserts like this lately because they are easy, but they are just as delicious as their larger cousins.  I had just made some fresh almond butter, and I was craving chocolate cheesecake, so that is how I decided on the combo.  It has been darn near perfect weather here lately, but I still didn't feel like heating up the oven to bake something.  It is funny, before I went vegan I was baking cheesecakes all the time, and now it seems weird to me.  Because all of the ones that I make are no-bake, and they all taste so much better to me than the dairy ones.  In fact now as a vegan, dairy kind of grosses me out.  Because of the harm to the animals while it is being produced, and what it is actually made out of.  So I am very happy to be able to make vegan cheesecakes.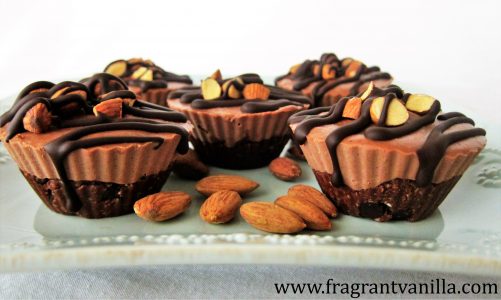 If you have never tried a vegan cheesecake, or you are not vegan and you are skeptical that they can be just as good as regular cheesecakes, this would be a good recipe for you to try.  It is pretty simple, the smaller cheesecakes are easier to make than one big one, and they taste amazing!  The brownie base is really simple to make, just mix it together and press it into the tins, no baking required!  But, it tastes as good as baked brownies and I included chocolate chips for extra chocolate goodness.  For the filling, I added in some almond butter along with the cacao powder to give these a nutty almond flavor and the mixture was so delicious I could not stop sampling it.  I used a coconut milk base, which is my favorite in cheesecakes, because it gives them a silky texture.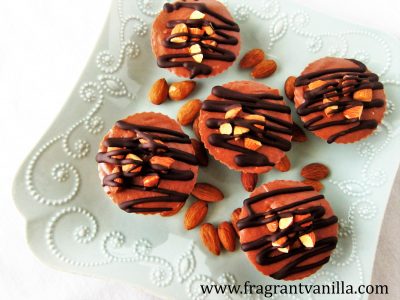 These came together very fast, which is always a win when it comes to dessert as far as I am concerned.  I want to dive in, you know?  But unfortunately I had to take the pics before I dove in so that you can see what these delicious little chocolaty gems taste like.  They look delicious in the photos, but trust me, they taste even better.  These would be perfect to bring to a gathering because they are so much easier than carting a large cheesecake around that you later have to cut.  These are just set on a plate and serve!  Not a fan of almonds?  You can swap them out for your favorite nut butter.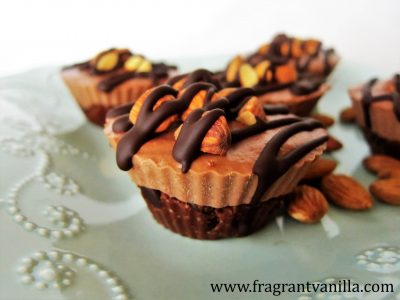 Vegan Mini Chocolate Almond Brownie Cheesecakes
Makes 8
Brownie:
3/4 cup gluten free organic oat flour
1/4 cup unsweetened cocoa powder
1/4 cup organic almond butter
1/4 cup coconut butter, warmed to liquid
2 Tbsp maple syrup
1 tsp pure vanilla extract
1/8 tsp sea salt
1/2 cup vegan chocolate chips
Cheesecake Filling:
1 cup full fat organic coconut milk at room temperature
1/4 cup organic almond butter
1/4 cup raw cacao powder
3 Tbsp maple syrup
1/8 tsp sea salt
1 tsp pure vanilla extract
1/2 cup plus 2 Tbsp coconut butter, warmed to liquid
For Topping:
toasted almonds
1/3 cup chopped vegan dark chocolate or vegan chocolate chips
Instructions:
To make the brownie, stir together all ingredients in a bowl, and then press into the bottoms of 8 silicone muffin tins.  Place in the freezer while you make the filling.
To make the filling, combine all ingredients in a blender and blend until smooth.  Pour the filling over the brownie in the tins, sprinkle with the toasted almonds, and place in the freezer to firm up for about an hour.  Once they have firmed up, unmold them and place them on a tray.
Melt the chocolate for the topping in the top of a double boiler until smooth, then drizzle over the finished cheesecakes.  Place them in the freezer until the chocolate has set for about 5 minutes then enjoy!  Store any left over cheesecakes in the refrigerator.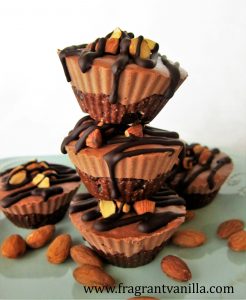 (Visited 69 times, 1 visits today)