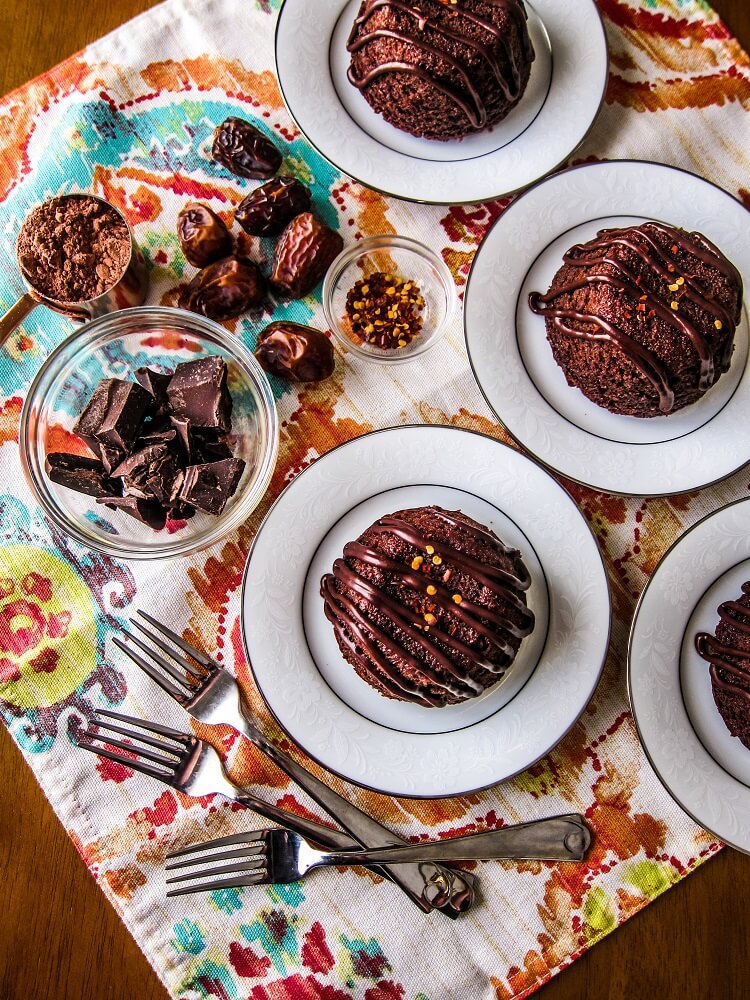 Vegan Mexican Chocolate Lava Cakes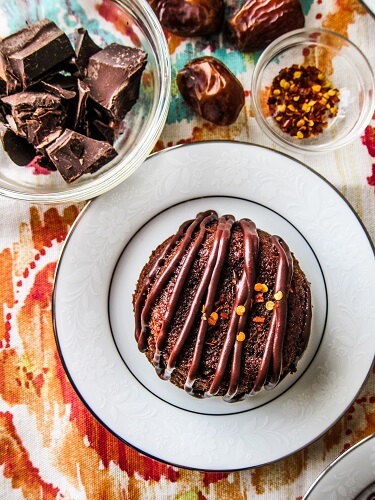 Since Cinco de Mayo is this weekend, I decided to make something for dessert with a little kick. I had made a Mexican chocolate cake that was really good a few years back with a little bit of cinnamon and chipotle in the batter and that sounded good to make again, but I didn't feel like making a giant cake for just a few people so I decided on mini lava cakes instead. They are just as delicious as a layer cake only way less work plus you get that yummy gooey chocolate instead of the frosting which is a good trade off.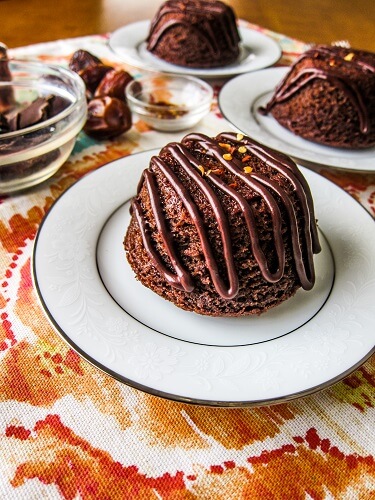 I made these after work, so they are actually pretty quick and easy. For the cake batter, I used my chocolate cake recipe which uses dates instead of sugar because it makes for a perfectly moist light cake which I knew would be perfect for these. Plus I just love things sweetened with dates they are about as natural as you can get when it comes to sweeteners. The cake batter tasted delicious especially once I added in the touch of cinnamon and chipotle powder to give it that heat. I always taste my cake batter to make sure it is good before I bake it. Not that I wouldn't lick the bowl anyways because I love batter.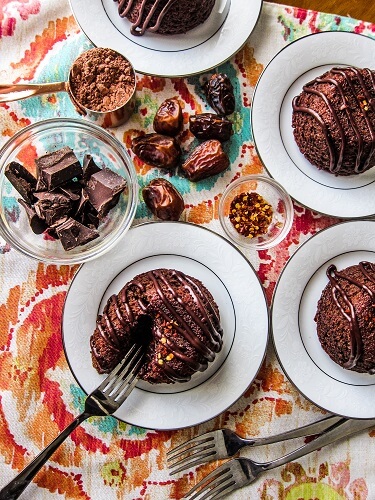 For the lava part, I made a ganache with dark chocolate and coconut milk and it worked out perfectly! The cakes smelled amazing while they baked and I could not wait to try one. Luckilly these are almost instant gratification, you don't have to wait long just almost 20 minutes to bake, 10 minutes to cool enough to remove them from the pans and volia! Delicious cake!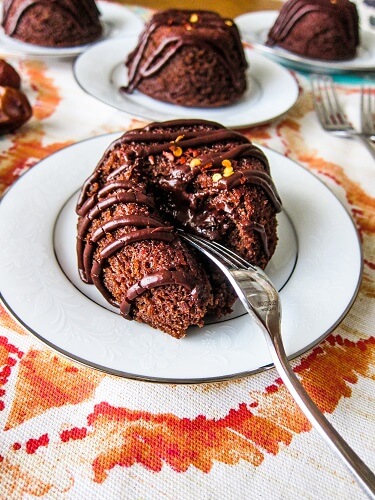 I drizzled them with some of the leftover ganache and they were super delicious! Moist and soft rich dark chocolate cake with gooey dark chocolate in the center and of course a little kick from the chipotle and cinnamon. If you are in the mood for some chocolate cake, give these a try!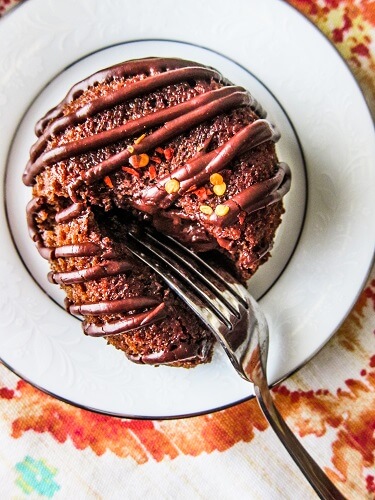 Vegan Mexican Chocolate Lava Cakes
Makes 4
Ingredients:
Filling:
1/2 cup chopped vegan dark chocolate or vegan chocolate chips
1/4 cup coconut cream (the thick part from the top of the can of coconut milk
Cake:
3/4 cups quinoa flour (or all purpose gluten free flour)
2 Tbsp cacao powder or unsweetened cocoa powder
3/4 tsp baking soda
1/2 tsp baking powder
1/4 tsp cinnamon
1/4 tsp chipotle powder
1/4 tsp sea salt
1/2 cup packed soft medjool dates, pitted, soaked in water for 30 minutes and 1/2 cup of the water reserved
2 Tbsp almond butter
1 tsp pure vanilla extract
1/2  cup filtered water
1 Tbsp apple cider vinegar
Instructions:
Preheat the oven to 375F degrees and position rack in center of oven.
Oil four 1 cup custard dishes or ramakins with oil.
To make the ganache filling, place the chocolate and coconut milk in the top part of a double boiler, whisking them, and heat until they are melted and blended together and smooth. Turn off the heat.
To make the cake batter, whisk flour, baking powder, baking soda, cinnamon, chipotle powder, sea salt in a large bowl to blend well.
Place dates, reserved water, almond butter, water, and vanilla extract into a blender, and blend until smooth, then whisk this blended mixture into the flour mixture until well blended. Whisk in the cider vinegar until bubbles form.
Transfer half of the cake batter to prepared dishes filling them half full, then drop 2 Tbsp of the ganache into each in the center. Spoon the remaining batter over each one, place on a tray, and place in the oven.
Bake cakes until they are set, but not over-baked about 15-18 minutes. Remove from oven, let cool for about 10 minutes.
Rewarm any extra ganache if it has solidified.
When the cakes have sat 10 minutes, un-mold, drizzle with the ganache and enjoy warm.
(Visited 2,679 times, 1 visits today)