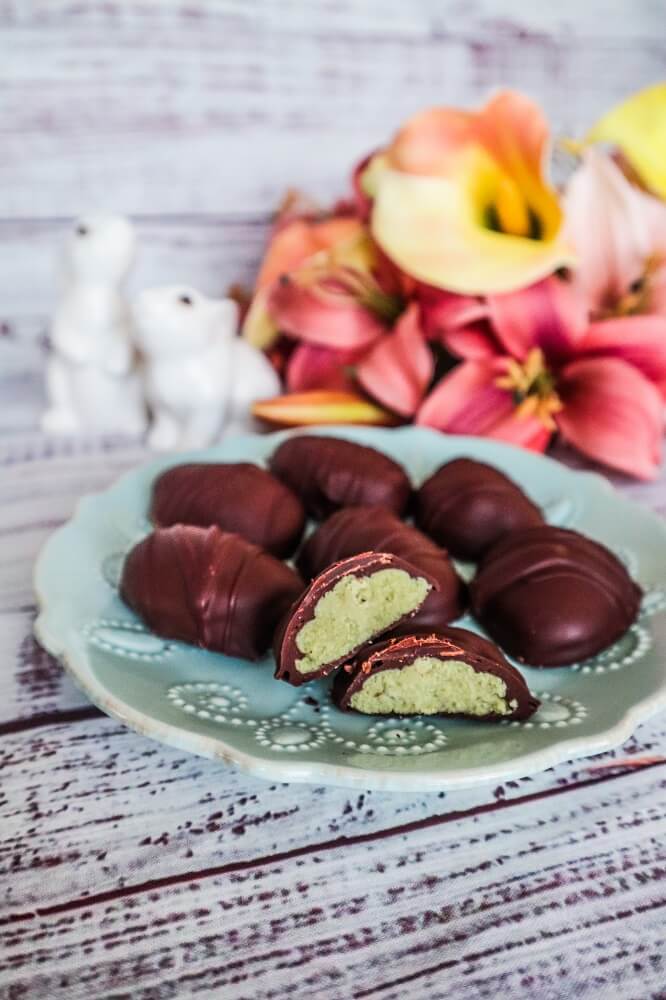 Vegan Matcha White Chocolate Filled Eggs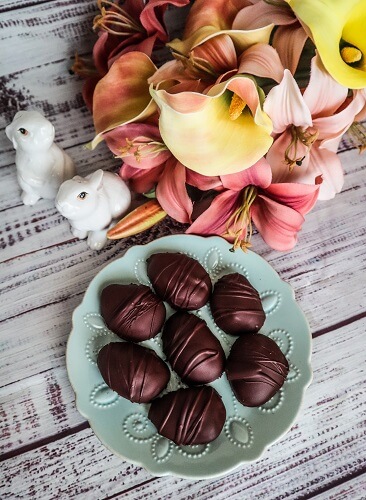 I love making Easter candy!  One of my favorites has always been filled chocolate eggs.  This year I made some raspberry ones, and some caramel, and also some with a matcha white chocolate filling earlier this week!  I had enjoyed a white chocolate matcha latte recently and I decided that it would make a heavenly chocolate egg filling so I went for it! Matcha is one of my favorite flavors, and I love its brilliant green color which is perfect for spring!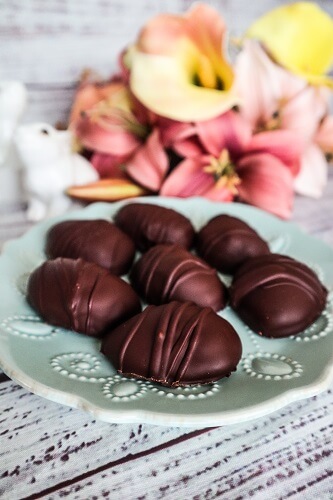 For the filling, I made a white chocolate cream with a cacao butter base with some raw cashew butter and coconut butter to give it a rich and creamy texture.  I added a bit of maple syrup and vanilla to sweeten it and it was heavenly!  I have used this before as a truffle base and it is always so good!  It is heavenly with berry or fruit flavors or even things like coffee or almond and I knew it would be amazing with the matcha.
It was really hard to stop sampling it! When it was chilled enough to shape, I shaped it like play dough into eggs.  I should add that this has to be the right temperature to shape, if you chill it too long it becomes too hard, and if it isn't chilled enough it starts to melt a little while you are shaping it so it is best to check it often while chilling.  You want it kind of the consistency of really thick frosting or play dough.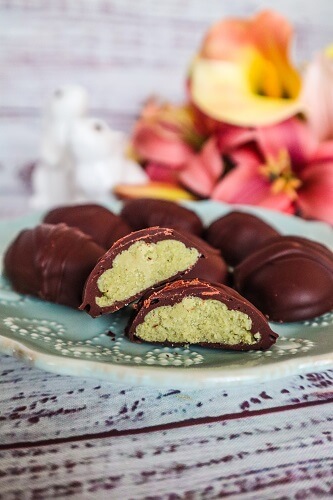 Once the eggs were all shaped, I chilled them and dipped them in dark chocolate.  I could not wait to try the finished product!  They were totally heavenly!  The sweet, mellow white chocolate vanilla filling was creamy and rich, the perfect partner for the matcha and dark chocolate!  If you are a fan of matcha, definitely give these a try!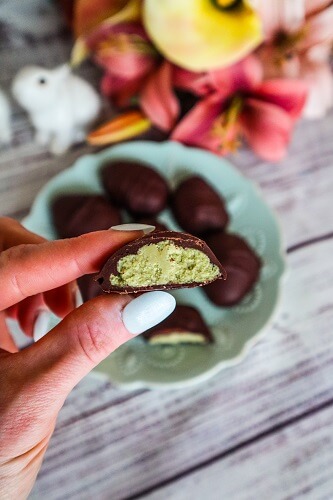 Vegan Matcha White Chocolate Filled Eggs 
Makes 12 large eggs
Ingredients:
Filling:
1/4 cup raw cacao butter (2 oz) or coconut oil if unavailable
1/4 cup raw cashew butter
1/4 cup raw coconut butter
1 tsp pure vanilla extract
2 Tbsp maple syrup
2 tsp matcha powder
1/4 cup filtered water
Dark Chocolate:
1 1/2 cups vegan dark chocolate, chopped or vegan chocolate chips
Directions:
Combine all of the filling ingredients but the matcha and water over a double boiler, and whisk until smooth.
Whisk the matcha  into the white chocolate along with the water. Place in the freezer for about 15-20 minutes until it is firm enough to scoop. Scoop into 12 balls, rolling them with your hands and shaping them into eggs.   Place on a parchment lined tray, and place back into the freezer until firm, about 30 minutes.
Meanwhile, melt the dark chocolate in a double boiler, and whisk until smooth.
Once the filling has firmed up, dip each chocolate into the dark chocolate, being sure to let the excess drain off, and place back onto the tray (I like to set mine on a fork to allow it to drain better). Once they are all dipped, set them in the freezer until hardened.
Store any leftover truffles in an airtight container in the refrigerator for up to 1 month.
(Visited 364 times, 1 visits today)