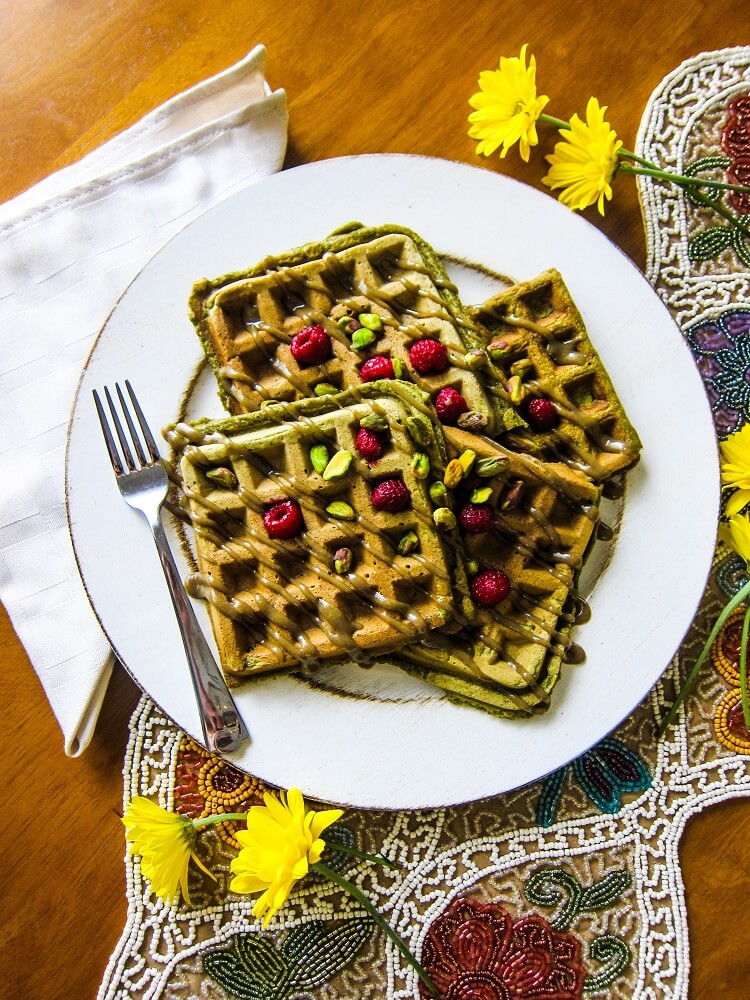 Vegan Matcha Waffles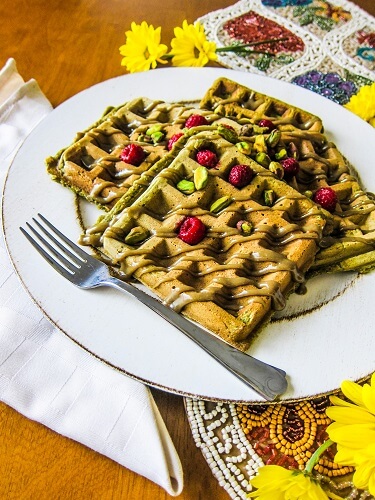 I am obsessed with matcha tea. I drink it every day at work in chilled form unadorned, and on the weekends I like to enjoy a matcha latte at a coffee shop. It is my treat lately since I usually make stuff like that at home, but I do enjoy when someone else makes it sometimes. It has to be made in a nice mug though, there is something more special about that experience and sitting there sipping it slowly than drinking it out of a paper one. It was so nice last weekend that after Eric and I went to Art In Bloom at the Minneapolis Institute of Art, we stopped and enjoyed a latte sitting outside on the patio. Let me just say what a difference a few days make in terms of weather here in Minnesota. It was literally snowing for 3 days last week and now it is lovely and feels like spring.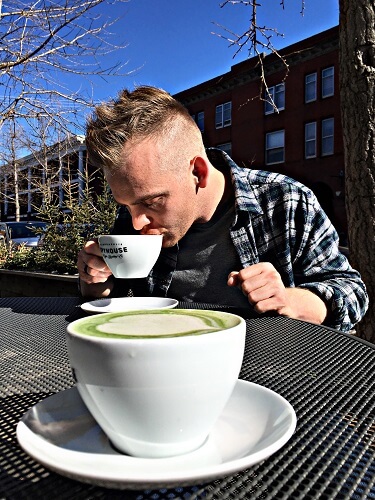 Back to the matcha though, every time I have one of those lattes I then feel like going home and creating something with matcha. I have been wanting to make matcha waffles for a while, since I got my new waffle maker for Christmas, and I finally got around to it last weekend. I mentioned to Eric that I had the idea to make some matcha waffles and he said he was really hungry they sounded good and so I went for it.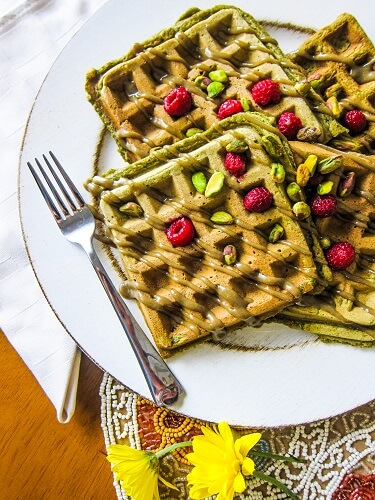 I made my classic gluten free vegan waffle recipe, but added in a good amount of matcha, as well as some vanilla and almond extracts, because that combination of flavors is simply heavenly! They smelled amazing while cooking, the heavenly aroma of waffles filling my kitchen! Once they were all done and ready to enjoy, I decided to top them off with a pumpkin seed butter maple drizzle, made with Dastony Pumpkin Seed Butter from Raw Guru because I thought the green color would look lovely with the green waffles. I am that weird person who loves to match things, and I love monochromatic color schemes sometimes.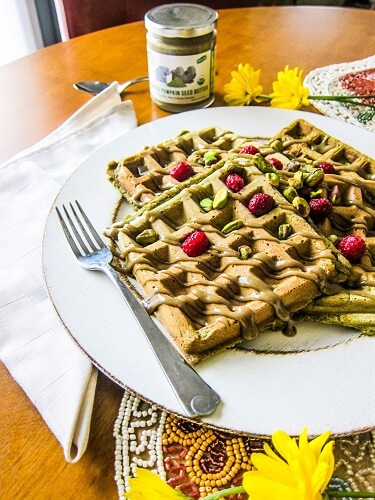 The waffles were sooo good! Crispy on the outside and tender in the middle with the scents of matcha, vanilla and almond and the maple pumpkin seed butter drizzle tasted almost like a maple caramel on top of them! If you haven't tried Dastony pumpkin seed butter it is actually pretty amazing. I like it in savory things like dressing but it worked perfect to create a caramel drizzle for the waffles! If you are a matcha lover or if you are just craving waffles, give these a try!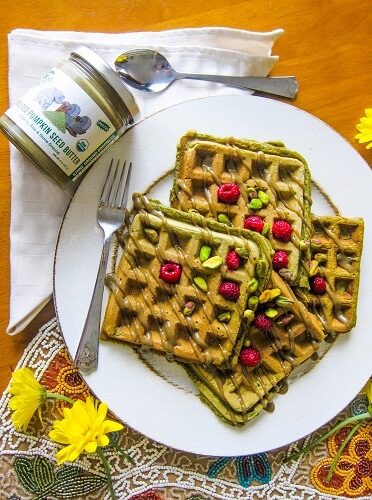 Vegan Matcha Waffles

Makes 8
Waffles:
2 cups Bob's Red Mill gluten free all purpose baking flour*
1/4 cup maple sugar or coconut sugar
1 Tbsp matcha powder
1/2 tsp baking soda
1 tsp baking powder
1/2 tsp sea salt
1 tsp pure vanilla extract
1/2 tsp almond extract
3 Tbsp ground flax seed, whisked together with 1/2 cup filtered water
2 Tbsp avocado oil or another neutral oil
2 cups light coconut milk
Pumpkin Seed Butter Maple Drizzle
Instructions:
To make the waffles, whisk together the flour, sugar, matcha, baking soda, baking powder, and sea salt in a large bowl.
Then whisk the flax mixture, oil, and coconut milk together until smooth.
Heat your oven to 150F degrees and oil, and pre-heat waffle iron. Once it is heated, pour about 1/3 cup batter onto the waffle iron or until the iron is just covered (but not so much that it will ooze out) and close it. Cook according to waffle iron package directions. Remove from the waffle maker and keep warm in the oven while you make the others. If you have a waffle maker the size of mine (regular belgian waffles), you may have more than 8 waffles.
To make the pumpkin seed maple drizzle, whisk together all ingredients until smooth (adding a little more maple syrup if necessary to create a pour-able consistency.
Serve the waffles with the syrup!
*If you want to make these not gluten free, you can swap in organic whole wheat pastry flour or regular AP flour 1:1 for the gluten free.
(Visited 759 times, 1 visits today)