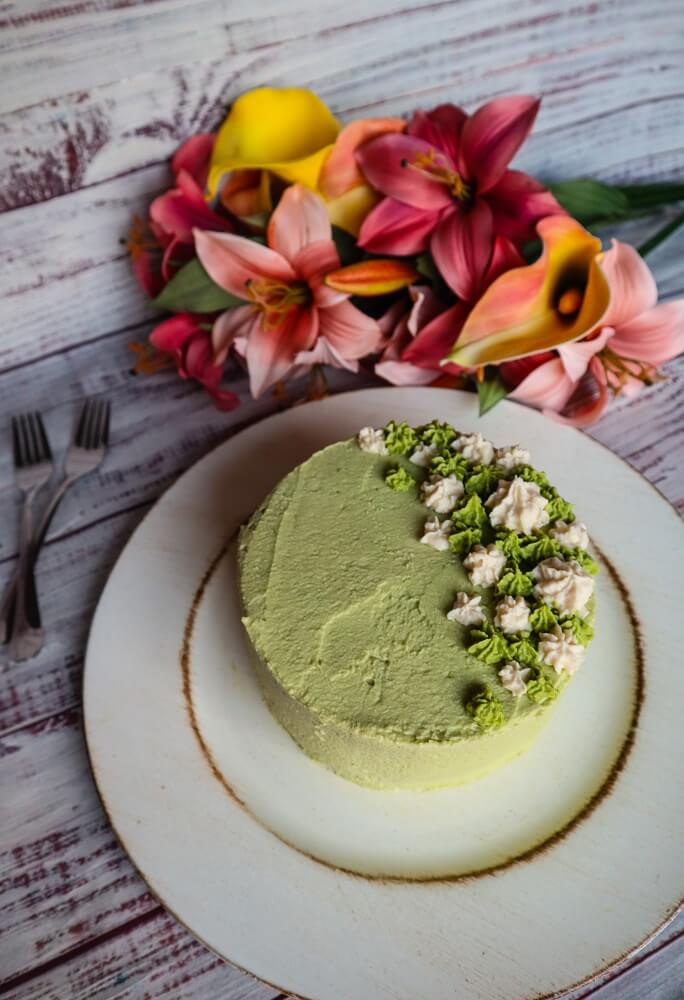 Vegan Matcha Vanilla Cake with White Chocolate Frosting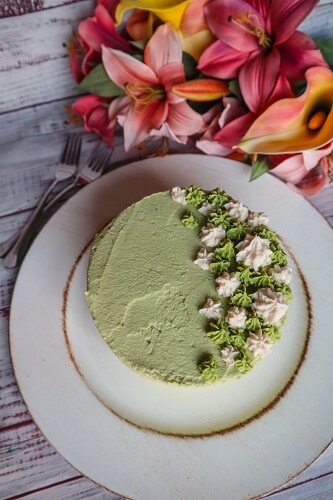 For my Birthday this year I decided to make my own cake despite being a bit busy, and that is why it has taken me a while to type up the recipe.  I have been busy planning my wedding and I just moved a few weeks ago, and this was actually the first item I have baked in my new kitchen!  But it seemed like a good way to try out baked goods in the new oven. I have really been enjoying a lot of matcha lattes lately, so I thought I would make a cake with that flavor and add in a white chocolate element to make it even better!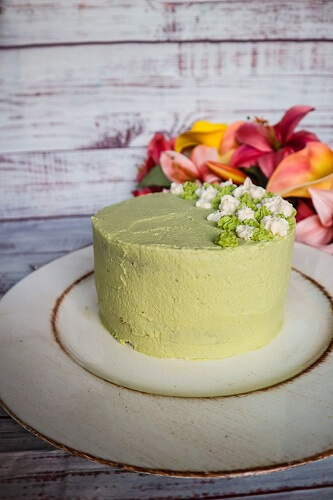 This cake base is actually really easy to make, just a one bowl sort of thing.  Sometimes I blend up dates to sweeten my cake bases but I wanted to keep it more simple this time so I went with regular sugar.  I added in a good amount of matcha and vanilla and it was perfect!  I couldn't wait to see how it baked up! The batter was certainly delicious!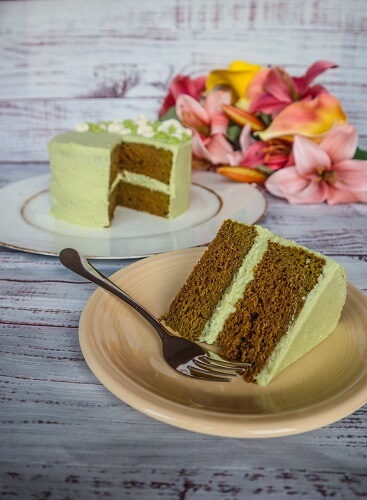 It baked up nicely and my kitchen smelled amazing! Honestly vanilla cake is one of the best aromas ever and that is why I named this blog what I did!  Once it had cooled down it deserved a delicious frosting, so I whipped up a coconut milk based cream with coconut butter and white chocolate to thicken it and give it a white chocolate flavor.  I also added in a bit of matcha for a lovely green color!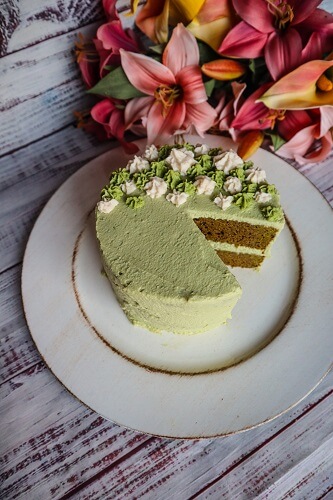 I could not wait to try the finished cake!  It had been a several day process (I was working those days so I baked the cake portions ahead of time) and it was finally ready to enjoy on my birthday!  It was super delicious with a light vanilla matcha scented cake and creamy sweet white chocolate matcha frosting!  It was perfect paired with a matcha latte (what else?!)!  What can I say, I love matcha!  If you do too, give this a try!
Vegan Matcha Vanilla Cake with White Chocolate Frosting
Makes one 6 inch cake
Ingredients:
two 6 inch cake pans
Cake:
1 1/2 cups organic whole wheat pastry flour
2 tsp matcha
1 1/2 tsp baking soda
1 tsp baking powder
1/2 tsp sea salt
1 cup maple sugar
2 tsp matcha powder
2 cups full fat coconut milk (the thick kind, I prefer Thai Kitchen brand) at room temperature
2 tsp pure vanilla extract
2 Tbsp cider vinegar
Frosting:
1 15 oz can full fat coconut milk (you want to use a brand that is at least 3/4 of the can thick cream or it will not work for this recipe, I like Thai Kitchen brand)
1/2 cup raw cashew butter
1/4 cup maple syrup
1 tsp pure vanilla extract
1/4 tsp sea salt
1/2 cup melted coconut butter (not coconut oil)
1/4 cup melted cacao butter
1 tsp matcha powder
Instructions:
Preheat the oven to 350F degrees and position rack in center of oven.
Oil two 6 inch round baking pans and line them with parchment at the bottom so it will not stick.
Whisk flour, baking soda, sea salt, matcha and sugar in a large bowl to blend well.
Whisk coconut milk and vanilla extract together in small bowl to blend well, then whisk into the flour mixture until well blended.
Whisk the cider vinegar into the batter.
Transfer the cake batter to prepared pans.
Place in the oven, and bake cake until tester inserted into center comes out clean with just a few moist crumbs attached, about 25 minutes.
Remove from the oven and let cool completely, then un-mold, by cutting around the edges if they are stuck at all, then putting  plate over the top, then flipping it onto that plate then placing a plate on the bottom and flipping it upright onto that plate.
To make the frosting, combine all ingredients in a high speed blender and blend until completely smooth.  Pour into a bowl and place in the freezer until the consistency of stiffly whipped cream (about 30-45 minutes depending on how warm it has gotten).  Once it is ready place in the refrigerator until ready to assemble.
When ready to assemble, spread about 3/4 cup frosting over the first layer of the cake, then top with the other cake layer.  Spread the remaining frosting over the top and down the sides of the cake.
Enjoy!
Cake keeps stored in the refrigerator, covered for up to 1 week.
Notes:
If you would rather use coconut sugar for this, it will work in place of the maple sugar.  Or if you want it more green and less brown, then you can use granulated.
If you would like to make a 9 inch round cake, double the entire recipe, and bake it in two 9 inch round pans, increasing the baking time to 50 minutes to 1 hour (depending on your oven).
This cake can be made gluten free by swapping out the whole wheat pastry flour for Bob's Red Mill gluten free all purpose baking flour (this is a brand I have used before and have tested it in cakes with great results).
(Visited 642 times, 1 visits today)