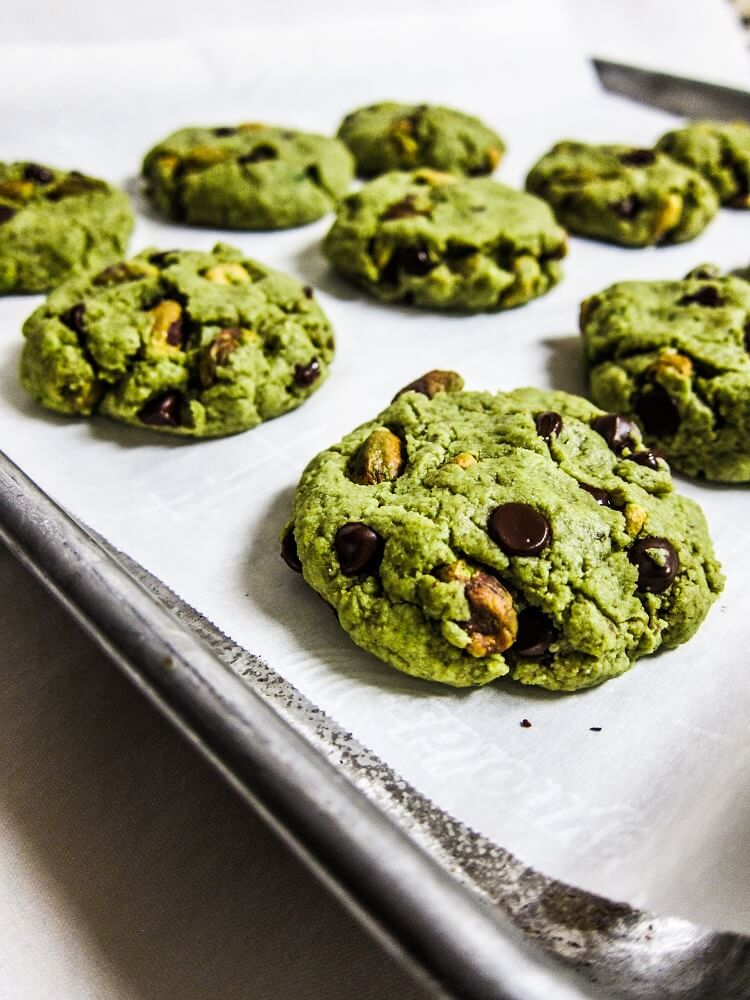 Vegan Matcha Pistachio Chocolate Chip Cookies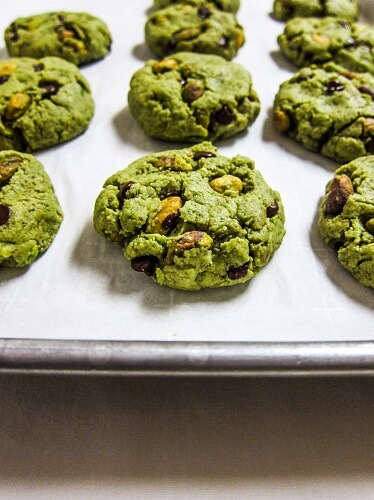 Much of the time I get inspired for recipes by finding random ingredients at the store. Like last weekend I found a bag of pistachios at Aldi for a really good price and I decided that they would be amazing in some chocolate chip cookies. Everyone uses walnuts mostly in theirs if they use nuts at all, and that is in fact what my Grandma used in hers, but I like to switch things up from the norm. I thought little green pistachios would be lovely in chocolate chip cookies especially since I am all about the green theme this week with St. Patrick's Day being next weekend.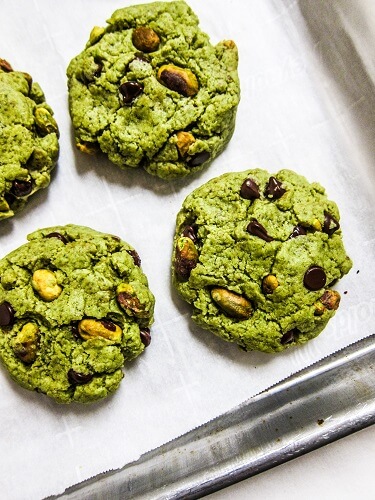 I even took it a step further and decided to add matcha to the dough to make them an over all lovely green hue. I love matcha in desserts in case you haven't noticed if you have followed me for any amount of time. I have quite a few of them including it! I was super excited about making these on my day off. Cookies are so easy to throw together unlike some other desserts that take a lot of prep time and chilling time, you can be enjoying cookies in under an hour!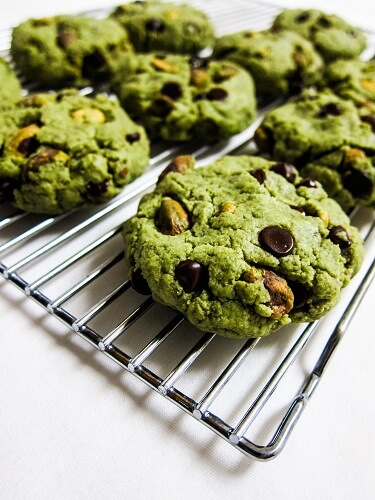 Plus I like the fact that I get to eat the dough while I am making them. Best part of the whole process next to warm cookies with gooey chocolate chips! The dough for these was heavenly. I probably ate a couple of cookies worth at least! It baked up beautifully too. I thought that the color might fade but it remained a vibrant green! So festive looking for St. Patrick's Day!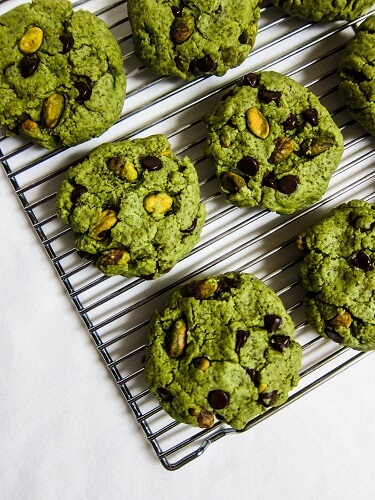 They tasted amazing once baked as well, soft and chewy with a little bit of crispiness at the edges, gooey rich dark chocolate chips (because I had to enjoy one while still warm of course), and the crunchy salty nutty pistachios ...it was the perfect combo! Next time you are in the mood for some really good cookies, whip up a batch of these babies!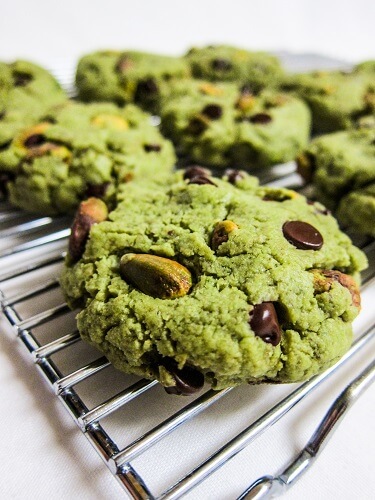 Vegan Matcha Pistachio Chocolate Chip Cookies
Makes 16 large cookies
Ingredients:
2 Tbsp ground flax seed
1/4 cup plus 2 Tbsp filtered water
1/2 cup virgin coconut oil, warmed to liquid
1/2 cup raw cashew butter
1 1/2 cups xylitol (or coconut sugar, regular cane sugar can be used too if you prefer that)
1 Tbsp matcha powder
1 teaspoon vanilla extract
1 teaspoon baking soda
3/4 teaspoon sea salt
3 cups gluten free all purpose flour
3/4 cup chopped pistachios
3/4 cup vegan dark chocolate chips
Directions:
Preheat your oven to 350F degrees.
In a small bowl, whisk together the flax seed and filtered water.  Set aside in the refrigerator for 15 minutes.
Meanwhile, in a large bowl, coconut oil and cashew butter with sugar and mix until well combined
Mix in the vanilla extract and flax mixture until well combined.  Add the matcha, baking soda and salt then the flour, a cup at a time, mixing between each addition, until well combined.  Mix in the chocolate chips and pistachios.
Line 2 large baking sheets with parchment paper.
To Form the cookies take about a 1 1/2 inch chunk of dough, form into a ball and on prepared cookie sheets a couple inches apart, and press down just slightly. Bake for about 12-15 minutes, until puffed and just starting to brown slightly.
Remove from the oven, and let cool on the pan a few minutes, then remove to a wire rack to cool.
Repeat with remaining cookies and let cool for at least 15 minutes before enjoying.
(Visited 6,184 times, 1 visits today)