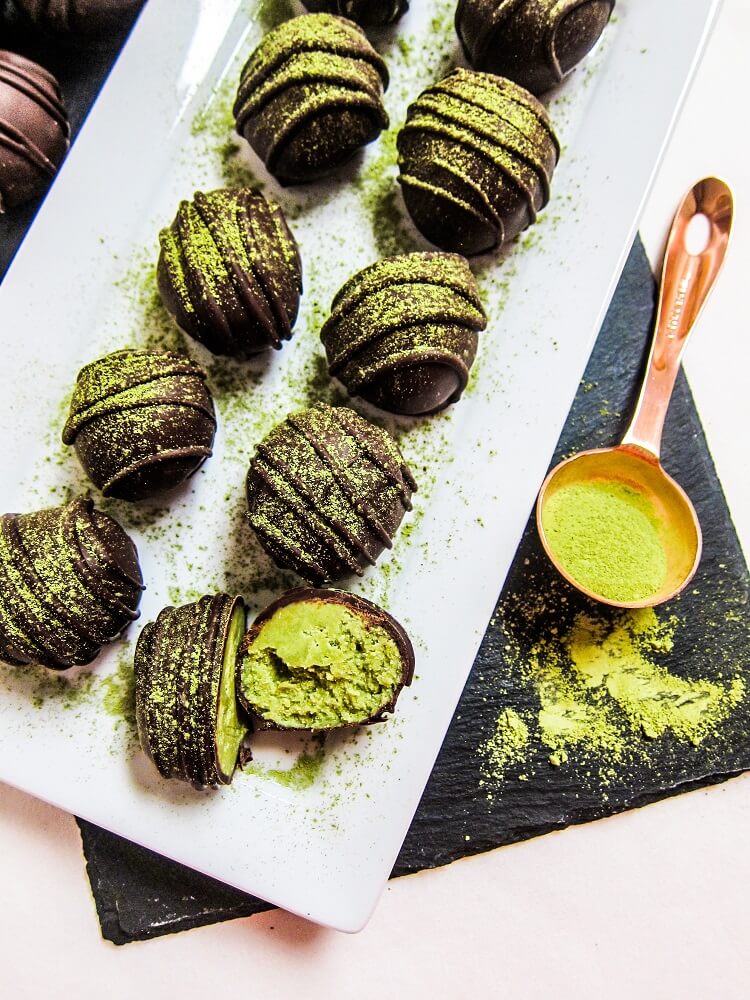 Vegan Matcha Mint Hemp Truffles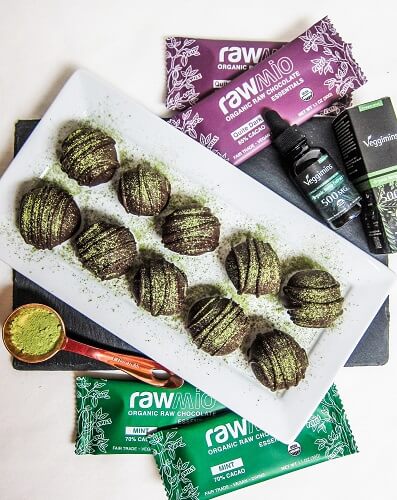 You would think that I would be sick of treats from Christmas, but I am not.  In fact, I still am in the mood for delicious treats, especially of the chocolate variety.  The Holidays are not technically over after all, so why not make more?!  Raw Guru recently sent me some Rawmio dark chocolate bars and Dastony coconut butter and so I decided that some peppermint truffles sounded amazing.  But to make them even more amazing I added matcha into the mix as well because I love it!  In fact I drink it daily instead of coffee but it is so good in desserts too.  I was super excited about the truffles, because not only are they easy to make and I get to enjoy the finished product fairly quickly, I get to lick all of the excess chocolate from the bowls.  My favorite part of the process.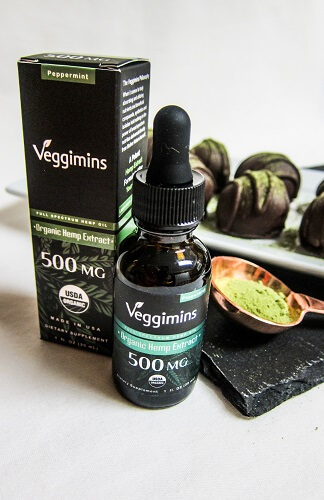 These were going to be good.  But I decided to make them even better and add some Veggimins 500mg full spectrum hemp extract that Raw Guru had sent me as well, so I could get my daily dose of CBD oil with my dessert.  I take CBD oil daily anyhow to combat inflammation and stress, so I love the idea of getting some in with my truffles.  Also, I figured I would share some with Eric because he benefits from CBD oil too.  This particular Veggimins oil is flavored with peppermint as well, so it was perfect for these truffles! If you are wondering if the truffles tasted like hemp, no they did not.  All you can taste is the delicious mint, matcha and chocolate!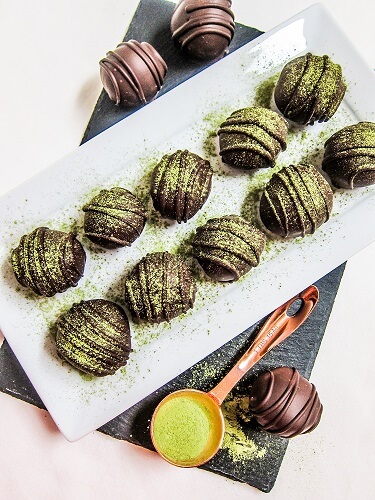 For the filling I wanted it to be rich and creamy, so I used a combination of cacao butter, coconut butter and cashew butter to give it a white chocolate flavor base.  I added a good amount of matcha, vanilla and mint so the filling and it was so heavenly I could not stop tasting it.  The flavor was kind of like the Andes mints I grew up eating, they always had a mellow smooth vanilla mint flavor.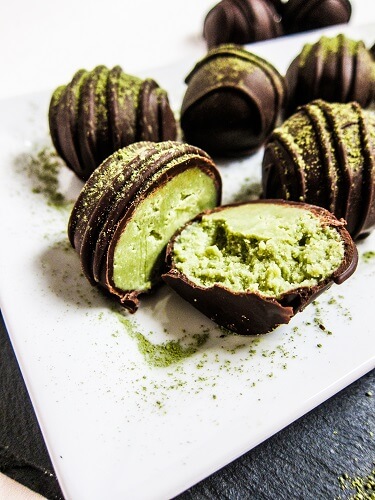 I melted down the Rawmio essentials bars for the coating, and since some were chocolate mint, I had a double mint thing going on with the truffles.  OMG were they ever heavenly!  Creamy, rich, chocolaty, minty and cooling and satisfying.  Although, I might have trouble just eating one a day (which is what I usually do when I make chocolates like this), I might need two of these babies.
Vegan Matcha Mint Hemp Truffles 
Makes 14 truffles
Ingredients:
Filling:
Dark Chocolate:
Directions:
Combine all of the filling ingredients in a bowl, and whisk until smooth.
Place in the freezer for about 15-20 minutes until it is firm enough to scoop. Scoop into 14 balls, rolling them with your hands.   Place on a parchment lined tray, and place back into the freezer until firm, about 30 minutes.
Meanwhile,  melt the dark chocolate in a double boiler until smooth.
Once the filling has firmed up, dip each chocolate into the dark chocolate, being sure to let the excess drain off, and place back onto the tray (I like to set mine on a fork to allow it to drain better). Once they are all dipped, set them in the freezer until hardened.
Store any leftover truffles in the refrigerator.
(Visited 372 times, 1 visits today)