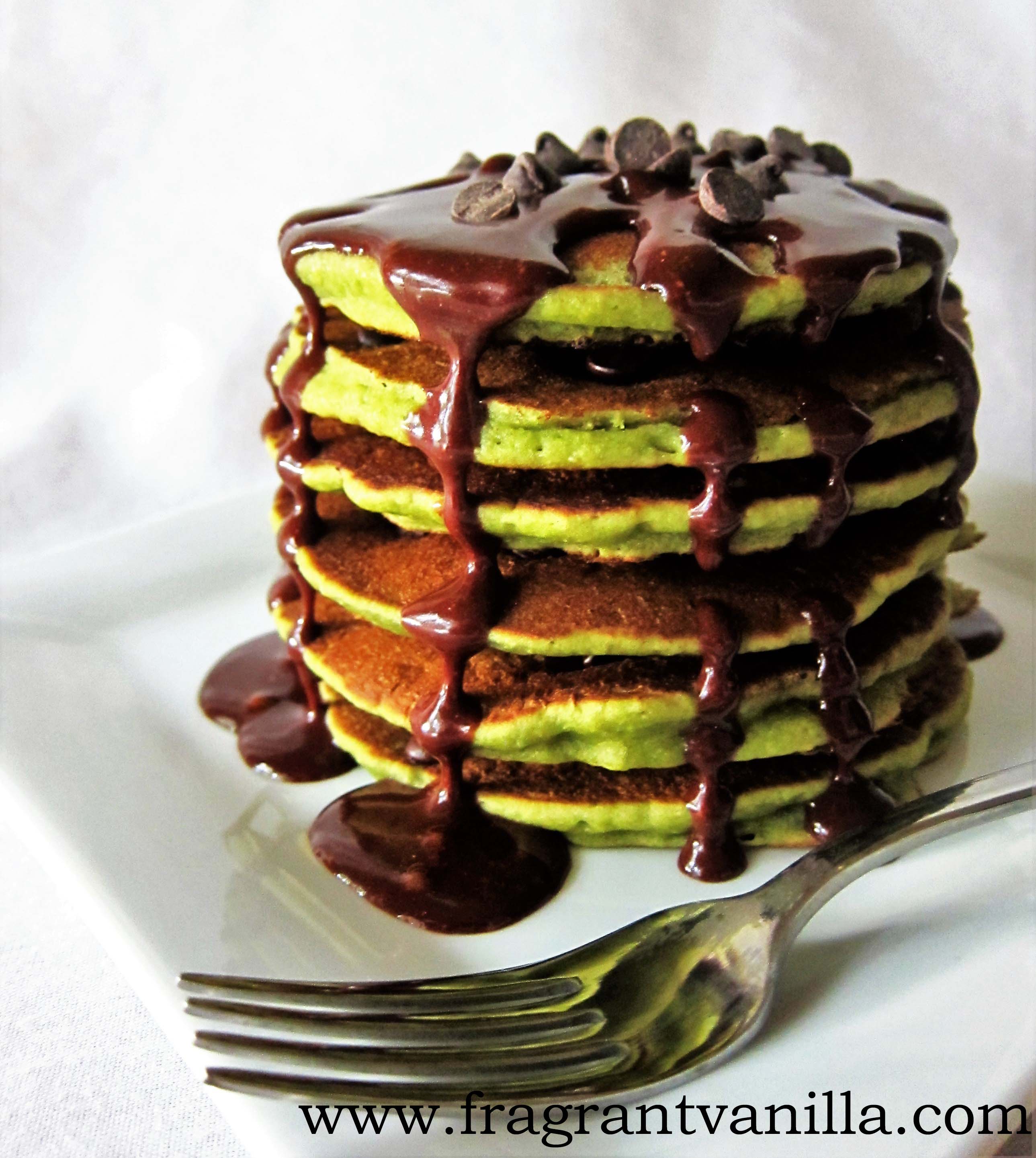 Vegan Matcha Chocolate Chip Pancakes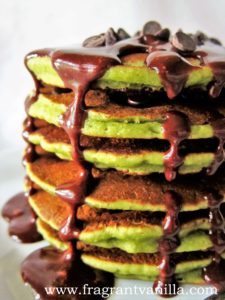 What do you make for dinner on a rainy day when you need a mood booster?  Pancakes.  At least that is what I made.  Colorful pancakes, because those are fun right?!  Well, I was just in a matcha sort of mood, so I made matcha chocolate chip pancakes to share with Eric, because he is the biggest chocolate lover I know, and he likes his tea as well.  Matcha just makes me happy.  The earthy, savory aroma that surprisingly goes so well with sweet things, the comfort of it, the beautiful green color.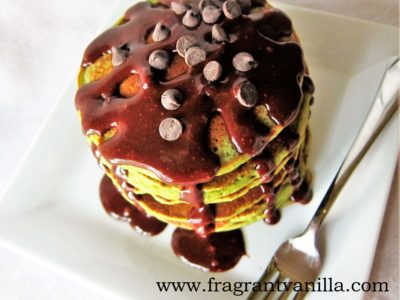 My Mom sometimes made banana chocolate chip pancakes, and I always loved that, so this was kind of a grown up version of that.  Because to me matcha is grown up and sophisticated.  Paired with dark chocolate, even better.  These are super simple to make, just blend in the blender briefly, and cook! You can have them on the table quick.  They are oil free, and you really don't need oil they have a wonderful texture as is.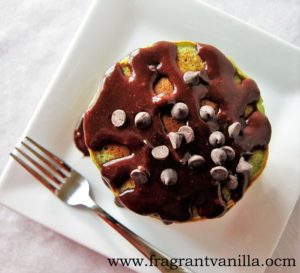 The warm pancakes with the melty chocolate chips are simply heavenly.  I also made a chocolate syrup to top them off because Eric loves his syrup on pancakes.  I topped mine off with fresh berries.  These are happiness on a plate, and I can guarantee they will make you smile.  Is it weird that I almost never make pancakes for breakfast, but dinner instead?  I think I learned that from my Mom, who would make them for dinner with me when I was younger.  I always looked forward to that, and I don't mind keeping up the tradition.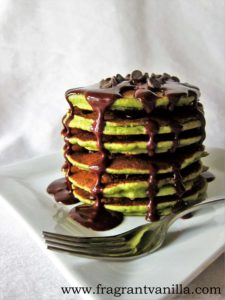 Vegan Matcha Chocolate Chip Pancakes
Makes 12
Pancakes:
1 1/2 cups gluten free all purpose flour
2 Tbsp matcha powder
2 tsp baking powder
1/2 cup applesauce
1 1/4 cups Thai Kithcen light coconut milk
2 tsp pure vanilla extract
1/4 tsp sea salt
3 Tbsp maple syrup
1/2 cup vegan chocolate chips
Chocolate syrup:
1/4 cup maple syrup
1/4 cup unsweetened cacao powder
pinch sea salt
In a food processor, combine all pancake ingredients (except the chocolate chips) and process until just blended, pour into a bowl and set aside.
To cook pancakes, preheat oven to 110 degrees. Heat a large non-stick pan over medium heat. Once hot, add the batter in 1/4 cup amounts (I did 3 at a time, but it depends on your pan), and let cook for about 2-3 minutes on the first side until set and starting to brown, then flip with a spatula, press a few chocolate chips into the top (if you mix them in before hand they get all gooey on your griddle this is why I press them in), and cook another 2-3 minutes. When cooked, place on a plate and keep warm in the oven while you repeat the process with the remaining pancakes.
To make the topping, whisk together the syrup and cacao powder and sea salt until smooth (adding a little water if too thick, or more cacao powder if too thin).   Top the pancakes with it!
*Note: If you do not have a non-stick pan, and don't mind these not being oil free, go ahead and use a little coconut oil when cooking them to prevent sticking.
(Visited 462 times, 1 visits today)