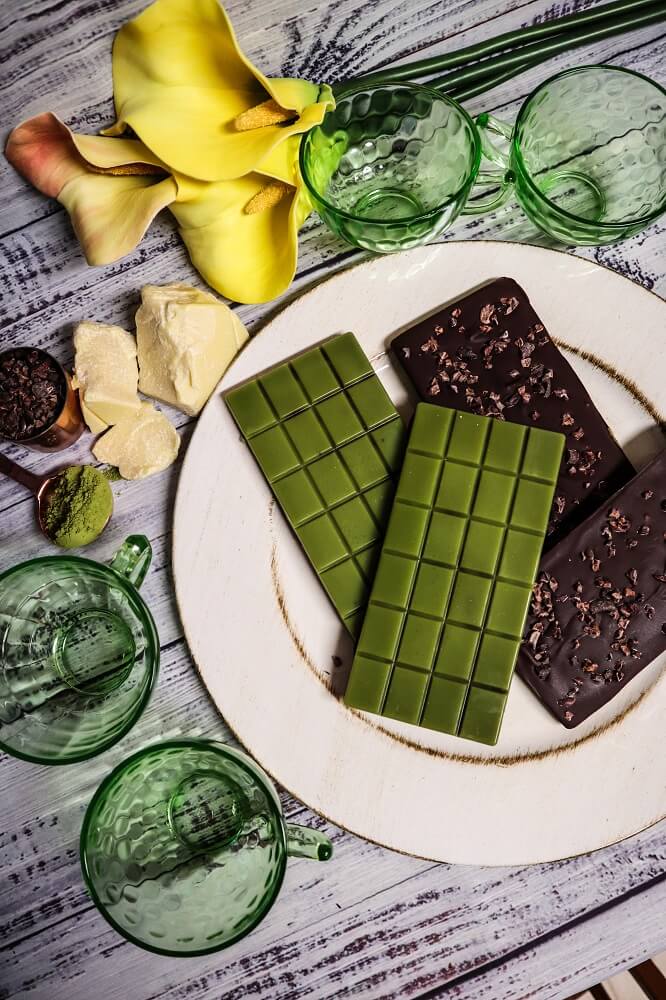 Vegan Matcha Chocolate Bars with Cacao Nibs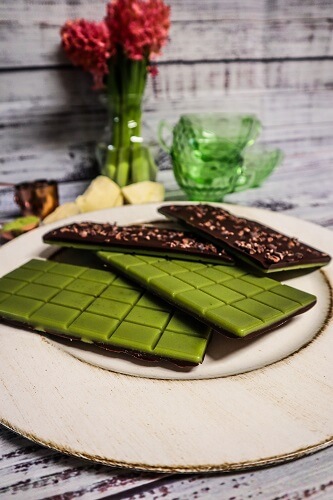 St. Patrick's Day is tomorrow, and although it doesn't feel so much like it this year due to the virus going around and events being cancelled, I still like to enjoy some festive stuff at home so I made some green chocolate bars!  I like to try to stay positive.  And even if we can't all go out and do the things we usually do, or would like to do why now enjoy yourself at home?  I was going to make some chocolate anyway because I had run out of my stash, and I wanted something cheery and fancy so I made some Matcha Chocolate Bars with crunchy cacao nibs.  I have been making a lot of mint stuff for St. Patrick's Day because it is festive and green, but matcha has that lovely green hue as well and I have been in love with it since I first tried it!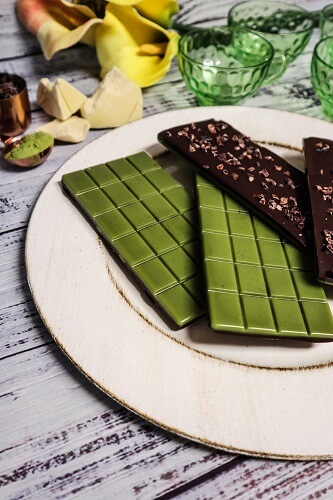 I drink matcha tea every morning at work, and I like my matcha lattes on the weekends when I have more time, but I especially love matcha in sweet desserts.  It is amazing in white chocolate. I have made some plain matcha white chocolate before but I wanted some dark chocolate in there as well, so I was thinking a two layer bar.  Before I went vegan I thought that white chocolate would be a thing of the past, since milk seems like it is a big part of it, but luckily I was wrong. I have been able to make super delicious white chocolate!  It may take a few more ingredients, but that's alright.  I like it even better than the stuff I ate growing up, which probably had some artificial stuff in it.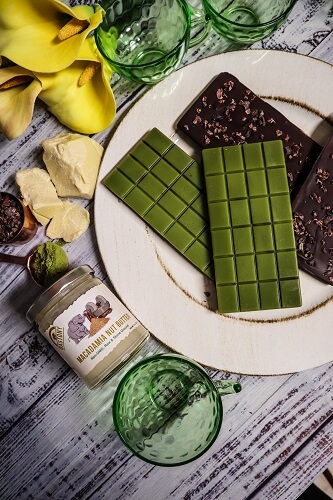 For mine, I use a cacao butter base, with a bit of coconut b\utter and macadamia nut butter sweetened with maple syrup and a bit of vanilla.
Raw Guru
recently sent me some
Dastony coconut butter
and
macadamia nut butter
so it was perfect! If you don't have macadamia nut butter, no worries, raw cashew butter will work as well (and I know it is a bit easier to find). This white chocolate is seriously crave worthy!  I added a bit of matcha to it for a lovely green hue and flavor!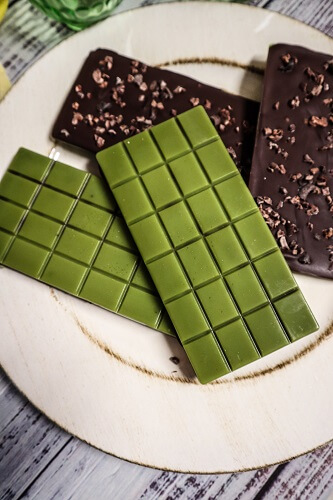 Once it was all hardened in the molds, I added a layer of dark chocolate over it and some cacao nibs for crunch!  I could not wait to try them!  I had to have a big chunk when they were finally ready.  They were super delicious!  That white chocolate mixed with the dark was almost a milk chocolate like flavor and it was so good with that earthy hint of matcha and crunchy cacao nibs.  If you have to stay home, why not make a delicious treat for yourself like these?!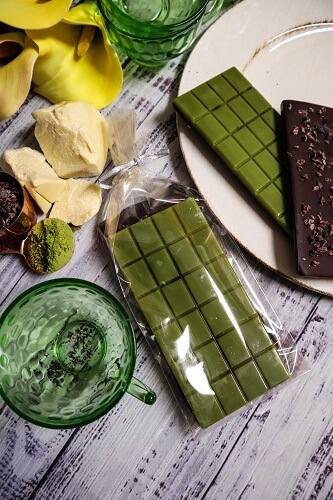 Vegan Matcha Chocolate Bars with Cacao Nibs
Makes 4 Matcha White Chocolate:
Dark Chocolate:
1 1/2 cups chopped good quality vegan dark chocolate
Topping:
Instructions:
Combine the cacao powder, cashew butter, and coconut butter, and  in the top of a double boiler, and melt until smooth.
Add the maple syrup, vanilla, matcha and sea salt and whisk together until well blended.
Pour the matcha white chocolate into the bottoms of 4 standard sized chocolate bar molds set on a tray.
Place the tray with the molds in the freezer until the white chocolate has set.
Meanwhile, clean out the double boiler, and add the dark chocolate to it, melting it until smooth.
When the white chocolate has hardened, pour the dark chocolate over it to fill the molds, and smooth to the sides (working quickly because if you go too slow the white chocolate will start to melt and not look neat).
Sprinkle with the cacao nibs, about 2 tsp per bar.
Set the tray with the molds back into the freezer until set, about 20 minutes.
Unmold and enjoy!
Chocolate bars keep in a container in the refrigerator for up to a month.
(Visited 793 times, 1 visits today)