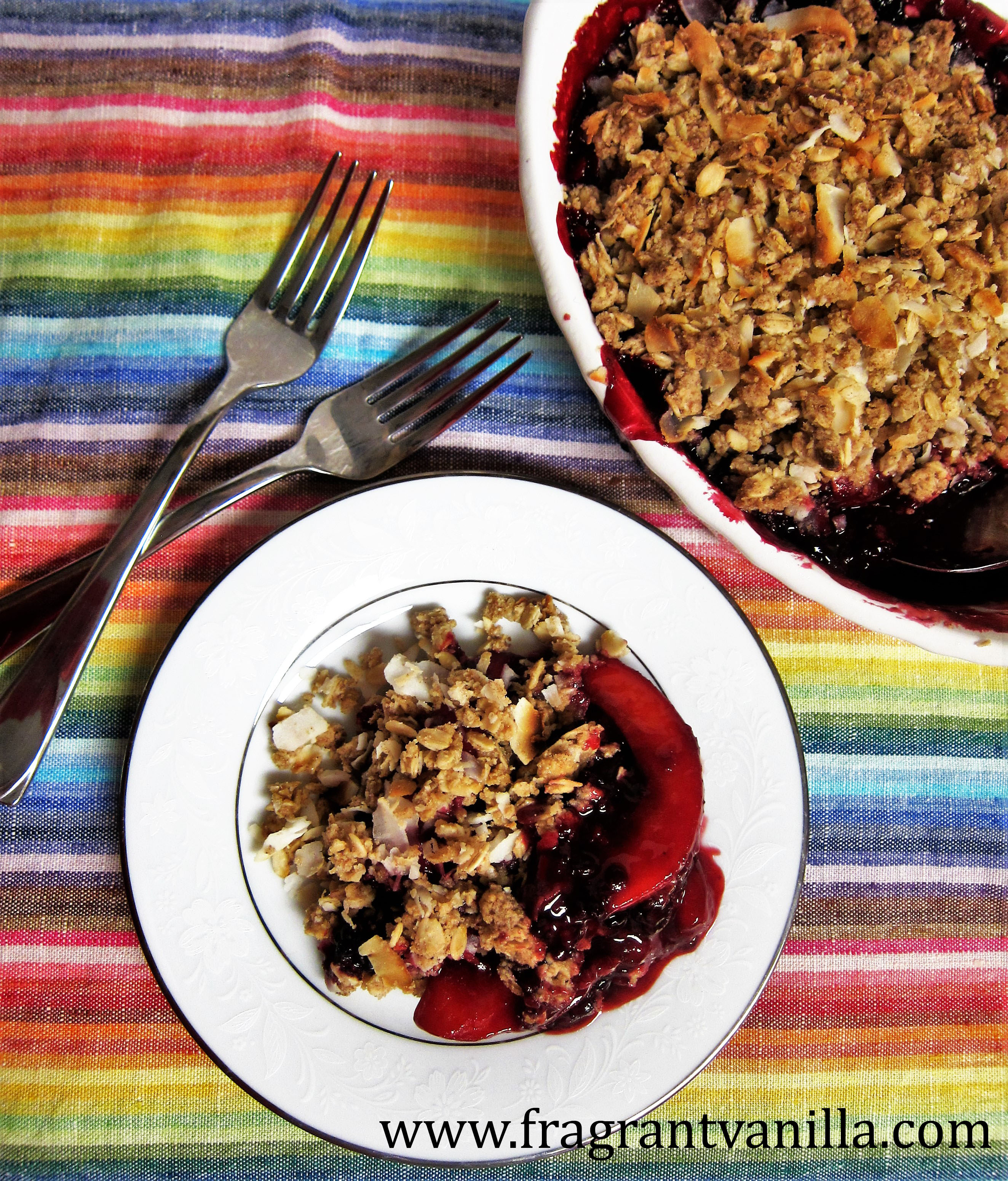 Vegan Marionberry Peach Crisp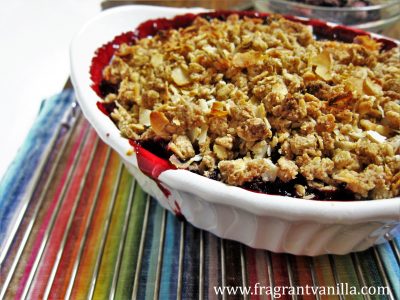 There was a time in my life that I loved fruit crisps so much that I made them every single weekend for months on end.  It may sound weird, but it was something I looked forward to.  I do tend to get stuck in ruts sometimes when I really like something (or more so I used to) and make it time and time again because I just crave it.  I would switch up the fruit at least and use what I had on hand or what was in season.  But by far, my favorite was anything involving berries.  Why crisp?  Well, simple, it is easier to make than pie, but just as good as far as I am concerned.  You still get the bubbling gooey fruit and crisp crumbly topping.  My Mom always made apple crumble pie, and so I have always had a bias towards putting crumble toppings on my pies those being my favorite over double crust pies.  She also made her crisps the same way, with oats always included in the topping.  So that has been my go to topping for crumble.  Just plain flour and sugar doesn't do it for me, it has to have the substantial crunchy oats too!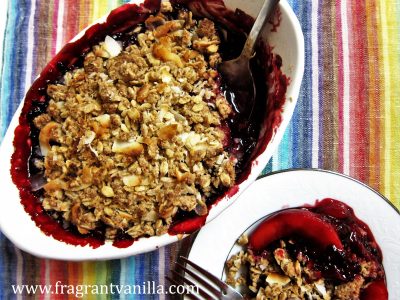 Well, I am no longer stuck in this rut.  I now branch out and make other desserts on the weekend.  I made some cobblers recently, and got to thinking, I have not made a crumble in a while.  So I remedied that and made one.  I had a busy weekend ahead with a road race and festival to go to Saturday, and family stuff and a dinner on Sunday, so I wanted something that didn't take a lot of effort or hands on time to make, so I made that.  It did not take a lot of effort at all, and I could work on chores while it was cooking. You know how that goes, multi-tasking!  I am used to it working in a kitchen and making several things at once every day.  But you don't have to do that if you don't want to while you make yours, in fact, you know what would be nice, to go outdoors and sit in the sunshine while it bakes and read a book!  Just set a timer of course.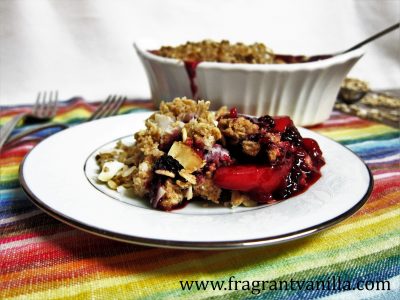 I decided to make this a little different than the ones I have made in the past.  I kept the fruit part really simple, only four ingredients to allow the berries and peaches to shine through with their sweet flavors.  For the topping, in place of my usual coconut oil I used pecan butter.  This was a little bit of an experiment because in the past I had always thought that things like this needed oil to crisp up and brown, but what the heck, I was trying it.  Because I am trying to use more whole foods like nut butter in my recipes than just oil for the fat component.  I am happy to say it worked!  It browned to the level I wanted it to, and the pecan butter gave it a nice nutty flavor.  This crisp smelled amazing as I pulled it from the oven and tasted even better.  It was nice to sit and enjoy this and just relax for a little while.  If you have blackberries and peaches on hand, you know what to do now!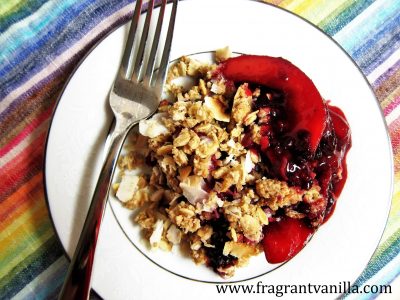 Vegan Marionberry Peach Crisp
Serves 4
Fruit:
1 1/2 cups organic peaches, sliced
1 1/2 cups marionberries
2 Tbsp maple syrup
2 Tbsp gluten free all purpose flour
Topping:
3 Tbsp gluten free all purpose flour
3 Tbsp large flake dried unsweetened coconut
1/2 cup gluten free rolled oats
3 Tbsp coconut sugar
1/8 tsp sea salt
3 Tbsp raw pecan butter
6 inch wide ovenproof bowl or pie plate
Instructions:
Preheat oven to 400 degrees with the rack at the center position. Place a baking sheet lined with foil on the rack. Oil a 6 inch wide pie plate or bowl with coconut oil. In a large bowl, toss together the fruit, maple syrup, and flour. Spoon into prepared bowl or pie plate, and cover with foil. Place plate on baking sheet and bake for 30-45 minutes until fruit is cooked through and bubbling.
Meanwhile, when the fruit in the oven is almost at 45 min, to make the topping, combine all ingredients in a bowl and mix together with your hands scrunching together to form small clumps until there are no floury spots left.
Remove baking fruit from oven. Top with the crumble topping, spreading it out evenly over the fruit. Bake for about 20 minutes until lightly brown and toasted on top (keep a close eye on it could burn very quickly). Remove from oven and let cool until warm, and top with some ice cream or coconut vanilla whipped cream and...enjoy!
(Visited 101 times, 1 visits today)