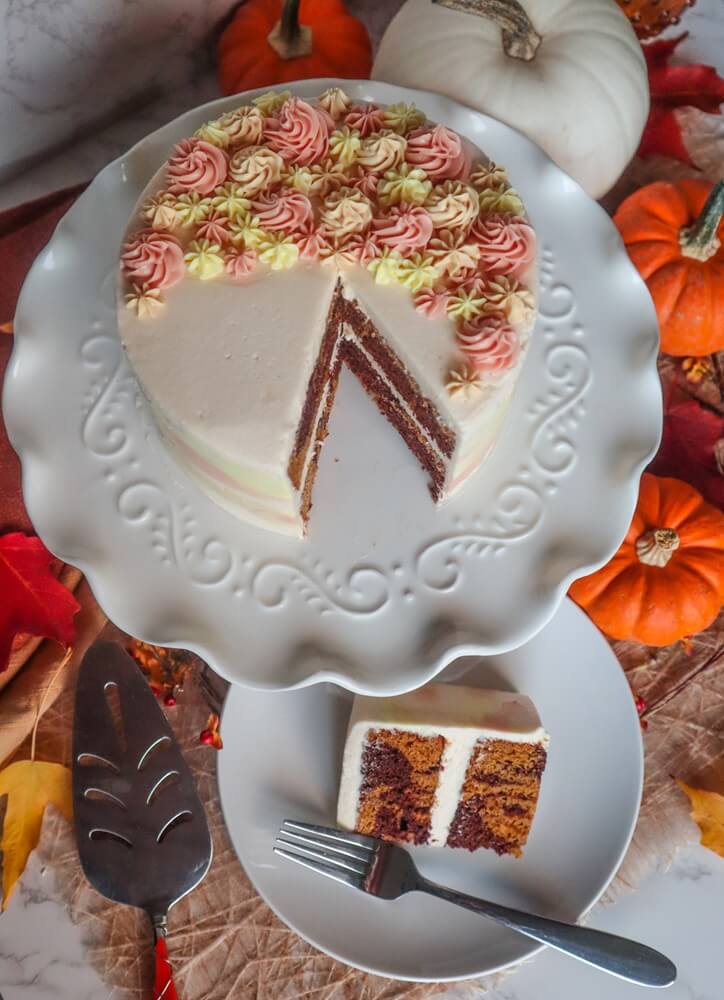 Vegan Marbled Pumpkin Layer Cake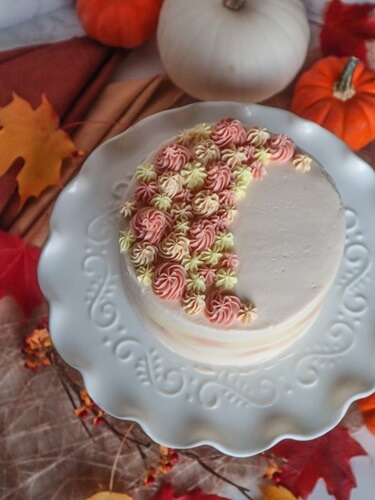 We are getting into the final part of fall where the colors are starting to fade and it is getting more chilly.  So I am soaking up every last sunny day before it is completely brown outside and the leaves are gone, enjoying running through the crunchy leaves (one of my favorite parts of fall).  You know what the perfect thing to do after being outside on a chilly day is though?  Baking something delicious in a warm kitchen.  So I decided to bake a cake!  I am not sick of pumpkin yet (I don't think I could ever be) so it was a pumpkin cake.  One of my favorite cake flavors is marble cake, so I thought why not make one in honor of Fall, a Vegan Marbled Pumpkin Layer Cake!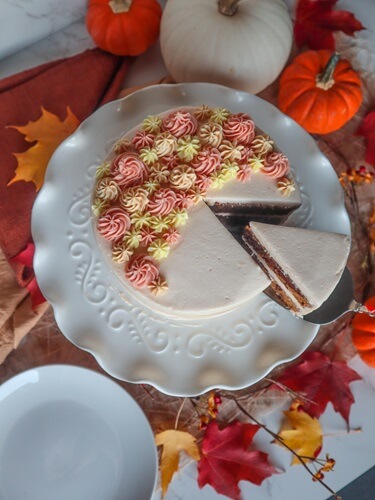 I was super excited about this cake, I have actually been wanting to make it for a few weeks now!  For the base, I used another one of my pumpkin cakes that always comes out just right.  I used whole wheat pastry flour for the flour but if you would rather use AP flour if that is what you have on hand you can use that also.  If a gluten free cake is what you need, you can use a gluten free all purpose flour such as Bob's Red Mill all purpose baking flour. I can recommend this brand in cakes because I have used it before with good results. I sweetened the cake with brown sugar this time because it goes well with pumpkin and spices.  Speaking of spices, the combo of cinnamon, ginger, nutmeg and cloves is so aromatic and delicious in this cake, along with the vanilla!
I added cacao powder to half of the cake batter to create a chocolate batter for the marble to swirl with the regular pumpkin batter.  While the cakes were baking they smelled so heavenly and delicious!  The delicious cake deserved a delicious frosting!  I went with a simple vanilla buttercream this time and it was perfect!  I used Earth Balance for my butter, as I have good results with this brand.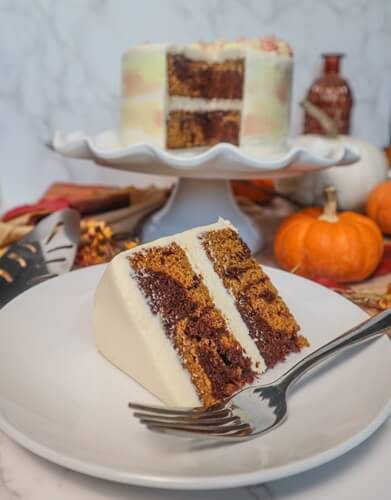 I could not wait to taste the finished cake!  When I did it was so heavenly!  Like the perfect autumn birthday cake, because marble cake was what I always chose as a kid for birthdays.  Sweet, lightly spiced pumpkin cake swirled with rich chocolate cake, the sweet vanilla frosting the perfect thing to top it off with!  I am just gonna say I did not share most of this cake.  If you are in the baking mood, definitely give this Vegan Marbled Pumpkin Layer Cake a try!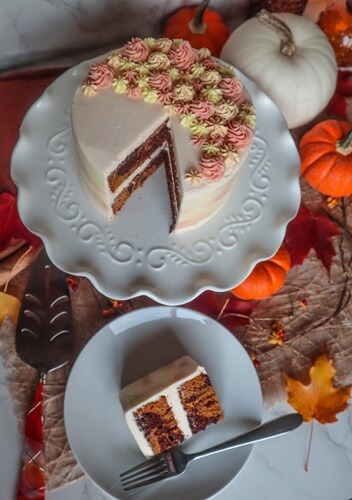 Vegan Marbled Pumpkin Layer Cake
Makes 1 6 inch 2 layer cake
Cake:
1 1/2 cups organic whole wheat pastry flour (or regular AP flour)
1 cup brown sugar or maple sugar
1 Tbsp cinnamon
1 tsp ground ginger
1/4 tsp ground cloves
1/4 tsp ground nutmeg
1 1/2 tsp baking soda
1 tsp baking powder
1/2 tsp sea salt
3/4 cup pureed pumpkin (canned is fine)
1/4 cup avocado oil or melted coconut oil
1 Tbsp pure vanilla extract
1/2 cup + 2 Tbsp oat milk (I used Oatly, but you can use what you prefer) or other plant based milk
2 Tbsp apple cider vinegar
2 Tbsp unsweetened cocoa powder
Frosting:
1 1/2 cups vegan butter, I used Earth Balance (at room temperature)
2 Tbsp plant based milk (I used Oatly oat milk, but you can use what you prefer), add 1 more Tbsp if needed if frosting comes out too stiff
1 tsp pure vanilla extract
4 cups powdered sugar
Instructions:
Preheat the oven to 350F degrees and position rack in center of oven.
Line two six-inch-diameter cake pans with 2-inch-high sides with parchment paper. Coat parchment paper and pan sides with nonstick spray.
Whisk flour, baking soda, spices, salt, and sugar in a large bowl to blend well. Whisk pumpkin, oil, vanilla extract, and milk together in small bowl to blend well, then whisk into the flour mixture until well blended. Whisk in cider vinegar until pale swirls form in the batter and it is well combined.
Divide batter between 2 bowls, and whisk the cocoa powder into one of them until blended.
Transfer cake batter to prepared pans and bake cakes until tester inserted into center comes out clean with a few crumbs attached, about 30 minutes. Remove from oven.
Cool cakes completely in pan on rack, about 1 hour. Cut around sides of pans to loosen. Turn cakes out onto two plates; peel off parchment paper.
To make the frosting, beat the butter with the milk and vanilla until fluffy.
Add the powdered sugar 1 cup at a time, and beat until completely mixed and light and fluffy (if the frosting is too stiff add that other Tbsp of milk).
When ready to frost, Place one cake layer on a plate, spread about 1/2 inch thick layer of the frosting over it.
Place the next cake layer on top.
Spread the remaining frosting on the top and down the sides of the cake evenly, then place the rest of the frosting in a pastry bag and use it to decorate the top (you can tint it with food coloring first if you like).  This frosting recipe makes enough that you should be able to do some generous piping decorations on top, because I like a lot of frosting!
Serve the cake and enjoy!
Store any leftover cake in the refrigerator for up to 1 week in a covered container.
(Visited 133 times, 1 visits today)