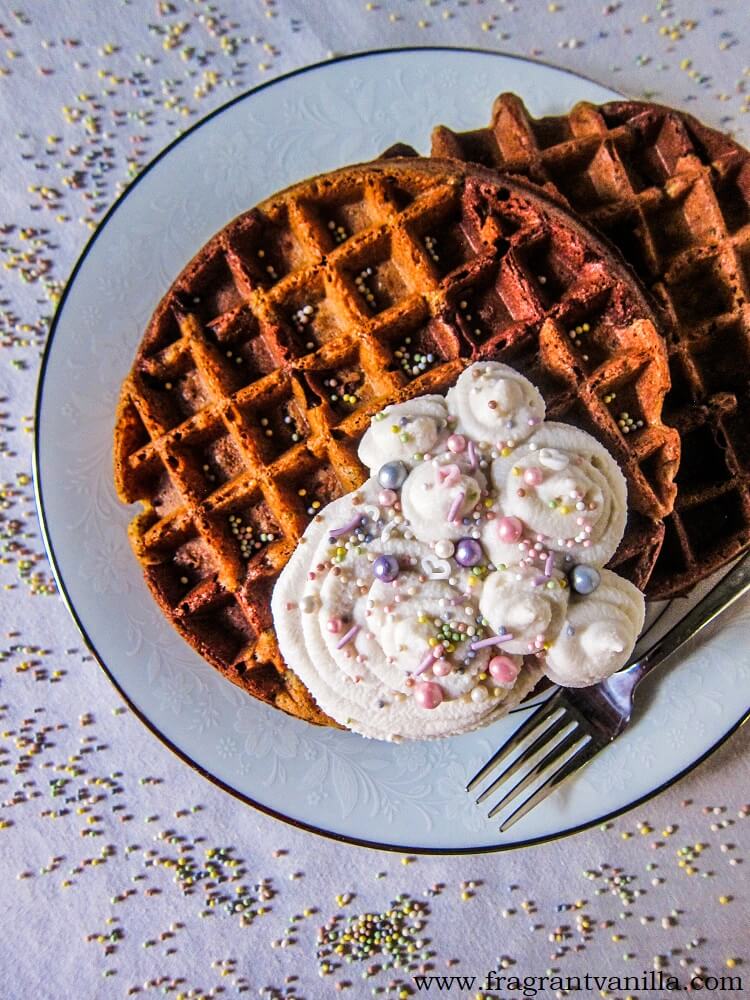 Vegan Marble Cake Waffles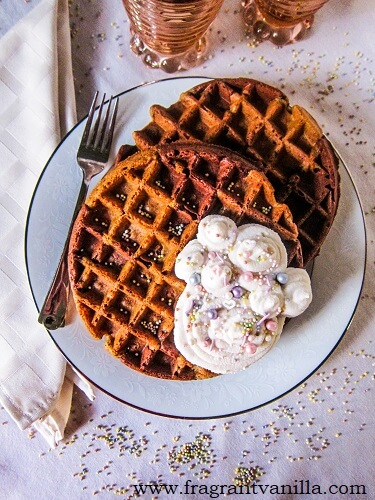 I have recipe fails sometimes.  Like once I made a mac and cheese (before I went vegan, back in college) and it was supposed to be souffle like and baked and it ended up tasting so horrible with a bad texture I just threw it away because I couldn't bear to eat it let alone have it for leftovers.  Or, when I tried to make some raw brownies one time that were lower fat than normal and they just did not taste good or have good texture, so they ended up in the garbage too.  Sometimes I have a really good idea (well what I think is a good idea) and I am certain that it will turn out, but then it just doesn't and I end up wasting ingredients.  I really hate that.  Wasting food, time and money.  Well, luckily it doesn't happen often.  But one of the last times it did, I was making Belgian waffles.  I had used the waffle maker many times, and it had never failed me, but I tried to make some mocha waffles and for some reason they were all sticking to the waffle maker despite it being oiled and ripping instead of staying together.  It was a fail, and I hadn't touched that waffle maker since.  That was a couple of years ago. I have a different smaller waffle maker that I had been using since then instead but they aren't the big Belgian waffles.  Well, I decided that it was about time I try the Belgian waffle maker again, partly because someone requested that I make some, so I had to go for it.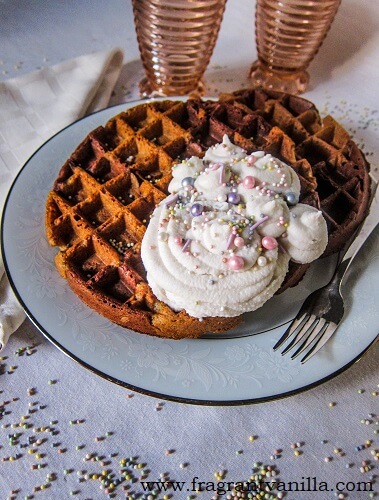 I decided that vegan marble cake waffles sounded good, vanilla waffle batter, and chocolate waffle batter both in the waffles.  It sounded like a good idea, and I crossed my fingers and prayed that they would turn out this time. The batter is really pretty simple compared to the non-vegan waffles I made back in the day that required whipping of egg whites and folding them into the batter.  This is just a whisk and go thing.  They smelled amazing while cooking.  That is part of what I love about waffles.  The delicious aroma that reminds me of sleeping in and having a delicious brunch of a weekend.  Or my Mom making Belgian waffles for dinner, because she did that sometimes when I was little and I loved it!   The first waffle turned out perfect and I was super happy!  The next four were successes too!  So, it wasn't my Belgian waffle maker that was the problem the last time apparently it was my recipe experiment that was too sticky.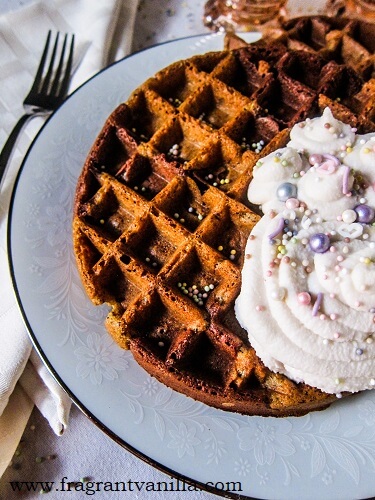 These turned out so good!  I was a marble cake fan growing up because I figured I was getting the best of both worlds with chocolate and vanilla, and these remind me of that so much!  But of course they have the perfect crispy on the outside and soft in the middle texture that Belgian waffles should.  None of that soggy waffle business going on that I can't stand.  I topped them off with some vanilla coconut whipped cream and sprinkles because it seemed appropriate being that they were marble cake waffles, and it was perfect. So the next time you are in a waffle making mood, give these a try!
Vegan Marble Cake Waffles
makes 4 Belgian (large) waffles
Ingredients:
Batter:
2 cups gluten free all purpose flour
1/4 cup coconut sugar
1/2 tsp baking soda
1 tsp baking powder
1/2 tsp sea salt
1/2 cup plus 1 Tbsp aquafaba*
2 Tbsp melted coconut oil
2 cups full fat coconut milk
2 Tbsp unsweetened cocoa powder
Possible Toppings (pick your favorite):
coconut whipped cream
ice cream
fruit
sprinkles
chocolate chips
maple syrup
Instructions:
Whisk together the flour, sugar, baking soda, baking powder, and sea salt in a large bowl.
Then whisk the aquafaba, coconut oil, and coconut milk until smooth.
Divide the batter between 2 bowls, and whisk the cocoa powder into one of them.
Oil, and pre-heat waffle iron. Once it is heated, drop each of the waffle batters to the iron, alternating between the vanilla and chocolate until the iron is just covered (but not so much that it will ooze out) and close it.  Cook according to waffle iron package directions.  Remove from the waffle maker and keep warm in an oven at low heat (150F degrees).
Serve with topped with whatever suits you!  I topped mine with coconut whipped cream (but if you use this option, be aware that it melts quickly if the waffles are hot).   Other good options are ice cream, fruit, sprinkles, chocolate chips, maple syrup, etc. But feel free to be creative!
*Aquafaba is chickpea liquid.  You may used canned, or if you are using the liquid from home cooked chickpeas, reduce it to the consistency of egg whites.  Alternatively, you may use 3 flax eggs for the recipe (3 Tbsp ground flax seed, whisked together with 1/2 cup plus 1 Tbsp filtered water).
(Visited 167 times, 1 visits today)