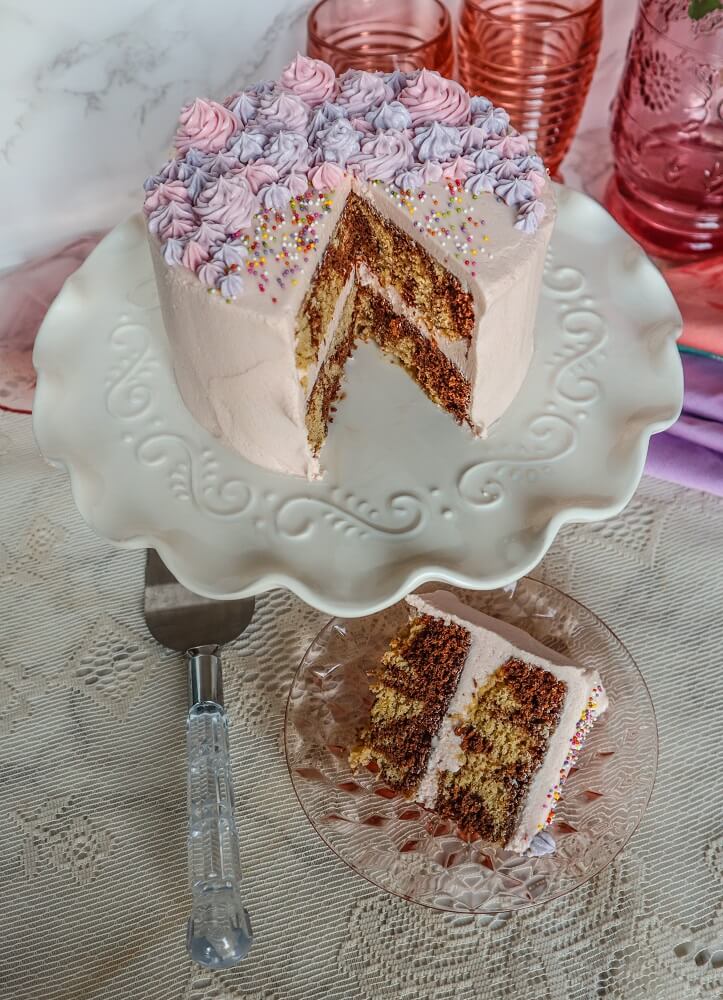 Vegan Marble Birthday Cake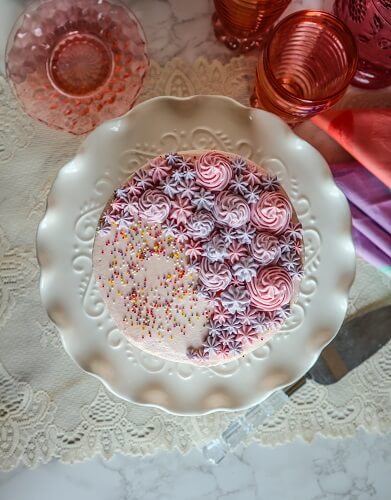 Today is my birthday, and I always make my own birthday cake.  Most people are surprised when I tell them, but I actually like making it because I think it is fun, and that way I always get exactly the cake I want.  I think making cakes is enjoyable and kind of relaxing!  This year I decided to keep it simple and make one of my favorites from childhood.  I made a Vegan Marble Layer Cake!  Marble cake was something that was served on special occasions growing up, especially birthdays, and I can remember a number of times I had one for my birthday.  I think my parents chose it because it pleased both the chocolate and vanilla lovers but I enjoy it because you get a little of both cakes!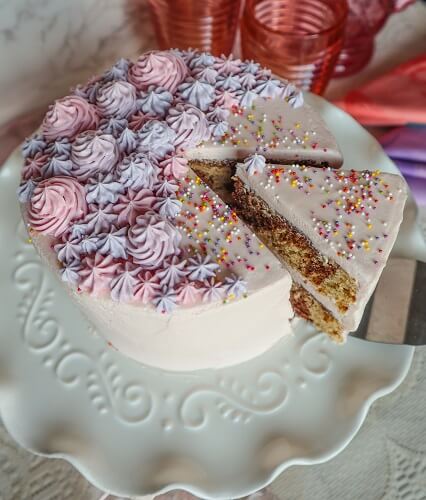 I remember the first marble cake I decide to make from scratch was for an ex boyfriend's birthday when I was in my early 20s, and I thought it turned out amazing! It had a rich vanilla buttercream frosting. It was way better than most of the boxed cake mixes and store bought cakes I grew up eating.  But he said it was ok and he liked the ones from the grocery stores better.  There is a reason he is an ex lol.  That cake was bomb, and I have since made many marble cakes as a vegan and still love them! My husband Eric who has tried them thinks they are pretty awesome too!  Luckily now I make a much more simplified version than that first non vegan one which required whipping eggs and folding them in and what not.  This one is super simple, just a one bowl cake that is super delicious!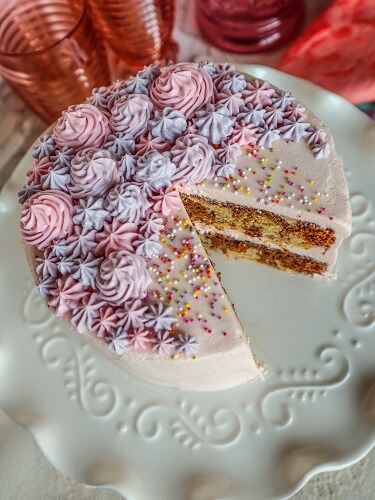 For this cake I used whole wheat pastry flour which is what I had on hand and prefer to use most, but if you would prefer to use regular AP flour that would work as well. Or even a gluten free all purpose flour such as Bob's Red Mill Gluten Free All Purpose Baking Flour which I have used in my cakes with great results!  I do one thing differently than most people with my current marble cake batter, and that is to add some almond extract along with the vanilla.  My Grandma liked to do this and I love the flavor it gives the cake. It is so heavenly! The cake batter was so delicious (I always have to sample a little, its a tradition) and it smelled so heavenly while baking! The cake deserved an equally delicious frosting!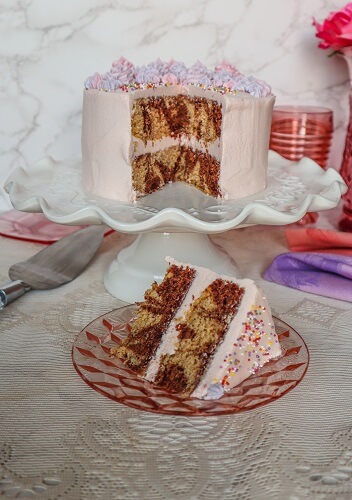 I made a quick and easy buttercream frosting, and it was just what the cake needed!  Sometimes simple is best, and you can never go wrong with flavors you enjoyed as a kid!  This cake is soft and fluffy, with a nice balance of chocolate and vanilla cake, the luscious creamy sweet frosting the perfect addition to it!  If you are looking for a classic celebration cake, definitely give this Vegan Marble Layer Cake a try!  I am definitely enjoying it this birthday weekend!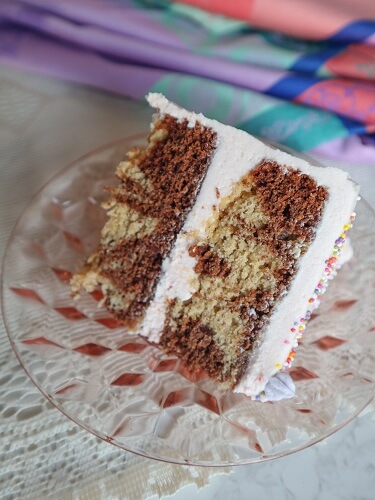 Vegan Marble Birthday Cake
Makes one 2 layer 6 inch cake
Ingredients:
Cake:
1 1/2 cups all purpose flour
3/4 cup plus 2 Tbsp granulated sugar
3/4 tsp baking powder (1/2 tsp plus 1/4 tsp)
1/2 tsp sea salt
2 flax eggs (2 Tbsp golden ground flax seed mixed with 1/4 cup plus 2 Tbsp filtered water, allowed to sit 15 minutes)
1/4 cup plus 2 Tbsp avocado oil or other neutral oil
1/2 cup plant based milk
1 1/2 tsp pure vanilla extract
1/2 tsp almond extract
2 Tbsp cacao powder
Frosting:
1 1/2 cups vegan butter, I used Earth Balance (at room temperature)
3-4 Tbsp oat milk (I used Oatly, but you can use what you prefer), add 3 then if needed add another if frosting comes out too stiff
1 tsp pure vanilla extract
1/2 tsp almond extract
4 cups powdered sugar
vegan food coloring (optional)
Instructions:
Preheat oven to 350F degrees, and line 2 6 inch round cake pans with parchment on the bottom and oil the sides.
In a large bowl, combine the flour, sugar, baking powder and sea salt and whisk to blend.
Add the flax eggs, avocado oil, oat milk, and vanilla and beat with an electric mixer for about a minute (or 3 minutes if doing it by hand with a whisk).
Divide between 2 bowls, whisk the cacao powder into one of them.
Spoon the cake batter by the heaping Tbsp into the prepared pans, alternating between chocolate and vanilla and dividing evenly between them. Swirl lightly with a knife.
Place the cakes in the oven and bake for about 30 minutes until the cakes are done in the center (you are able to insert a toothpick into the center and it comes out almost clean with a few moist crumbs).
Remove from the oven and let cool 20 minutes, then remove the cakes from the pans by cutting around the sides, placing a plate on top then inverting it and tapping on it.  Allow them then to cool completely once they are out of the pans.
To make the frosting, beat the butter with the milk and vanilla until fluffy.
Add the powdered sugar 1 cup at a time, and beat until completely mixed and light and fluffy (if the frosting is too stiff add that other Tbsp of milk).
When ready to frost, Place one cake layer on a plate, spread about 1/2 inch thick layer of the frosting over it.
Place the next cake layer on top.
Spread the remaining frosting on the top and down the sides of the cake evenly, then place the rest of the frosting in a pastry bag and use it to decorate the top.  This frosting recipe makes enough that you should be able to do some generous piping decorations on top, because I like a lot of frosting! If you wish to tint the frosting colors as I did, feel free to.
Serve the cake and enjoy!
(Visited 269 times, 1 visits today)