Vegan Maple Sweet Potato Caramel Mini Bundt Cakes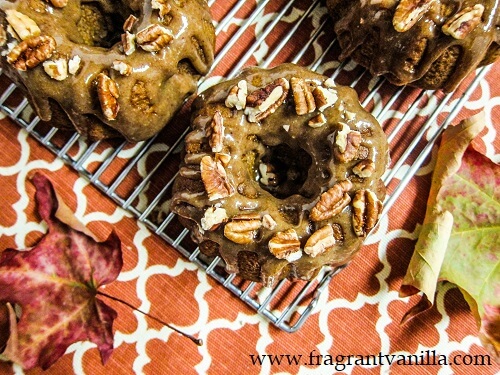 I am so not ready for Winter yet.  It is technically still Fall, but it totally feels like Winter.  The snow was flying last Friday, big fluffy clumps of flakes floating down, like the type you build a snowman with.  It looked like a snow globe outside, and this was actually the second snow like this.  Kinda sad, because last year at this time it was in the 60s and 70s outside.  We have been kind of spoiled the last few years with really nice weather in the Fall, so I guess I have forgotten what it can be like. I have dug out all of the Winter coats, hats, gloves and scarves and accepting the fact that Winter is pretty much here.  Which means I spend more time inside doing more things like baking delicious things.  Because what better way to forget about the fact that it is cold, than to bake something warm and delicious.  Plus it makes your house smell amazing, and you can leave the oven open after and let the heat out to get all warm.  I like to stand in front of it as the heat escapes and soak it in.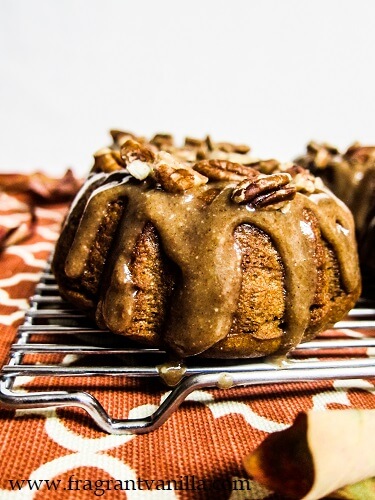 Last weekend I decided it was a cake sort of weekend.  Cake just sounded good.  But, I didn't want to make something super complicated and time consuming, and wanted to be able to enjoy it right away, so I decided on mini bundt cakes.  I make these often when I want something that bakes fast because they only take about 25 minutes or less to bake, and you put a simple glaze or drizzle on them and voila!  Deliciousness immediately.  I had some cooked sweet potatoes on hand, so I decided to make maple sweet potato caramel cakes.  I have been making a lot of pumpkin stuff lately, but the humble sweet potato deserves some love too.  It is after all even more naturally sweet than pumpkin and one of my top 3 all time favorite veggies. So I always have it on hand. Maple pairs perfectly with it, as does caramel, which is why I chose the combination.  My mouth was watering just thinking about it.  The batter is pretty easy to make, and it happens to be fruit sweetened thanks to dates which give it the caramel flavor.  It stays nice and moist after it is baked thanks to the fruits and veggies included, which is important to me because I hate dry cake.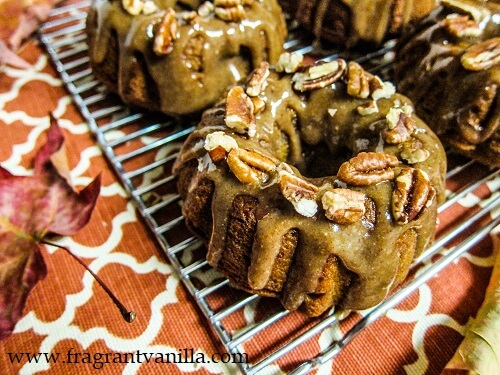 I made a quick caramel which was a mixture of pecan butter and maple syrup and it was so delicious drizzled over the cakes!  A sprinkle of pecans and they were good to go.  I actually used a special maple syrup which was gifted to me, a Bourbon Barrel Aged Maple Syrup from Trader Joes.  I wanted to use it in something special and this was a good choice.  It is some darn delicious syrup, and these cakes turned out so good!  They kind of reminded me of caramel rolls, but cake style.  If you are looking for a quick and easy cake to make, give these a try!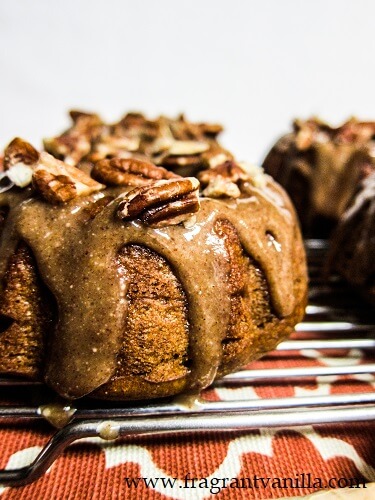 Vegan Maple Sweet Potato Caramel Mini Bundt Cakes
4 mini bundt pans
Ingredients:
Cake:
3/4 cup all purpose gluten free flour
3/4 tsp baking soda
1/2 tsp baking powder
1/4 tsp sea salt
3/4 cup packed soft medjool dates, pitted, soaked in water for 30 minutes and drained well
2 Tbsp pecan butter or almond butter
1 tsp pure vanilla extract
1/2 cup sweet potato puree
1/2 cup plus 2 Tbsp filtered water
1 Tbsp apple cider vinegar
Caramel:
1/4 cup pecan butter or almond butter
2 Tbsp maple syrup (or as needed)
pinch sea salt
1/2 tsp pure vanilla extract
Topping:
1/4 cup coarsely chopped toasted pecans
Instructions:
Preheat the oven to 375F degrees and position rack in center of oven. Oil 4 mini bundt pans so that the cake doesn't stick.
Whisk flour, baking powder, baking soda, sea salt, in a large bowl to blend well. Place dates, pecan butter, sweet potatoes, water and vanilla extracts into a blender, and blend until smooth, then whisk this blended mixture into the flour mixture until well blended. Whisk in the cider vinegar until bubbles form.
Transfer cake batter to prepared pans and bake cake until tester inserted into center comes out clean, about 22-25 minutes. Cool cakes completely in pan on rack, about 1 hour. Turn cakes out onto a plate.
To make the caramel, whisk together all ingredients until smooth and pourable (if too thick, add a little more maple syrup or a Tbsp or two filtered water, since nut butters vary in runniness).
Drizzle the caramel over the cake and sprinkle with pecans.
Serve!
*If you do not have mini bundt pans, feel free to make this a mug cake and bake it in four mugs instead.
(Visited 514 times, 1 visits today)